Lentil Lasagne Spaghetti Squash – Vegetarian & Gluten Free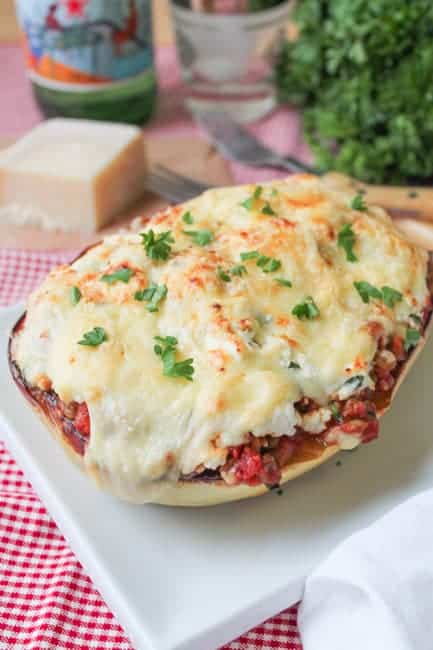 Spaghetti squash is a popular target here at the Honour System. It's one of my most favourite vegetables to cook with. Versatile, nutritious, consistent, tasty.
It's . just . so . good . period . 😉
One of the top pages viewed on my site is this one for the southwestern inspired –> Baked Spaghetti Squash with Chicken & Beans. It was shared on the My Fitness Pal blog 'Hello Healthy' which subsequently brought me a sh*t ton of traffic. Yay! Thanks My Fitness Pal!
They also shared it on their Facebook page where it received a lot of comments. I mean, compared to my page where comments are fairly few, it seemed like quite a number. Being a super curious nosey parker, I read them all. People seemed to really love it, thought it looked yummy, shared it with their friends and all was good. Until … <— that's a dun dun duuuun sound back there <— I arrived at the one that stated "This looks nice, but I probably wouldn't stuff mine full of dead animal flesh" or something to that effect. The dead animal flesh is word for word.
Yikes! I was a little taken aback for minute. It's not like this is a vegan centered website. Just like it's not a gluten free website or a paleo website. Do I have recipes that fit into these categories? Yes, I do. But, I also have recipes with chicken, cheese, grains, and honey. That's what we do here. We do it all. 😉 As long as it's real food and for the most part organic. Especially when it comes to my dead animal flesh. <– Not my words. See above.
Anyway, the whole point of this rant is even though it was worded in a nasty way, it's a great freaking idea and instead of dwelling on what may have seemed a little mean/negative, I totally ran with it instead.
Welcome to my Lentil Lasagne Spaghetti Squash.
It's really easy. Don't let the list of instructions scare you. Time management makes this meal super efficient. Get your squash cooking first and everything else can prepared while it roasts. I use a jarred sauce to speed things up.
Once the squash is cooked all that needs to be done is the assembly and then back into the oven to get melty and delicious. Bring on the cheese! 🙂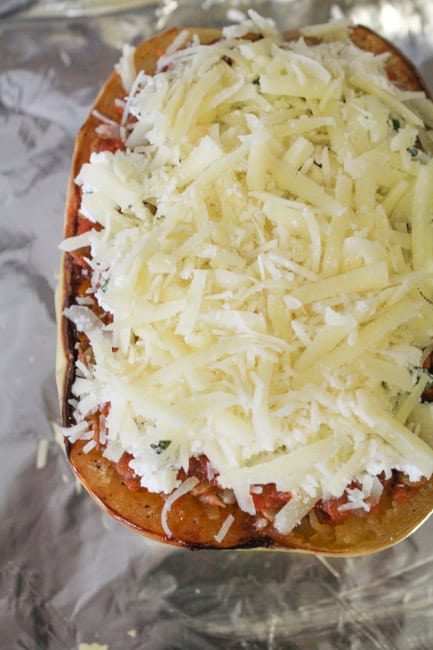 I hope you love it.
Kindness, love and peace, y'all!
As an Amazon Associate I earn from qualifying purchases.
Lentil Lasagne Spaghetti Squash – Vegetarian & Gluten Free
Instructions
Preheat oven to 425 and line a baking sheet with foil. Cut spaghetti squash in half lengthwise and scoop out seeds and stringy stuff. Rub each half with ½ tablespoon of olive oil and season with sea salt and pepper.

Cook, face down on the foil lined baking sheet for 30 minutes. The edges should be browned. Flip them over and let cool for five minutes.

While the spaghetti squash is baking, cook your lentil according to the package instructions. I like to use a little broth instead of half of the water. If you don't have broth, liberally season the water with sea salt

While the lentils simmer heat your marinara sauce, in a medium sauce pan over medium low heat. Once the lentils are cooked add them to the sauce along with the 2 tablespoons of fresh chopped basil

In a small bowl, mix together the ricotta and parmesan along with the tablespoon of fresh chopped basil. I also saved a few ribbons of basil to top the squash with

Line a mesh strainer with paper towel and set over a bowl

To shred your spaghetti squash use a fork pull the strands away from the sides. Transfer them to the strainer and squeeze out some of the excess water. Don't obsess over this part. It doesn't have to be bone dry, just not sopping. Save the shells as you will be using them to cook your 'lasagne' in!

Stir the shredded squash into the pot with the lentils and marinara and mix it in well

Place the lentil marinara evenly into the bottom of each squash shell. Top that with even amounts of the ricotta and basil mixture. Finish with the shredded mozzarella

Lower the oven heat to 375 and reline the baking sheet with foil. Place the squash back on the baking sheet and put it back into the oven for 20 minutes. Turn on the broiler and broil for another 3-5 minutes, until bubbling (keep watch as all ovens run different temps). Top with extra fresh chopped basil

Let cool for 5 minutes before cutting through the tops and scooping out each portion

*I reheated leftovers of this for lunch and it was great.
Nutrition
Calories:
392
kcal
Carbohydrates:
46
g
Protein:
21
g
Fat:
15
g
Saturated Fat:
6
g
Cholesterol:
34
mg
Sodium:
916
mg
Potassium:
1052
mg
Fiber:
16
g
Sugar:
12
g
Vitamin A:
1190
IU
Vitamin C:
15.3
mg
Calcium:
303
mg
Iron:
4.9
mg