Stuffed Sweet Potato – Gluten Free & Vegetarian
I'm really into sweet potatoes. They wowed me with this gratin, they go amazing with maple and now sweet potatoes move from side dish to a meal on their own! By adding in greek yogurt and throwing in some greens, a great big sweet potato can be a satisfying lunch or light dinner. Pair it up with a nice salad or a bit of chicken on the side and, boom! You've covered your nutritional bases for a balanced meal. Sweet 😉
The most time-consuming part of the prep for this dish is actually baking the sweet potato. We don't use a microwave ( it's been in storage since converting the old microwave area into my photography table ) so I'm kicking it old school by using the stove to bake the sweet potato. Depending on the size, it can take over an hour to cook through. I was planning on this potato being my dinner so I used a gargantuan one and it took about an hour and twenty minutes to bake.
Since I had a lot of 'in the meantime' time, I picked up a little around the house, did up some dishes and made a nice chiffonade of spinach 🙂 Yes it sounds all french and fancy but it's really quite easy. Firstly, line up your spinach leaves, one on top of the other. Slice off the tails and then slice down through the stack creating nice, even ribbons.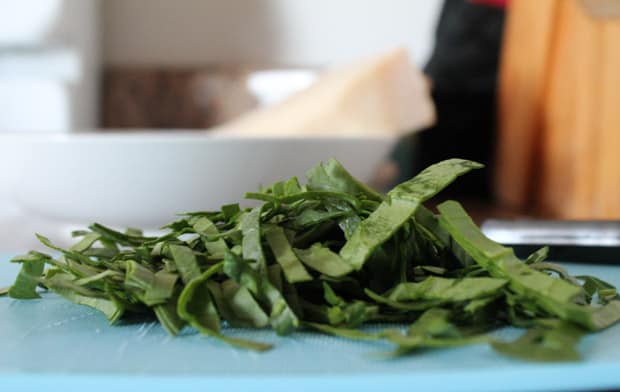 I combined the spinach with a good dollop of greek yogurt and a few spices. I used some smoked paprika, sea salt and fresh pepper.
Once the potato is cooked through split it in half and scoop out the centre. Mix it together with the greek yogurt mixture and spoon it back into the shell. Top it off with a sprinkling of parmesan cheese and pop it back into the oven to get all nice and bubbly.
If you plan on this being your meal, I whole heartedly advise eating both halves. You will be full and happy! As a side you could share it with up to four depending on the size of the potato and what you plan on serving it with.
So there you have it! What are you waiting for? Get stuffing. 🙂
As an Amazon Associate I earn from qualifying purchases.
Stuffed Sweet Potato – Gluten Free & Vegetarian
Instructions
Preheat oven to 400. Scrub your potato clean and wrap in tin foil

Bake for about an hour, until your potato is soft and cooked through. This depends on the size of your potato and the temperature of your oven

Meanwhile, slice your spinach into ribbons and mix together with the greek yogurt and spices

Once the potato is cooked through, slice it down the centre and scoop out the potato. Combine with your greek yogurt mixture and spoon back into the potato shell

Top with parmesan cheese and broil for about 4 minutes until bubbly
Nutrition
Calories:
50
kcal
Carbohydrates:
7
g
Protein:
3
g
Cholesterol:
2
mg
Sodium:
65
mg
Potassium:
177
mg
Fiber:
1
g
Sugar:
1
g
Vitamin A:
5595
IU
Vitamin C:
2.1
mg
Calcium:
56
mg
Iron:
0.5
mg