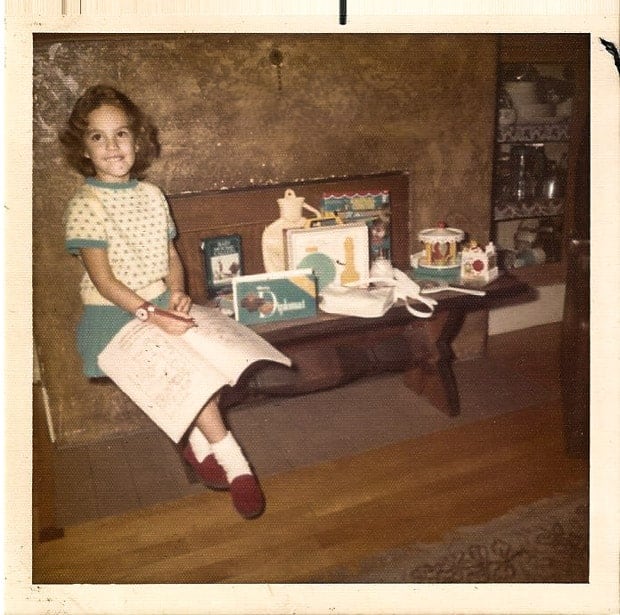 Typically, I don't post on Thursdays but this particular Thursday happens to be the birthday of someone very special who deserves a post all her own … my sister!
There are so many special things about my sister, but I'll start with her name. When my Mom was growing up she had a close relationship with her cousin and, as young girls do, they talked about the future, having children and what they would name them. My Mom's cousin loved the name Delia and couldn't wait to have a daughter. After a succession of boys, there was to be no Delia for my Mom's childhood chum, so when she gave birth to my sister, she was named Delia in her honour. I remember a pin my sister had that was a white heart that had her name in the middle that the cousin had sent her from England. They had a special bond due to her name. I always envied my sister's name as it was so different and it really set her apart from the crowd of Jennifers and Christines. I love my sisters name. It is as unique as she is 🙂
How cute are her and my brother, Tim as ring bearer and flower girl at my uncle's wedding?
Growing up I loved to crawl into my sister's bed. There are numerous photos of it. I chose this one in particular because I found it funny that I'm probably 2 or 3 months old and my head is bigger than Delia's!!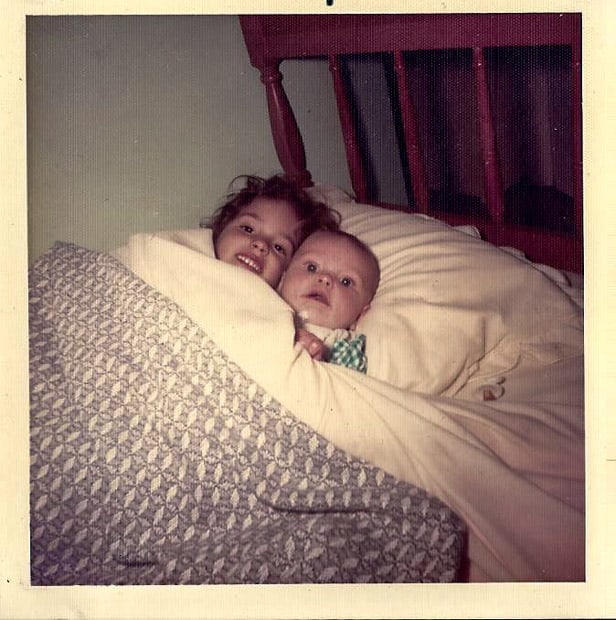 Delia is four years older than me and I always looked up to her. Literally! Being five foot ten, not too many girls are taller than me but my sister is! She ekes me out by about an inch. At first glance, our height is the only thing that that is similar. We are actually quite different in a lot of ways. But, in the ways that matter we are right in sync. Like our sense of humour. Joe remarks how whenever I talk to my sister I always have a laugh. And I mean a real, genuine, laugh out loud, laugh. He's totally right. My sister and I can make each other guffaw, big time! I love that, because I truly believe that the best thing in life is to share a sense of humour with the ones you love. It's the key to my lasting relationship with Joe and it is the glue that keeps my sister and I together even though we are separated by many miles.
Being the typical little sis, I used to steal Delia's clothes, all the time. I remember one particular time, she was sleeping and I wanted to borrow her sweater which was in a heap of clothes on her floor (teenager!). So I ever so quietly got down on all fours and began to crawl across the floor of her room to reach the pile. I got about half way when one eye snapped open, then the other eye and I was busted! I also looked pretty foolish crawling across the floor 🙂
This is a shot of me and my sister doing a classic Victoria activity. Feeding the ducks at Beacon Hill Park. I'm positive Delia was making sure that every duck got the same amount.
My sister is a spiritual person. She is in tune with things not of this world. She loves to give of herself and is always the first to jump in to help a friend in need.
When Delia was a high school student she volunteered at a local nursing home, helping to feed the residents who had lost their motor skills. She was so patient and kind with them. She didn't do it for school credit, or for monetary gain. She did it to help.
I love my sister and I admire the genuine person she is.
Happy Birthday, D!
Also, Happy Thanksgiving to all you Americans out there! What are you thankful for this year?