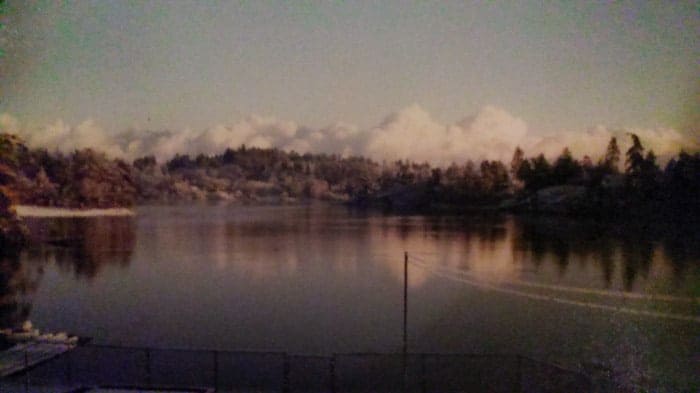 This photo is the view from the deck off my kitchen in the house I grew up in. It was taken on a winter morning sometime in the eighties. I recently had the chance to return to my childhood haunts when I visited Vancouver Island this summer.
I realize this post is a tad overdue as my trip was already close to two months ago, but I still wanted to share it. Better late that never, right?
By this time, I had already had so much fun at the lake, stumbling onto a secret gallery in a Victoria restaurant and even a 1920's Downton Abbey themed garden party. A road trip to Tofino was to be the grand finale of my vacation. (that post still to come)
But first!
When I was up at Shawnigan lake (that's how islanders talk, by the way. Being on the southern most tip of the island everything literally is up), Julie's parents invited me to a neighbourhood brunch being held in none other than my childhood home! You see, Julie and I are lifelong friends. We grew up just houses away from one another and her parents still live in the same home. My family has been gone many years now but we all still refer to that address as 'our house'.
It turns out that the woman that now lives there hosts an annual brunch for all her neighbours. In fact, all of her past neighbours are invited as well! Considering this year happened to be the one weekend I was in town seemed like fate and it was decided we would go for sure.
Quick break for a wind blown selfie! 🙂 #BFFS
Walking up to the house was familiar and comfortable. A sign at the end of the driveway directed us to the back entrance, so my crew of Julie and her mom and dad made our way back. We passed 'our' greenhouse, compost and fire pit. Still the same. I was so excited!
Until the back yard.
Where there used to be a massive vegetable garden, now was a large patio area, resting on a bed of stones. 'Our' birch trees and apple tree replaced by wood chips and raised garden beds. Not a blade of grass anywhere.
Insert photo via my sister.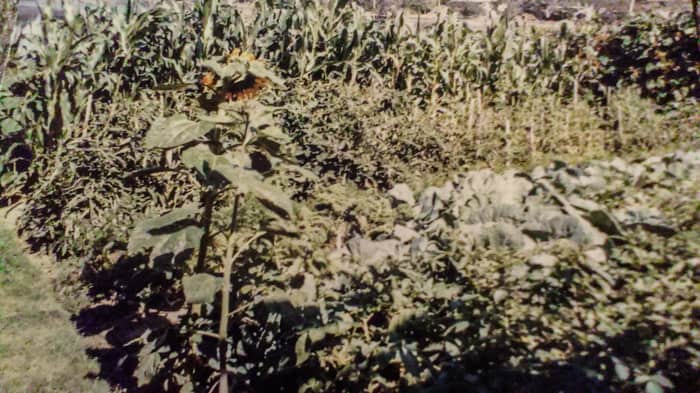 Excuse the blurriness. It's an iPhone photo of a photo in an album circa nineteen eighty something, but I'm sure you can tell it's a massive garden, mate. 😉
Then: green grass.
Now: rocks
It was very strange and surreal.
I loved 'our' backyard. It truly was a kids paradise. We had a six person wooden swing set, a tetherball, we even had a trampoline. There was ample room to run around, darting in between the rows of corn and sunflower plants in my Mom's garden. Throwing tennis balls into the water for our black lab, Molly to retrieve.
Now, 'our' backyard looked like an Arizona desert.  Not that there's anything wrong with that, it just … wasn't … like 'ours'.
We made our way into the house and I was familiar with a few of the old neighbours that were milling about. I even remembered all of their dogs names! The Duke family's German Sheppard, Smokey and the William's stray dog, turned family dog, SD ( stood for stray dog 😉 )
The living room, cosmetic changes aside, still had that beautiful picture window with the idyllic view. You can also kinda see their rock-yard picnic area.
From ages five to nineteen I looked out at that water everyday. We had beautiful sunsets and fed families of swans the crusts we saved from the ends of bread loaves.
Another iPhone pic from my sister of me feeding a trio of swans. Thanks, D!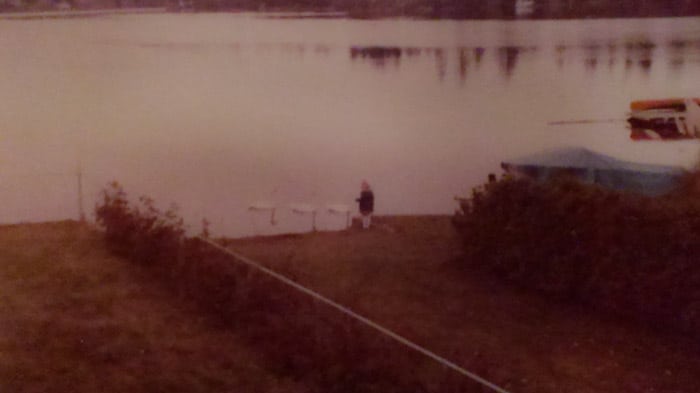 My sister was unimpressed to hear that her room was now a palatial ensuite bathroom! Downstairs, my brother's rooms, our playroom, and the TV room that hosted all of my teenaged sleepovers had been turned into separate suites, rented out to tenants.
My bedroom? Well, that was the one thing I thought I liked better. You see, growing up I loved canopy style, four poster beds. So princess-y. I bet you'll never guess what I found in 'my' room.