Thai Curry Coconut Chicken Soup
This Thai Curry Coconut Chicken Soup is a warmly spiced, protein-packed soup with a ton of crisp veggies. The spice is offset by the creaminess of the coconut. Gluten Free!
Now that it's officially soup and chili season, allow me to warn you that the blog will be completely hijacked by recipes for warm, comforting bowls of goodness.
How about a crock pot version? This Thai Chicken Curry is slow-cooked to perfection.
I was in the mood for something with a kick and decided to go with a Thai curry inspired chicken soup, made uber creamy-like with coconut milk. For the heat, I picked up a jar of red curry paste at Fortino's.
I had used this spice blend before in an Asian beef skewer dish I used to make. Besides great flavour, I also like it's short, pronounceable ingredient list.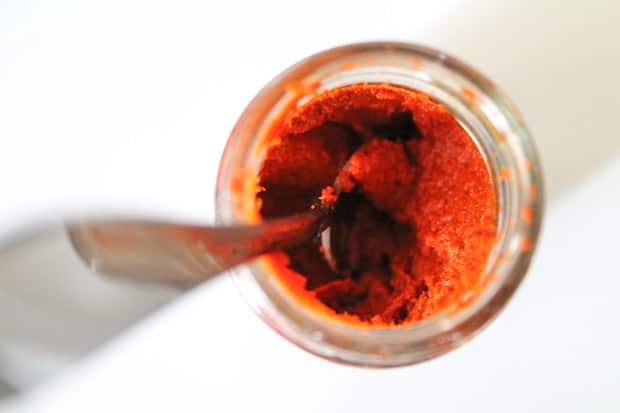 There was no leftover cooked chicken in the fridge so the first thing I needed to do was get the chicken started. I used the red curry paste to marinate my chicken before cooking it to add more oopmh.
I popped this in the fridge in the AM and then popped it in the oven for dinner time to cook while I prepped the rest of the meal.
THAI CURRY COCONUT SOUP
Into my soup pot I combined a heaping tablespoon of the red curry paste with coconut milk.
I wouldn't recommend using a low fat version of coconut milk. What makes this soup extra special is the great balance of spice and smoooooth and to keep the smoooooth you need the creaminess of the coconut milk.
I loved the colour that this combination made. An awesome pinkish hue. 😉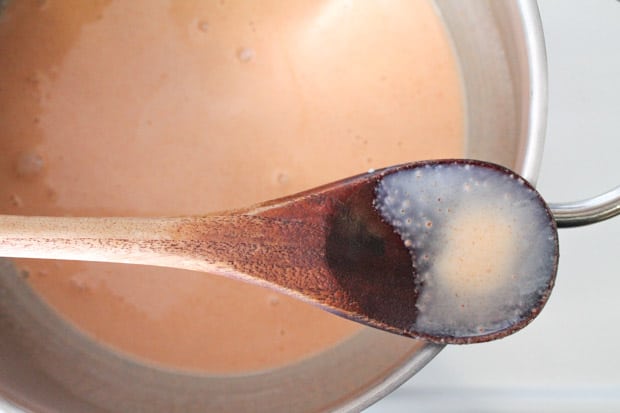 Then I added in my peppers. I wanted these to kind of remain crisp tender in this soup.
My end goal is to have a 'use your teeth' kind of soup so I didn't want the veggies to be soft.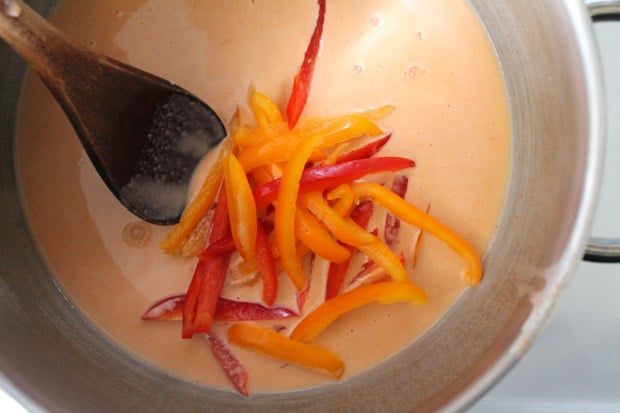 After the veggies have cooked through and have started to relax,
I added in my chickpeas and chicken.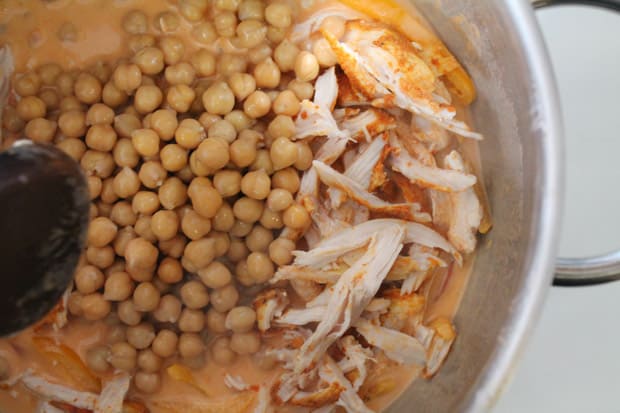 Once all of the ingredients have soaked up all the essence of the spicy, creamy broth, you are ready to rock!
The last step is to garnish with the freshly cut green onions. The addition of the green added great colour and depth of flavour. I was so happy with this soup.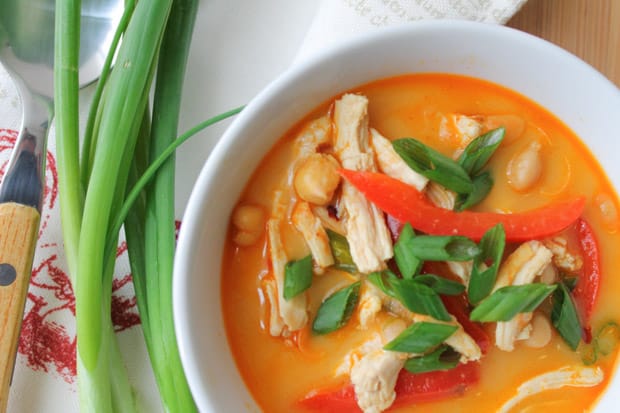 I brought some into work for my dutiful taste testers and the results were thumbs up all round.
They recommend you try it. 😉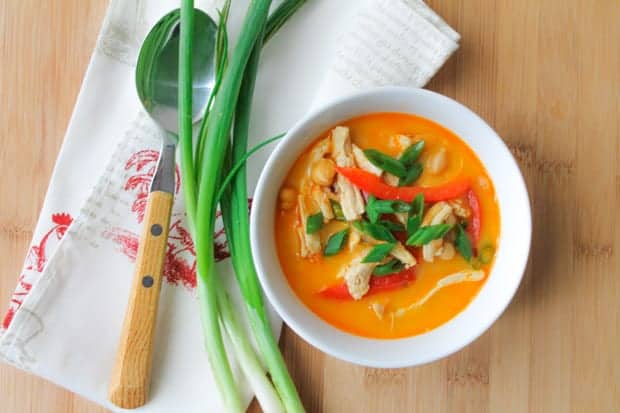 MORE HEALTHY SOUP RECIPES:
Instant Pot Turkey Sausage Soup
*Originally posted November 22, 2013 Updated June 12, 2019*
Be sure to follow me on social media! I love pinning to Pinterest, sharing on Facebook and posting pics to Instagram. See you there. 🙂
As an Amazon Associate I earn from qualifying purchases.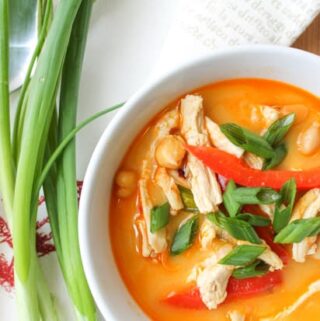 Thai Coconut Curry Soup with Chicken & Chickpeas – Gluten Free
Instructions
In a large pot, over medium heat, empty contents of the coconut milk and stir in the red curry paste until smooth

Add in the thinly sliced peppers and stir well

Pour in the broth, bring to a boil then reduce to a simmer

Add in the shredded chicken & chickpeas and simmer for 20 minutes

Top each serving with sliced green onions
Nutrition
Calories:
600
kcal
Carbohydrates:
11
g
Protein:
29
g
Fat:
51
g
Saturated Fat:
43
g
Cholesterol:
72
mg
Sodium:
633
mg
Potassium:
1002
mg
Fiber:
1
g
Sugar:
2
g
Vitamin A:
2485
IU
Vitamin C:
43.9
mg
Calcium:
63
mg
Iron:
8.3
mg