Everyone loves cookies but these Almond & Coconut Chocolate Chip Cookies are on a different level. Sweet, chewy bites of goodness that are gluten free and grain free.
When all else fails, I turn to cookies.
This round turned out to be these super scrumptious Almond & Coconut Chocolate Chip Cookies.
I know, right?
ALMOND & COCONUT CHOCOLATE CHIP COOKIES
By 'when all else fails' I mean there have been some serious failures going on in The Honour System test kitchen.
Some recipe fails, which meant eating some weird-ish food for a few dinners in row (sorry babe!), some photography fails due to the learning curve of my new lens, and some motivation fails in the form of a few stressful days at work resulting in a few binge-y type evenings.
Why is it that I seem to eat my feelings? Couldn't I be one of those people who exercises during trying times? Sigh.
Since that just doesn't seem to be in my DNA, healthier indulgences are the ticket.
So if I'm going to have cookies, and let's not fool ourselves, I'm going to have cookies, let them be whole food and free of chemical crap.
It's not hard, friends.
You can do it.
Make your own damn cookies!
Don't buy the Oreo garbage, for the love of God. These Almond & Coconut Chocolate Chip Cookies pretty much tell the story in their name. They are made of ground almonds, coconut, and chocolate chips.
Boom. 😉
OK, there are a couple of more things like lovely maple syrup and an egg (vegans can easily sub in a flax egg), but you get the idea.
Real food.
Now don't get it twisted, these cookies still have calories. Just because recipes are made from healthy ingredients, it doesn't mean that your jeans wont start to get snug if you frequently over-indulge.
But, if you're like me, sometimes cookies, and only cookies will do.
Enjoy!
*Originally posted June 6, 2016. Updated October 15, 2018*
Be sure to follow me on social media! I love pinning to Pinterest, sharing on Facebook and posting pics to Instagram. See you there. 🙂
Almond Coconut Chocolate Chip Cookies - Gluten Free, Grain Free
Ingredients
1 1/2

cups

ground almonds

1/2

cup

shredded coconut

1/2

cup

mini chocolate chips

1/4

tsp

baking soda

1/4

tsp

sea salt

1/4

cup

maple syrup

2

tbsp

melted coconut oil

1

egg
Instructions
In a large mixing bowl, stir together the ground almonds, coconut, chocolate chips, baking soda and sea salt

Add the mape syrup, coconut oil and egg and stir until well combined

Cover the bowl and refrigerate for one hour

Heat your oven to 350 and line a baking sheet with parchment

Roll heaping tablespoon sized balls onto the baking sheet, then press lightly down on each ball and shape them into cookies (they won't spread out so I was able to fit 15 on my baking sheet - a row of three then two in between the spaces then three, then two, and so on)

Bake for 10-12 minutes, until golden browned on the bottom

Cool for 10 minutes on the baking sheet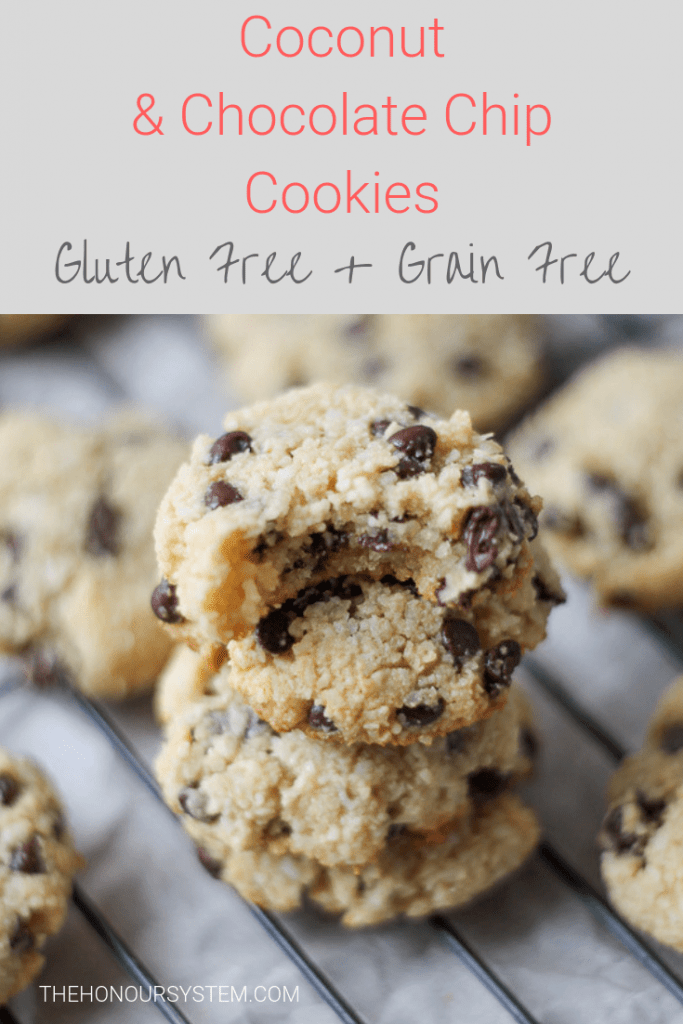 Click for Nutrition Stats