The Best Non-Toxic Cookware for Healthy Cooking
Recommendations for the BEST non-toxic cookware that are eco-friendly, plastic-free, toxin-free, and environmentally friendly. Avoid Teflon, PFAS, and PTFE and get durability and a good return on your investment from the top non-toxic cookware brands.
As an Amazon Associate, I earn from qualifying purchases.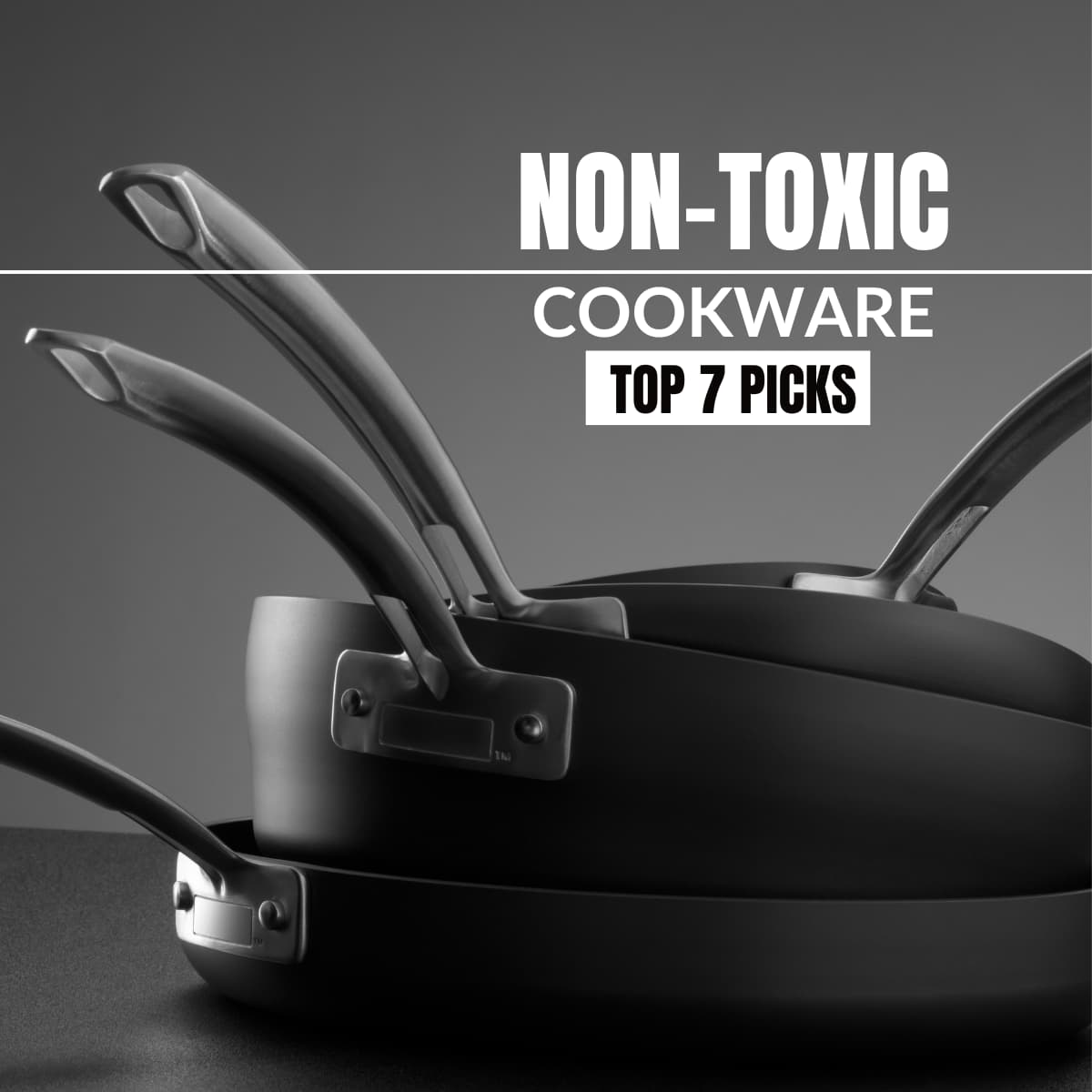 Our Picks for the Best Non-Toxic Cookware
Most items in this guide are available on Amazon Prime with 2-day shipping, which is handy if you're shopping last minute. If you're not an Amazon Prime member, you can experience a 30-day FREE trial for all your holiday shopping.
Ceramic Pots And Pans
Ceramic cookware is a high-quality choice for stovetop items like saucepans and your favorite fry skillet. A ceramic coating can withstand higher heat and is more scratch-resistant than PTFE-based coatings.
Things to know about ceramic
Non-stick cookware.
Easy to clean non-stick pans – no stick coating.
Requires less oil for cooking.
It is not dishwasher safe – wash it after it has cooled.
Use only wooden, plastic, nylon, or silicone utensils – do not use any sharp edges or metal utensils as they will scratch the surface and damage your pans *a strong caveat/warning/caution to replace the pan if there are any dings as that brings the metal in contact with your food which is what we want to avoid – so be very careful with these coatings!*
Top Picks
GreenPan is an excellent brand with many choices to suit your needs, from entire sets to single pieces with matching lids.
These picks are from their Padova line, which has the BEST colors. Super cute!
Our Pick
And how pretty is this set of blue ceramic frying pans?
Perfect for a saute pan.
Another top brand is Caraway. They launched their beautifully designed and consciously crafted kitchen cookware sets on Amazon for everyone to enjoy.
Step up your pots and pans game and spruce up your kitchen decor simultaneously. The colors are fabulous.
Our Pick
Caraway also has the best quality bakeware, including baking pans and baking sheets, with the same features as their cookware.
Our Pick
We use a ceramic frying pan to make recipes like these Spaghetti Squash Hash Browns or these yummy Pan-Fried Bananas.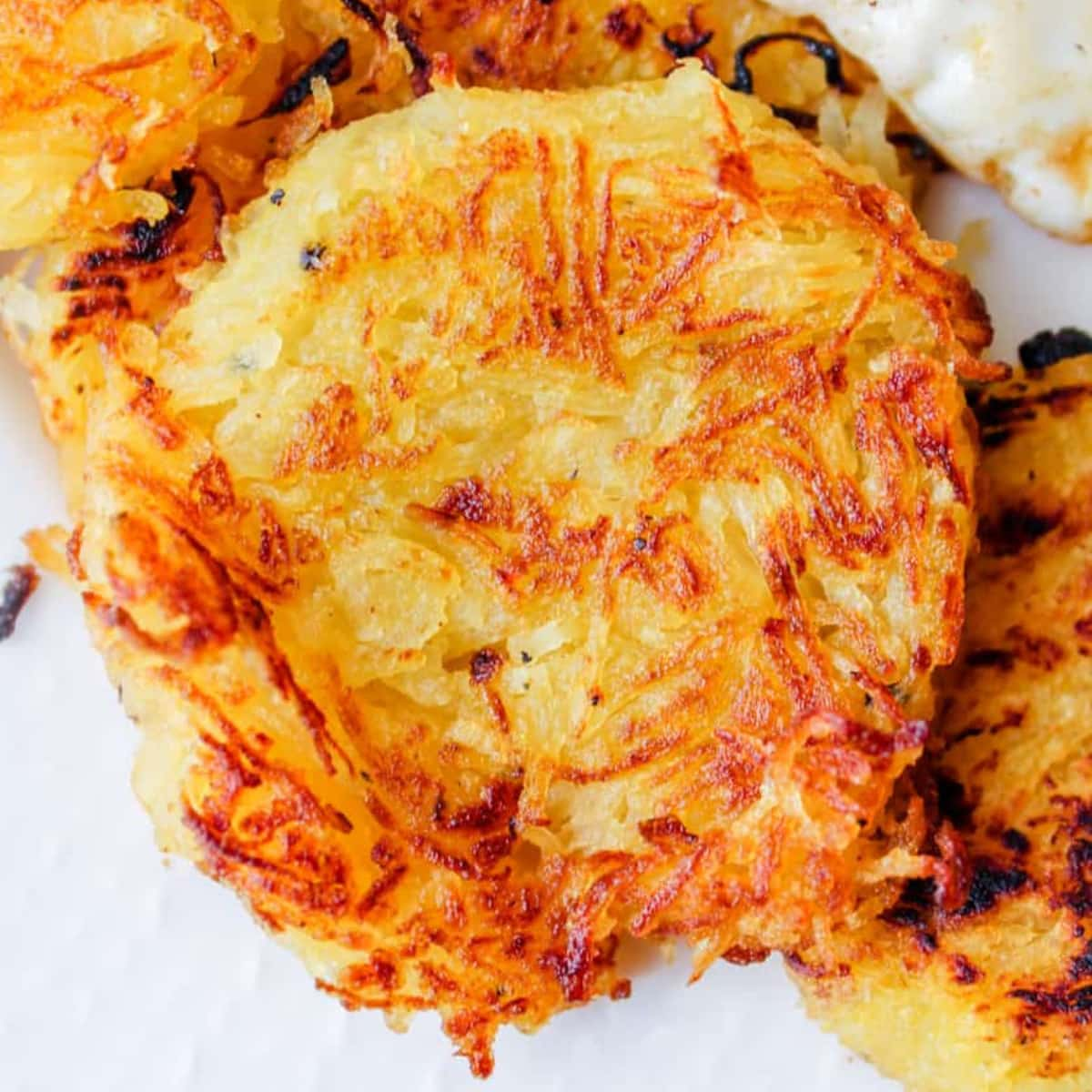 Stainless Steel Cookware
Stainless steel is more effort to maintain and is not quite as non-stick as ceramic. It is oven-safe as the handles of the pans and frying pans are made of steel also.
Things to know about stainless steel
Stainless steel pans and surfaces are the best for browning ingredients.
The downside is stainless steel isn't as non-stick as ceramic. Check out this post to prevent your food from sticking.
Professional kitchens use stainless steel cookware. They prefer it because it's practically indestructible.
Top Picks
When shopping for stainless steel cookware, you want to look for 18/10 as it is the best quality. It is sturdier and more durable.
Cuisinart is a trusted brand.
We like this set of stainless steel pots and pans for an all-around great starter set.
Our Pick
If you want a splurge-worthy investment, the All-Clad brand is a way to go.
This luxury stainless steel set of pans is a true gift.
Luxury Splurge
Stainless steel is another fantastic option for cookie sheets too.
We love the size and sturdiness of the pans from Wildone. They include a wire rack, which is a fantastic bonus!
Cast Iron Cookware
A cast-iron pan is a classic for a reason. Some manufacturers offer a lifetime warranty! Iron pans are the king. They are heavy and require maintenance, but you will still love using them.
No aluminum, toxic chemicals, or cadmium.
Things to know about cast iron
You can use them on the stove, in the oven, over a campfire, bake, and saute.
Cast iron has heat retention and can withstand high temperatures.
They are heavy, and even though they can be seasoned, there is no nonstick coating.
You can get fancy enameled cast iron skillets and dutch ovens.
Check out this post to learn all about how to clean cast iron.
Top Picks
The Lodge brand goes hand in hand with cast iron. They have been in business since 1896.
This is their classic cast iron pan, and everyone should own one.
Classic Pick
And remember that we mentioned the fancy enameled pieces?
Look how lovely these cast iron Dutch ovens are. It would make an excellent gift for the holidays or a birthday. Amazon has a ton of different colors available.
Our Pick
Le Creuset is a splurge brand, and their pieces are always a treat for the eyes.
They always have something cool and unique, like this Enameled Cast Iron Bread Oven. What a fabulous gift idea.
Luxury Splurge
They also have the classics like this sweet three-piece set. The colors are fabulous, as always. We love this shallot hue.
Luxury Splurge
Other all-around healthy cookware brands we recommend you check out that are all PFOA-free, non-toxic cookware are Xtrema and Always Pan.
Have fun shopping!
If you've tried any of these cookware brands, please let us know by commenting below. We're always interested in feedback!
Be sure to follow us on social media! We love pinning to Pinterest, sharing on Facebook, and posting pics on Instagram. See you there. 🙂
As an Amazon Associate, I earn from qualifying purchases.