11 Self-Care Ideas for Restoring Balance and Energy
Stress, overwork, and lack of sleep are common reasons for feeling out of balance and tired. Learn 11 self-care ideas to recharge your body, mind, and spirit.
As an Amazon Associate, I earn from qualifying purchases.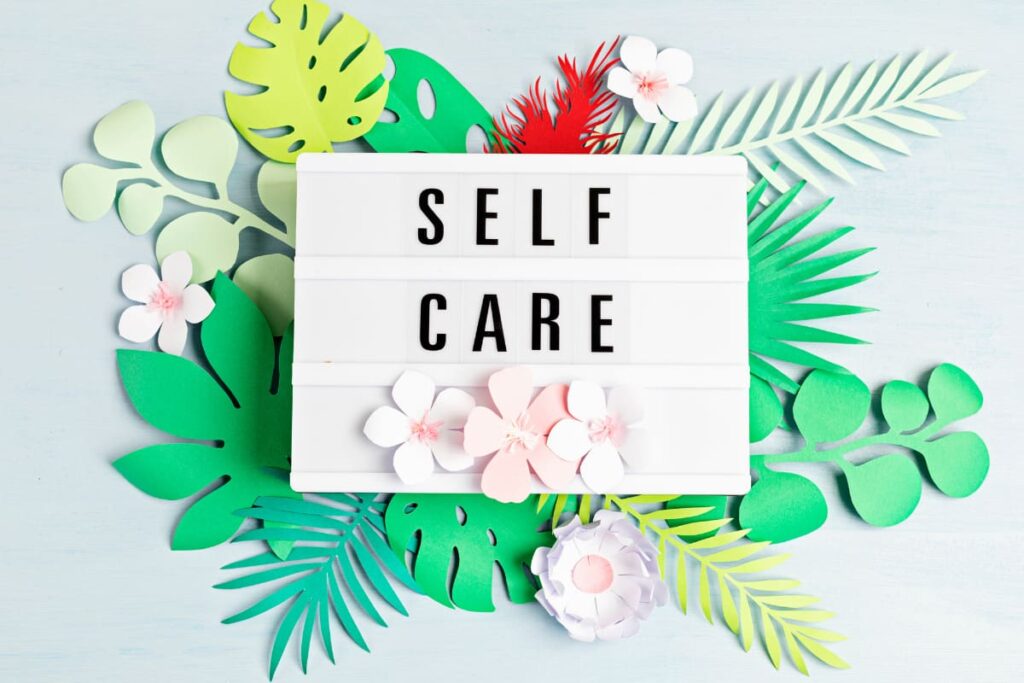 Most of the items on my list are available on Amazon Prime with 2-day shipping which comes in handy if you're shopping last minute. If you're not already an Amazon Prime member, you can experience a 30-day FREE trial in addition to doing all your self-care shopping.
Taking care of your mental health is equally as important as your physical health. Establishing a self-care routine can help to boost your mood and improve your immune system by minimizing stress and anxiety.
WHAT IS SELF-CARE?
Self-care isn't simply a bubble bath, manicure, and pedicure – although a spa day certainly doesn't hurt one bit. 😉
Self-care is the practice of taking action to preserve or improve one's own health.
It is something I 100% believe in and is a big part of my philosophy at The Honour System. Taking personal responsibility for an active role in your own well-being and happiness, in particular during periods of stress is SO important.
Read through these 11 self-care activities and see if any speak to you. Choose at least one to create a new healthy habit with to start. You might just find a new hobby or inspire a fresh daily routine that has positive health benefits.
Perhaps even set aside a day – Self Care Sundays – or something like that where you can utilize some of these self care ideas at home.
CHECK OUT MY 11 SELF CARE IDEAS
RED LIGHT THERAPY
*A few minutes a day of Red Light Therapy has the potential to give the mitochondria in your cells the natural light they need to make the energy that powers your body. This complex stimulus of sunlight may affect not only your physical health by preventing diseases, but may also impact your mood and mental health.
*This panel is lightweight and simple to use. It features all-natural light so it is easy and safe.
JOURNAL
Get it all out on paper! Journalling can be very therapeutic. Write about your day, who you saw or spoke to. Maybe release some frustrations or articulate emotions you might not be able to say out loud. Your journal can be totally private so you are free to express yourself without any fear.
Journals are also a place to manifest your dreams and goals. I wrote a post featuring a list of my favorite Goal Setting Planners if you wanted to check that out.
If writing out your feelings is the purpose, buy yourself the prettiest journal so when you use it it will bring you joy.
MEDITATION OR PRAYER
This is one of my best self-care tips. Growing up in a Christian family prayer was part of daily life. However, as an adult, it has changed somewhat. Instead of a performative act like saying grace, it is more meditative. It is also a way to practice gratitude and positive affirmations.
Meditation at sunrise as part of a morning routine or taking a deep breath at sunset and thanking God for another day can be like a warm blanket for the soul.
If you are new to meditating there are tons of useful books to help get you started.
You can also deck out a space in your home specifically for meditating. Get some sound bowls, a lovely meditation pillow, and really bliss out.
EXERCISE
Regular exercise can increase self-esteem and improve your mood. Exercise can also promote a sounder sleep, which is often disrupted by depression, anxiety, and everyday stress.
You can hit the gym and get your heart rate up by lifting some weights or try yoga classes for a more calm approach.
Working out at home is also a great idea. Try bouncing on a trampoline! They claim that a 10-minute bounce equals an hour of jogging or 30 minutes of cycling. Plus, you will feel like a kid again. 🙂
MEAL PLAN
It wouldn't be The Honour System if I didn't promote meal planning! We are a food blog after all. 😉 But seriously, planning out healthy meals for the week is the ultimate self-care. What you feed your body is a huge part of your well-being.
Getting organized by creating a plan and making detailed shopping lists is key. My weekly routine includes planning out meals for each day and grocery shopping every 2 or 3 days. Going frequently ensures the freshest produce and meat.
The list is KEY! Make it and stick to it. Avoid processed foods and falling into the trap that self-care means rewarding yourself with crap. You can still enjoy good food though! Just make it yourself. You know my motto at The Honour System – Treat yourself, but don't cheat yourself.
Check out this cool meal planner – it is magnetic with a tear-away list to take with you to the store.
USE ESSENTIAL OILS
Omgsh you guys! I LOVE essential oils. I know they come with a bit of a disclaimer because of the companies who produce essential oils that are in the multi-level marketing world like Doterra and Young Living. They do source out a pure product which I like and I support a friend who is a rep for Doterra. I love their oils and other products they sell.
There are definitely other options that are totally affordable and don't require any memberships like the other two companies I mentioned.
One of the most popular and versatile essential oils is Lavender. Diffusing lavender oil is incredibly helpful for rest and relaxation. You can add a few drops to a diffuser or make a linen spray using lavender and give your pillow a spritz before a nap or before bedtime.
UNPLUG
The internet is a wonderful invention and social media can be super helpful BUT it can also be incredibly negative and stressful. Taking regular breaks from Facebook and Instagram can be tough but is crucial for self-care.
Make it a challenge to yourself to spend one weekend a month without scrolling. Need some suggestions that doens't require your phone?
TRY A NEW RECIPE
Spending time in the kitchen can be therapy. I'm not talking about the everyday routine of making breakfast, lunches, dinners, etc. I mean taking an afternoon to undertake a project in your kitchen. Learning something new can be stimulating for your brain and help to keep it healthy.
You can hit up a bougie grocery store and purchase some special ingredients. Maybe self care is baking a fancy cake or bread from scratch. You will be rewarded with a pleasant scent from the oven while they bake.
More aromatherapy! Win win.
LISTEN TO UPLIFTING MUSIC
Music has so much power. It has the capability of a time machine, transporting you to moments throughout your life. Music can also heal. I've recently gotten into vibrations and frequencies and there are some wonderfully uplifting pieces of music that can calm your nerves, help you let go of fear and overthinking, and remove negative energy. There are tons of youtube channels with hours of beautiful soothing music.
Check out the 432 Hz frequency. The 432 frequency music can increase the mental clarity of a person and unlock intuition. Generally, this solfeggio frequency has been proven to be a healing frequency since it may reduce anxiety, lower the heart rate, and blood pressure.
My favorite channel is the PowerThoughts Meditation Club. Browse through their videos and choose what speaks to you.
SWIM, FLOAT OR BATHE
Did you know that there have been studies done that show being near, in, on or under water can provide a long list of benefits for our mind and body? This list includes lowering stress and anxiety, increasing an overall sense of well-being and happiness, and a lower heart and breathing rate.
Floating in water can change our brain waves and reduce levels of the stress hormone cortisol, making us feel more relaxed. Swimming is also known to boost endorphins and the rhythmic strokes and sound of water make swimming very serene.
So go for a swim, try a float at a float lab, or transform your bathtub at home with a full body bath pillow and soak up the goodness.
So there you go friends! Some useful self care kit ideas.
Let me know what you do! I would love to add to my 11 self care ideas. What are your go-to physical or emotional self care ideas? Drop them in the comments below.
*HEALTH DISCLAIMER: This post provides general information about health and related subjects. The information and content provided in this blog are not intended and should not be construed as medical advice, nor is the information a substitute for professional medical expertise or treatment. If you or any other person has a medical concern, you should consult with your health care provider or seek other professional medical treatment. Never disregard professional medical advice or delay in seeking it because of something that have read on this blog or in any linked materials. If you think you may have a medical emergency, call your doctor or emergency services immediately. The opinions and views expressed on this blog should not be a substitute for medical advice.