11 Best Goal Setting Planners for 2022
Check out this list of 11 BEST Goal Setting Planners to increase both productivity and creativity. Stay focused, organized, and on schedule to achieve your goals in 2022.
As an Amazon Associate, I earn from qualifying purchases.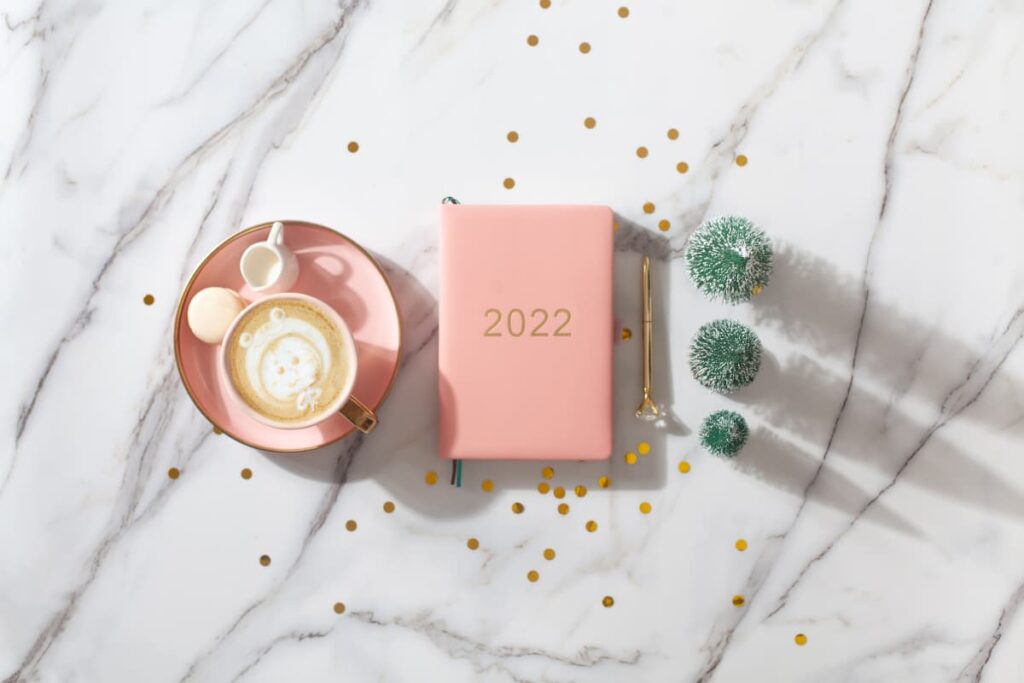 Create new habits, formulate to-do lists and set those big goals! Using a goal setting planner is a smart way to keep yourself on track and accountable. From a student to an entrepreneur, everyone can use goal-setting journals to help them stick to their agenda.
Most of the books on my list are available on Amazon Prime with 2-day shipping which comes in handy if you're shopping last minute. If you're not already an Amazon Prime member, you can experience a 30-day FREE trial in addition to doing all your holiday shopping.
11 BEST Goal Setting Planners for 2022
Bullet Journals
First up is my absolute favorite choice for a planner, a bullet journal. Generally a dot pattern, you create your own monthly layouts and different habit trackers. There are a ton of inspirational layouts on both Pinterest and Instagram that you can explore. This choice is for people who need a more individual approach without being beholden to pre-set calenders etc. Bullet journals are awesome for creative people who love markers, pencil crayons, and drawing fancy letters.
Lechturnm 1917 is my number one choice for a bullet journal. They have a rainbow of awesome colors to choose from. I went with this bright orange hardcover book for my personal 2022 planner. I create a custom calendar, habit tracker, blog tracker, and weekly layouts each month to keep myself organized.
There is also a special edition Metallic series from Lechturnm in copper, silver, and gold which are pretty fabulous also.
If a soft cover is more your thing there is a flexible notebook version with just as wide of an array of hues. I love this Tiffany blue softcover Lechturnm.
Erin Condren
Erin Condren is a lifestyle brand known for creating high-quality, functional organization essentials and their planners are a reflection of that. They have the best planners that are very pretty and detailed.
First up is this hourly planner for those who schedule out each day hour by hour. This one is spiral bound which is nice for laying flat on your desk and has a beautiful watercolor cover. It has specific goal-setting pages as well as pages with inspirational quotes. Perfect for the new year.
Next from Erin Condren is their signature Life Planner. It is constructed from vegan leather and it means business! There are multiple pockets for pens, cards, or sticky notes and includes 3 colorful stickers sheets for getting creative.
And for my foodies check out this focused planner! It has weekly planners for meal planning, grocery lists, and special pages for logging recipes and planning dinner parties. If cooking is one of your passions this is for you. It's the best goal planner for those who manage cooking for the household. And again, there are stickers. Yes!
Clever Fox
Omgsh you guys, can we talk about Clever Fox? According to them, they are on a mission to eradicate procrastination and self-doubt from the planet. One planner at a time. A Clever Fox Planner will help you create a vision for your life, define and break down your short-term goals, long-term goals, and yearly goals. These are the best goal setting planners! Another important feature of this planner is that it is undated; so, unlike most dated planners, you can start using it at any time of the year without wasting a page – it's totally up to you to fill in the months and dates.
Their classic Clever Fox Planner promises to increase productivity, time management and hit your goals. There are weekly planners with prompts for your main priorities and monthly calendars with spots for affirmations and a vision board. Use the three colorful ribbon bookmarks to flip between weekly planning and monthly spreads. It also comes with 150 colorful stickers and in premium gift box keepsake packaging. Treat yourself!
This one is a more focused, streamlined version called the Clever Fox Daily Planner. It has a high-quality vegan leather hardcover in luscious colors like pearl and rose gold. This agenda journal also has separate sections for the habits and daily rituals you want to follow during the week.
And let us have a drum roll for the final Clever Fox planner – their PRO Premium Edition. You knew there had to be one, right? Well, here it is. So comprehensive it even comes with a detailed step-by-step quick start illustrated guide! It is like a roadmap for your life. There is a goals journal, gratitude journal, as well as monthly reflections and reminders. It has to be one of the BEST productivity planners out there.
Day Designer
Our last set of planners is from Day Designer. Their 2022 planners come in daily, weekly pages, and undated layouts, with hourly timeline planning and monthly planning pages. They have such gorgeous covers it is so hard to narrow it down to one choice.
This first one is a dated luxury planner and organizer. It includes 12 months of monthly calendars and daily pages with hourly blocks for detailed planning and scheduling. Simple, easy-to-use goal-setting pages, reference calendars, and a 'how-to-use' section help you plan the big picture to find balance, focus, self-discovery, and productivity. I love this wildflowers cover.
Finally, we have the classic, Blue Sky Life Planner which includes an intentional planning system, a convenient list of holidays, reference calendars, and extra notes pages for your scheduling needs. It is a larger 8 x 11 size, and spiral bound with a flexible cover. Printed on high-quality white paper for clean writing space, with premium quality covers in a floral pattern and durable, coated tabs that withstand constant use throughout the year.
There are our picks for the 11 best goal setting planners! Now get out there and slay those goals in 2022.