Toasted Coconut How To + An Important Kitchen Tool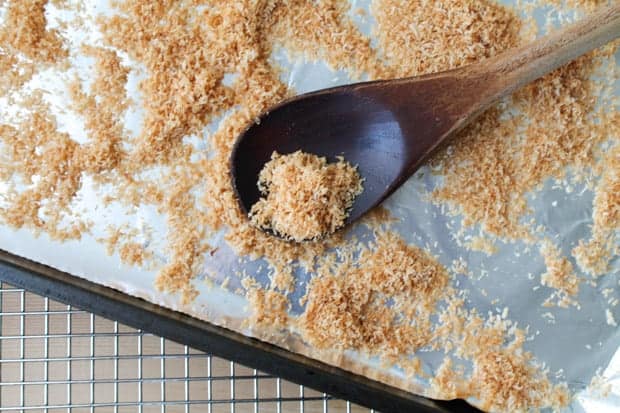 There is quite a difference in flavour and texture between regular and toasted coconut flakes. Both are good, but they are quite different. I like coconut flakes, straight out of the package for things like no bake granola bars as they give them a nice chewiness. Toasted coconut is nice in baking as it adds an almost buttery flavour that is so rich and sweet.
It couldn't be easier to prepare. Got 10 minutes? That's all you need to toast a batch of coconut, start to finish. Let's do this!
So the important kitchen tool I'm referring to in the header of this post is an oven thermometer. Have you ever followed a recipe to the letter only to burn the cookies on the bottom? You could have sworn the recipe said 15 minutes! Well, hopefully this tool puts a stop to wasted ingredients and burned goodies. Every oven is different and having a thermometer hanging on one of your racks is a good way to gauge how hot your oven really is. Mine definitely runs hot. Visit Stir Kitchen Store if you live in Burlington and hook yourself up.
OK! Back to the coconut. It's sooo easy. Spread out a nice thin layer on a foil lined baking sheet.
I baked mine for five minutes, stirring after minutes three and four, ensuring no burning was going on.
And that's it people 🙂 Let it cool for five minutes or so and store in an airtight container.
Your reward is a great topping for your hot oat bran cereal. I leave the container right on the counter next to the stove and it gets sprinkled right onto my breakfast bowl. You could add it into any baking that calls for coconut or even top a curry dish with it. The possibilities are endless. It's too easy not to try. Break out those bags of coconut and get toasting!
As an Amazon Associate I earn from qualifying purchases.
Toasted Coconut How To + An Important Kitchen Tool
Ingredients
Instructions
Preheat oven to 425

Line a baking sheet with tin foil and spread coconut flakes evenly on the baking sheet

Place sheet in oven for 5 minutes, stirring after minutes 3 and 4. Watch carefully as these will burn quickly!

Let cool for 5 minutes and store in a covered glass container
Nutrition
Serving:
4
Calories:
140
kcal
Carbohydrates:
5
g
Protein:
1
g
Fat:
14
g
Saturated Fat:
12
g
Sodium:
8
mg
Potassium:
115
mg
Fiber:
3
g
Sugar:
2
g
Vitamin C:
1
mg
Calcium:
6
mg
Iron:
1
mg