Have you wondered how to roast hazelnuts, or even do you need to roast hazelnuts? Learning How to Peel & Roast Hazelnuts using one of these two methods (one is from Julia Child!) brings them to the next level.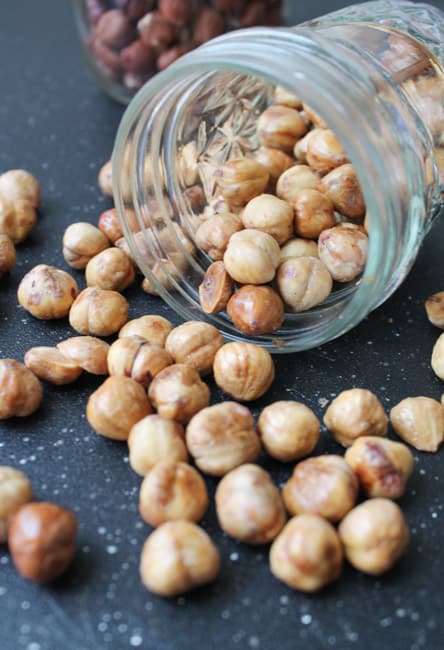 OK.
So.
How do you cook raw hazelnuts.
When I visited Tofino , I bought the cookbook at Sobo, a local hot spot for foodies. I was planning on trying out one of the recipes that calls for toasted hazelnuts so onto the shopping list they went.
As luck would have it, organic hazelnuts were on sale in the bulk section in my usual grocery spot, so I thought it would be a good idea to stock up. I mean, so much better to buy a lot when the price is lower, right?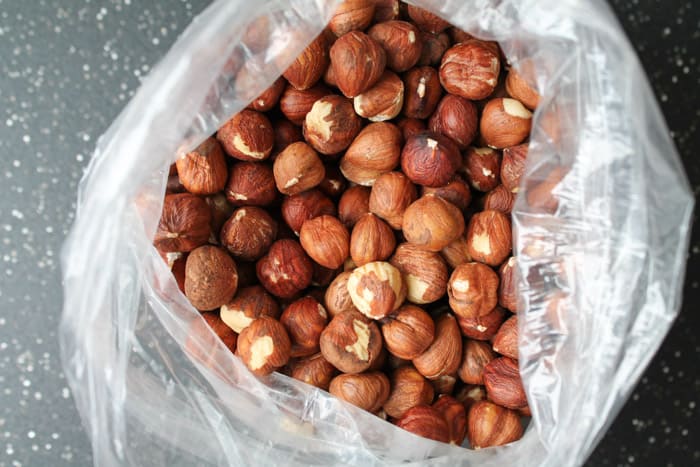 Have I mentioned I have a bad habit of not looking at prices?
Yeah. TWENTY dollars worth of hazelnuts later, I was left a little stunned at the checkout counter.
So. Hazelnuts.
Expect a lot a friggin' hazelnut recipes coming down the shute. 😉
I've never actually roasted my own hazelnuts and unlike almonds, my usual nut of choice (and lookin' so much cheaper thankyouverymuch), hazelnuts have a peel.
So I did a little research on how to remove those stubborn skins and get those nuts toasted up nice.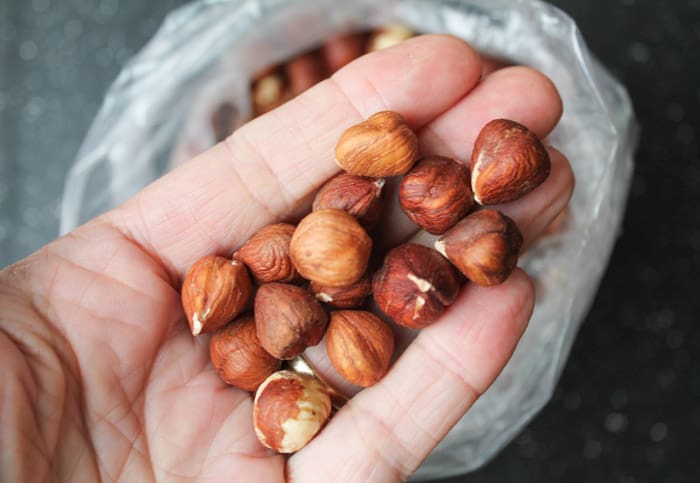 HOW TO PEEL & ROAST HAZELNUTS
First up was the Julia Child method of boiling and ice bathing the nuts.
Baking soda is added to the boiling water and the nuts follow.
They are then boiled for a quick few minutes, then transferred to a bowl of ice water. The peels then just rub off in your hand and then they are roasted in the oven.
Note: If you try and take a picture of the baking soda being dumped into the water, the whole pot WILL bubble over and create a huge mess to clean up.
Just sayin'.
This was the steam filled shot I just had to have: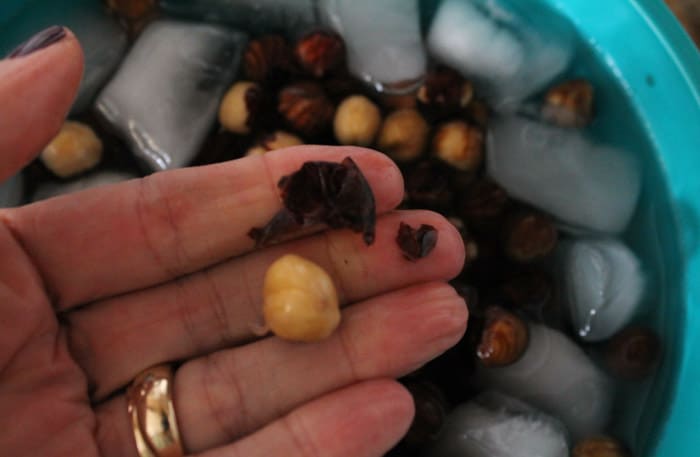 For the second method, I followed the steps laid out by Lisa Aheir, the head chef of Sobo and author of the cookbook.
Her directions are to roast the nuts with the skins on, then rub them off in a clean tea towel.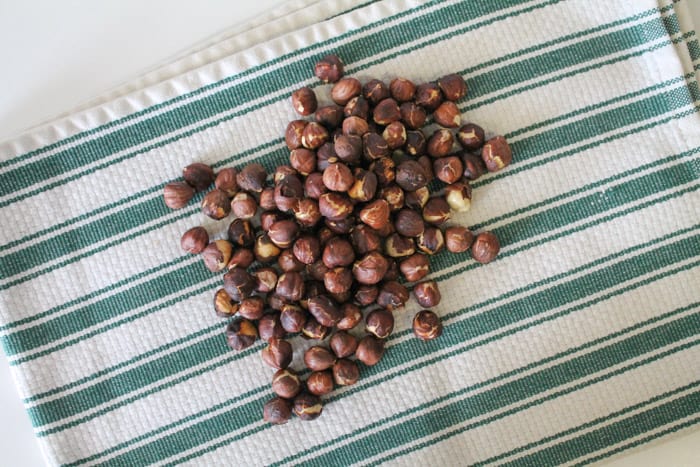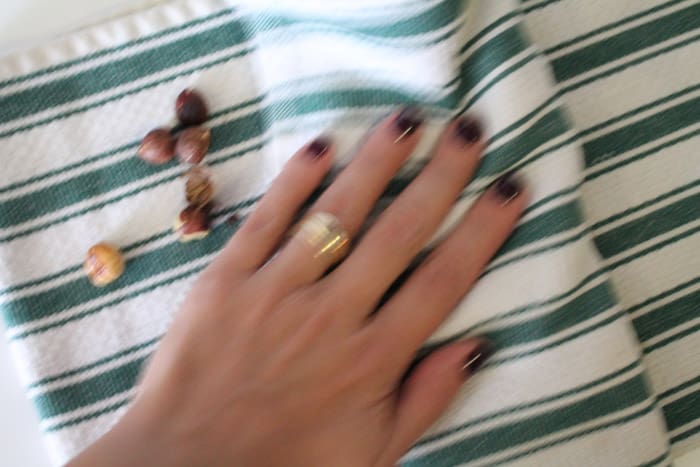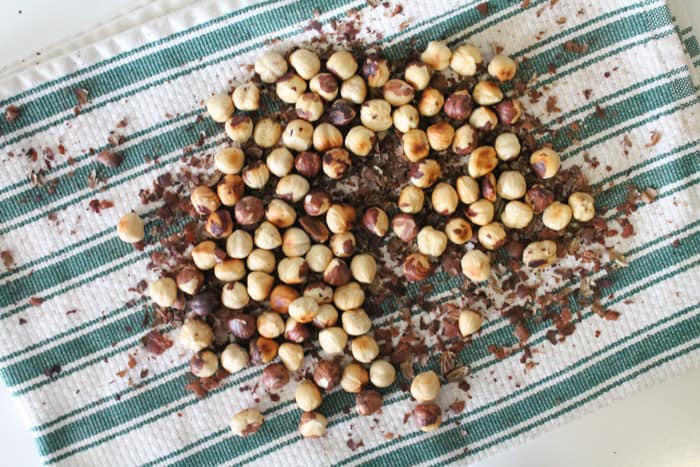 While I liked the fun, science-y aspect of the bubbling water, etc. with the Julia Child method, because it involved quite a few more dishes and a  lot more steps, I'm going to go with the Lisa Aheir method as my preferred pick.
Try them both out for fun!
PS – Apparently I cannot place two recipes in one post so I opted to choose the longer one for printing out. The Lisa Aheir method is pretty short.
Enjoy!
Lisa Aheir Method:
1 cup hazelnuts
Preheat your oven to 400 and line a baking sheet with parchment paper
Spread out the nuts and bake for 5 minutes, keeping an eye to make sure they aren't burning
Let them cool for 3-4 minutes, and then rub them vigorously in a clean tea towel to remove the skins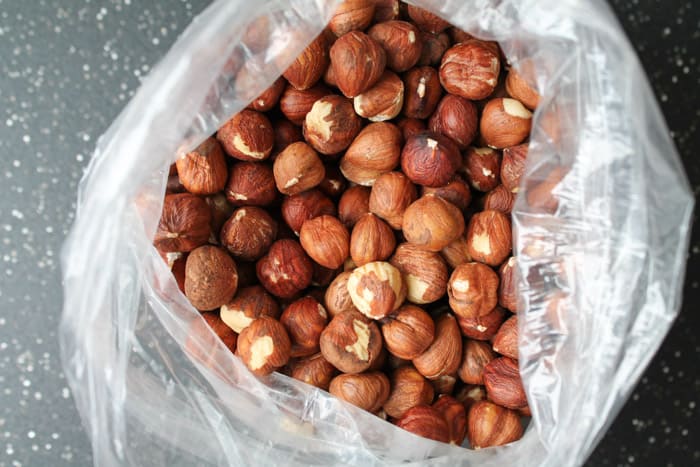 How to: Peel & Roast Hazelnuts - Julia Child Method
Keyword:
how to roast hazelnuts
Ingredients
1

cup

hazelnuts

4

cups

water

4

tbsp

baking soda

bowl of ice water
Instructions
Bring water to a boil in a medium saucepan

Add the baking soda to the boiling water and then immediately add the nuts. BE READY! The water will foam up right away. If it looks like it will bubble over, quickly lower the heat and lift the pot off the element. Don't be like me and let the pot boil over.

Boil for 3-4 minutes, stirring constantly

To test if they're ready to peel, lift one out with your slotted spoon and place it in the ice water. If the skins peel off easily, you're ready to roll

Transfer the remaining nuts to the ice bath and peel off the skins. Place them on a baking sheet lined with paper towels as you go so they can dry

Preheat your oven to 350 and line a baking sheet with parchment paper

Spread the nuts out onto the baking sheet and bake for 10-12 minutes, shaking them around about halfway. Keep a close eye on them to make sure they aren't burning. They are expensive!!
Nutrition Facts
How to: Peel & Roast Hazelnuts - Julia Child Method
Amount Per Serving
Calories 188
Calories from Fat 162
% Daily Value*
Total Fat 18g 28%
Sodium 3295mg 137%
Potassium 204mg 6%
Total Carbohydrates 5g 2%
Protein 4g 8%
* Percent Daily Values are based on a 2000 calorie diet.
*Originally posted October 3, 2014 Updated December 12, 2018*
Be sure to follow me on social media! I love pinning to Pinterest, sharing on Facebook and posting pics to Instagram. See you there. 🙂