These squares were originally just almond oat squares. I overestimated how much almond butter there was left in my jar and improvised with the remains of a jar of sunflower seed butter. Sometimes, things are meant to be because it turns out, the sunbutter strikes again! We loved the taste of the sunflower seeds in these healthy squares. I think it's the punch of saltiness combining with the sweetness of the honey. It just works.
Speaking of honey, look at this: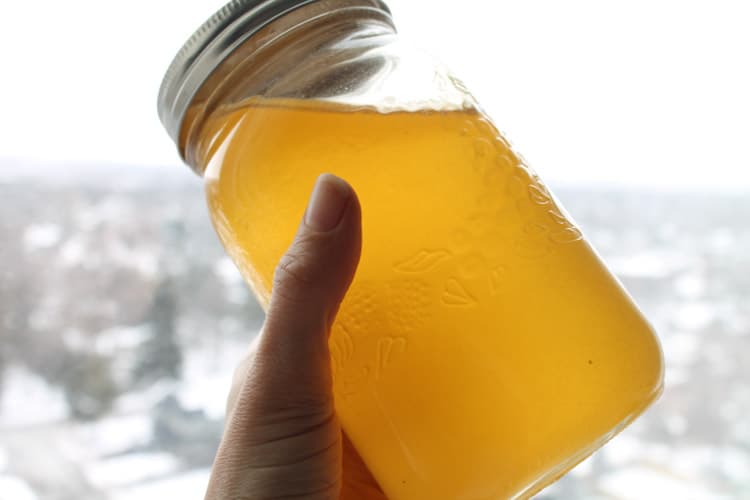 A thing of beauty. Local, raw honey in all its glory. How one could ever chose a powdery, manufactured sweetener over this liquid gold is a mystery to me.
Your basic stir and mix routine is all that is required to prepare these Sunflower Almond Oat Squares. Then press the mixture into your dish and pop into the fridge. Super easy. I used a 9×9 dish for squares, but you could use an 8×8 if you wanted a thicker, bar style treat instead.
I used to like those Quaker Chewy Bars as a teenager and these are kind of like a healthier, non processed version. You could add a few chocolate chips to these if they called your name. Never hurts, right? 😉
I hope you enjoy these and enjoy your weekend as well! We've got a few things in the works for The Honour System, so stay tuned in the coming weeks for some (hopefully!) helpful additions to the site. I've been really trying to continue to improve the experience for everyone who visits and keep you coming back. 🙂 
Besos!
Inspired by these squares.
Sunflower Almond Oat Squares – Gluten Free
Ingredients
3/4 cup natural almond butter
1/4 cup sunflower seed butter
1/4 cup honey
1/4 cup maple syrup
1 tsp vanilla
3 cups quick oats (use GF if necessary)
1/4 cup Daily Cleanse , or ground flax
1/4 tsp salt
Instructions
Line a 9x9 dish with parchment and set aside
Combine oats, flax and salt in a large mixing bowl and set aside
In a small sauce pan, over medium low heat, melt together the almond & sunflower seed butters, and the syrup & honey, stirring until smooth. Remove from heat and stir in the vanilla
Pour the mixture over the oat mixture and mix very well
Press into the lined dish and refrigerate for 30 minutes to an hour
Slice into squares and store, covered in the fridge
7.6.7
462
https://thehonoursystem.com/sunflower-almond-oat-squares-gluten-free/