Whole 30, Day 16. I'm in the home stretch and, like always, I need treats to fuel me through. Since there is a ban on all sugars, even my naturally sweet standbys of honey and/or maple syrup, I'm getting creative with what's available. These bars are date based which, along with some coconut, adds all the sweetness you need. They also have a bit of smooth, all natural almond butter to really tie things together.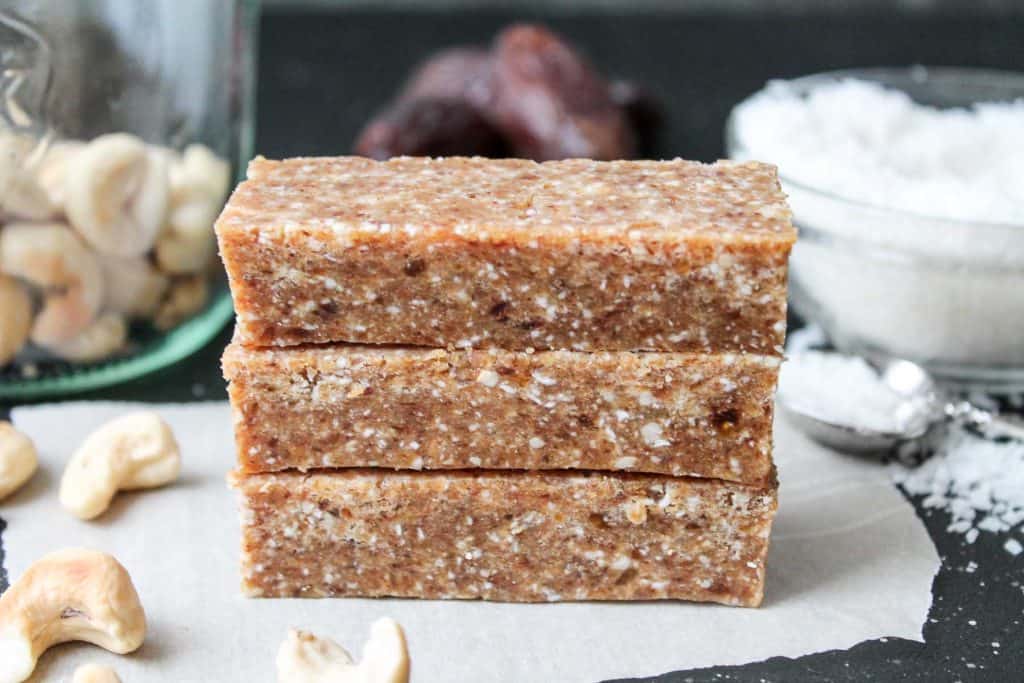 If you are familiar with the popular "larabars" then you will have an idea as to how these taste. Only, to be honest, these have to be ten times better. The fresh ingredients and my super secret ingredient ( love 😉 ) take my Toasted Cashew Coconut Bars over the edge. Put the larabar down. Trust.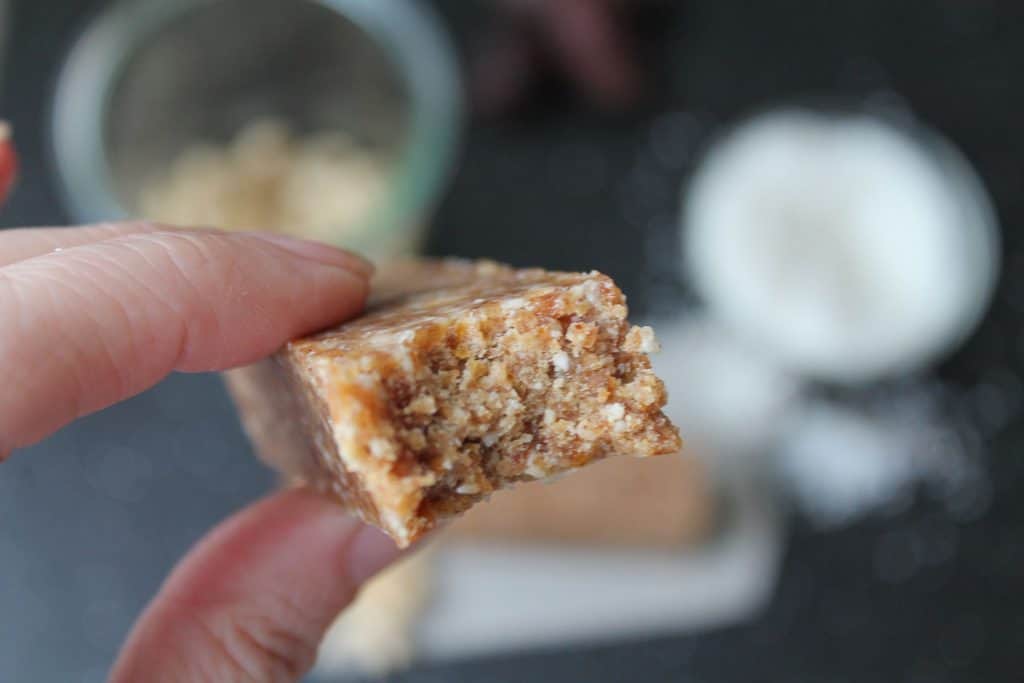 A food processor was one of the kitchen tools I first invested in when healthy eating and cooking for our family became my priority. There are so many more cool recipes you can make when you have one of these higher powered machines. I bought a Black & Decker on sale at Canadian Tire for under $100 about 6 or 8 years ago. It's not the greatest but it is still ticking.
One day, when it dies (or the blender dies, whichever) I will be finally purchasing a Blendtec or Vitamix so I can consolidate that counter space. Cannot wait. Come on, blender! Die already! 😉
I knew when I began to slice these babies up they were going to be a hit and I wasn't wrong. The flavours were perfect together and these Toasted Cashew Coconut bars were just what the Whole 30 doctor ordered.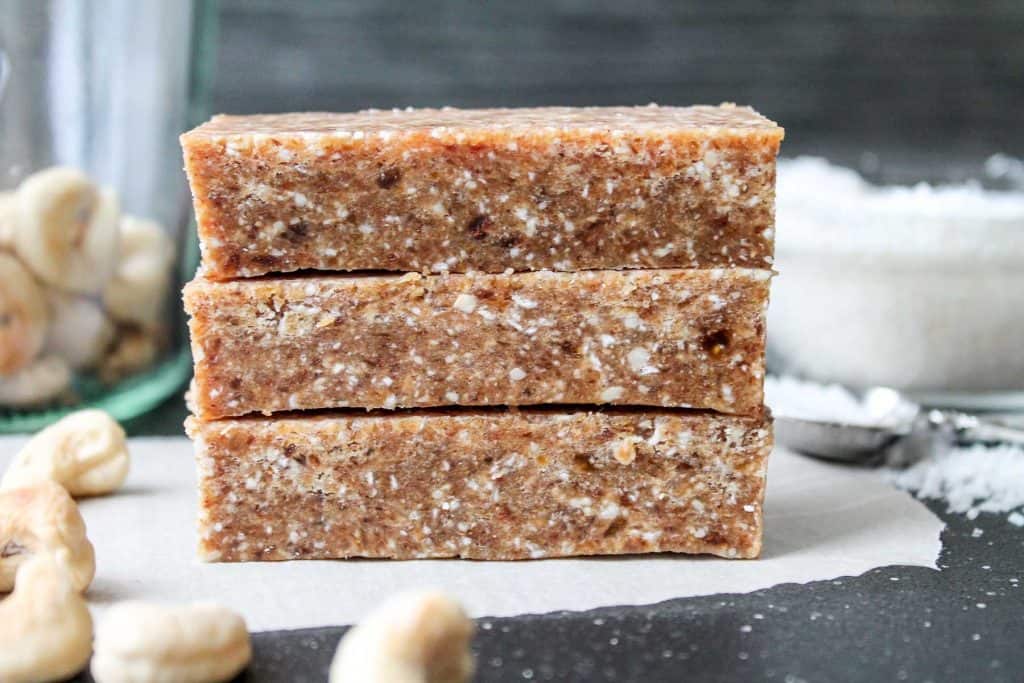 And yes, I am now the Whole 30 doctor. Accepting new patients! 😉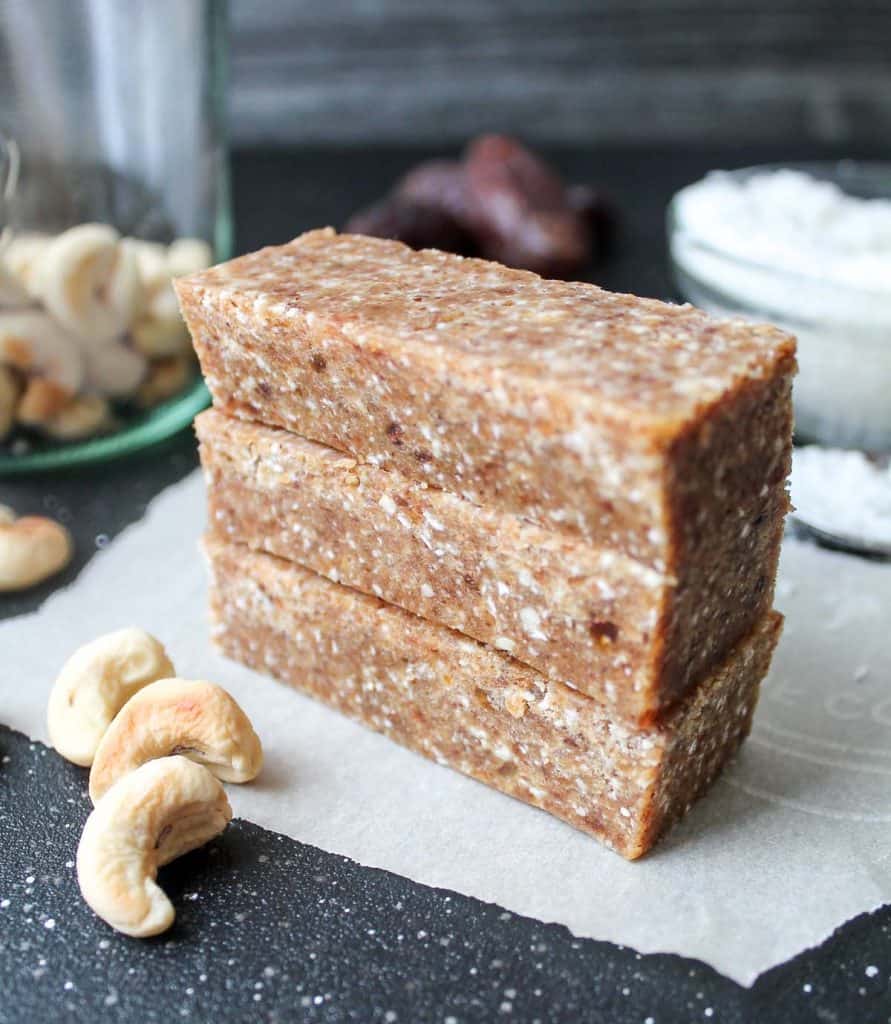 Serves 12 bars or 24 squares
Toasted Cashew Coconut Bars – Vegan, Gluten Free, Grain Free
Ingredients
3/4 cup raw cashews
1/2 cup unsweetened coconut, shredded
2 cups pitted medjool dates
1 tsp vanilla
1/4 tsp sea salt
1/4 cup smooth almond butter
Instructions
Preheat oven to 350 and spread out the cashews on a baking sheet. Toast them for 5 minutes then allow to cool for 10
Place the cashews, dates, coconut, sea salt and vanilla in a food processor and pulse until it's crumbly
Add in the almond butter and process until it begins to clump together and the dates have been broken down
Line a loaf pan with parchment and press the mixture into the pan firmly
Freeze for 15-20 minutes and slice into bars or squares
Store covered in the fridge or freezer
7.6.7
489
https://thehonoursystem.com/toasted-cashew-coconut-bars-vegan-gluten-free-grain-free/