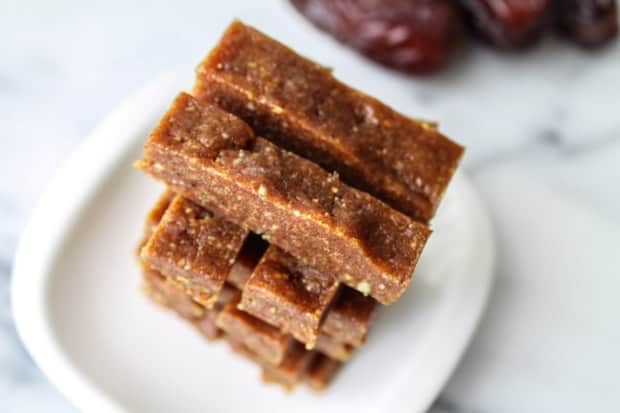 Considering I have a fresh batch of banana chips in my possesion, I am going to put them to good use by incorporating them into a delicious home made version of the popular larabar flavour, Banana Bread. This is not my first attempt at this, as I made the Cashew Cookie flavour awhile back and it turned out well. If you are so inclined you can make your own banana chips, but I do believe you can buy them at the Bulk Barn to skip that step.
I used equal parts of each ingredient which, amazingly, are only three! That means one cup each of roasted almonds, chopped dates and the banana chips. Off they go into your food processor for a whirl.
It will take 2-3 minutes and you will know they are fully combined when a ball is formed. Mine also starts to make a terrible noise but, that could just be because my food processor is a piece of sh*t. Sorry, but it's both true and the proper term for this particular instance.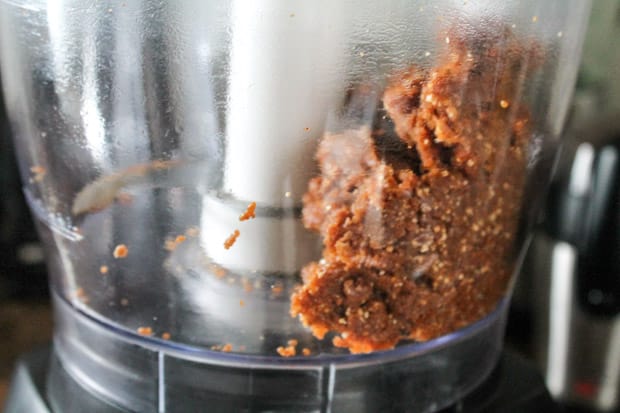 Carrying on!
Place said ball on a board that's lined with a long-ish sheet of saran wrap. You want it long enough to wrap your 'dough' in.
Break the ball into 12 smaller balls, then press them together with your fingers and shape it into a nice square. I find breaking it into the smaller balls first helps make it more even to press into the square. Wrap it in the saran and pop it into the freezer.
It takes about an hour to set, then it can be cut into bars, squares, or what I decided on, which was smaller chew sized bites for better portion control…
Who am I kidding? I went to town on these! So, I packed them up and shared them with those lucky ducks my co-workers.
If you have better self control than me these treats will keep in the fridge in an airtight container.
Enjoy!
DIY Larabar – Banana Bread
Ingredients
1 cup banana chips
1 cup chopped dates (approximately 10 dates)
1 cup almonds, raw or roasted
Instructions
Process all ingredients together until a ball forms
Transfer ball to saran wrap lined board and form into a square
Wrap the square in the saran wrap and freeze for about an hour
Cut into bars or squares and store them in the fridge in an air tight container
7.6.7
157
https://thehonoursystem.com/diy-larabar-banana-bread/