Coconut Oil Peanut Butter Fudge. Both gluten free & vegan, this recipe for Coconut Oil Peanut Butter Fudge is so easy and SO yummy!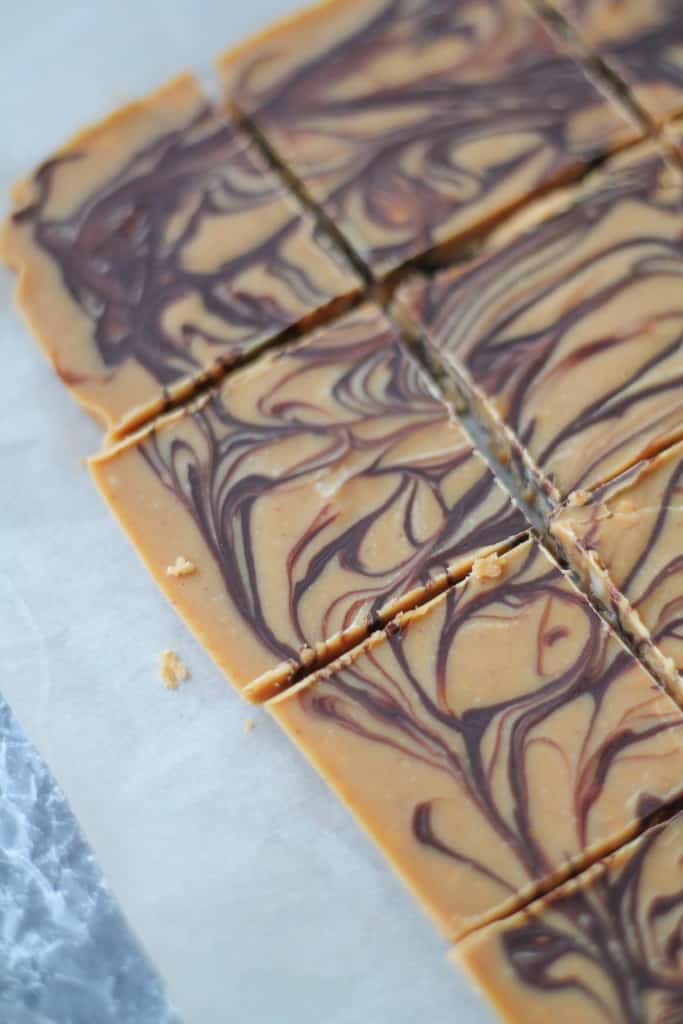 Sometimes all you need is simplicity.
As long as that simplicity includes a little peanut butter and chocolate, am I right?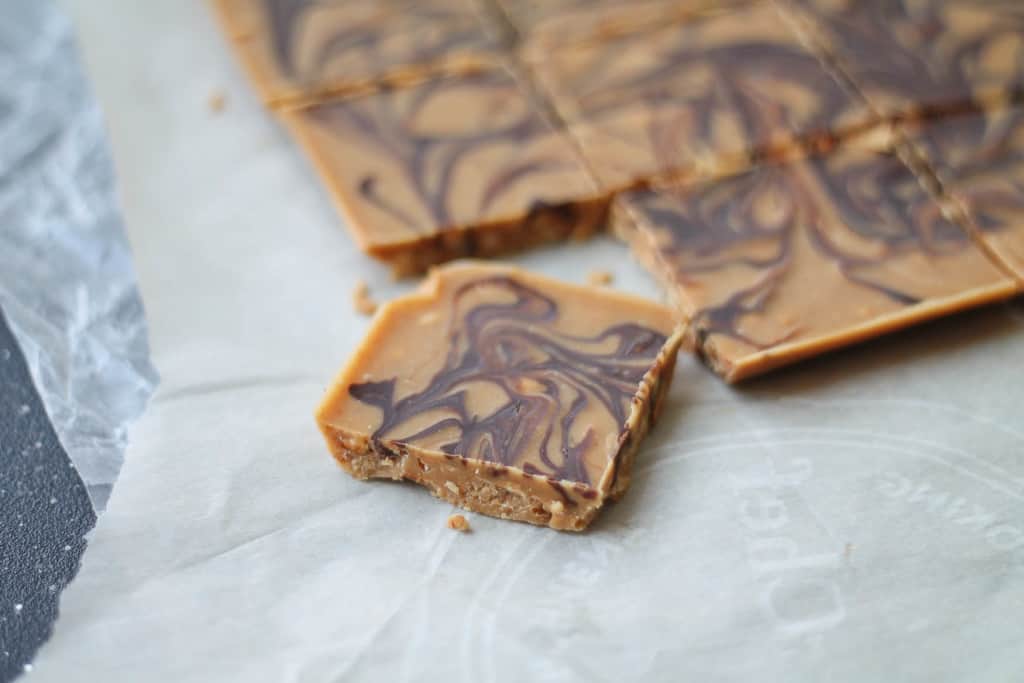 I've had a lot on  the go as of late. My mind is bursting with things I need to get done and deadlines I have to keep my eye on.
When life gets hectic and I'm running on less sleep than usual I tend to get a tad lazy in the eating department. Toast with jam masquerades a meal and bowls of cereal equals lunch. 
The heat of the summer does not help as turning on the stove seems like hellish torture.
Enter this cold customer.
Coconut Oil Peanut Butter Fudge.
A little elegant marbling brings this uber-easy no bake treat to new heights.
It looks so fancy!
Just drizzling some melted dark chocolate and dragging a toothpick through it creates the marbled effect.
So fun. 🙂
Thankfully indulgences like this one are full of healthy fats that don't actually make you fat! Amen to that.
Coconut Oil has a whole host of healthy benefits. Check –> this article <– for a comprehensive look on coconut oil and some science-backed uses and cures.
Happy Humpday, peeps.
Enjoy!
Yields 16
Coconut Oil Peanut Butter Fudge - Vegan & Gluten Free
Ingredients
FOR THE FUDGE:
1 cup peanut butter
1/4 cup coconut oil
1.5 tbsp. maple syrup
1/8 tsp sea salt
FOR THE MARBLED TOP:
1/4 cup dark chocolate chips
1 tsp coconut oil
Instructions
In a small saucepan, over medium low heat, melt together the fudge ingredients (peanut butter, coconut oil, maple syrup, salt) until smooth. Pour into a parchment lined 9x9 dish
Melt the chocolate chips and coconut oil together either over low heat on the stove or in the microwave
Drizzle the melted chocolate over the fudge and use a toothpick to make the marbled effect by dragging and swirling the toothpick through the chocolate
Freeze for an hour
Cut into 16 squares and store in the freezer

will melt at room temp
7.8.1.2
31
https://thehonoursystem.com/coconut-oil-peanut-butter-fudge-vegan-gluten-free/