These flourless Chocolate Peanut Butter Chickpea Cookie Bars are a delicious vegan and gluten free treat with crispy edges and a doughy center. Healthy, easy recipe and made with all natural ingredients!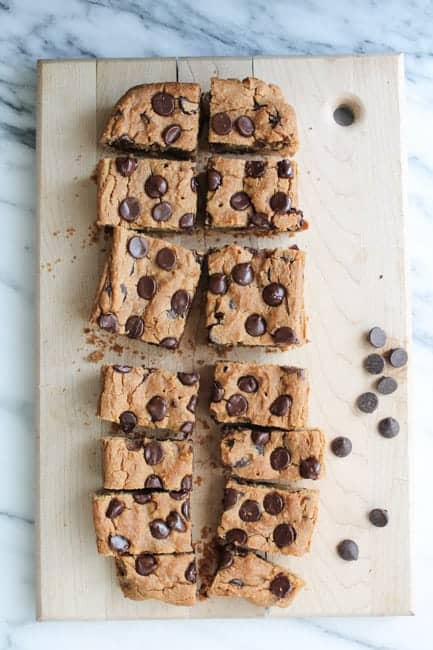 OK, people.
Hold onto your hats with this incredible discovery.
Chocolate Peanut Butter Chickpea Cookie Bars
No flour and no refined sugar that look and taste like the real thing. 
It's the first time I've dipped my toe into the 'cooking with beans' pool and I'm kicking myself for putting it off for so long! We were seriously blown away by these Peanut Butter & Chocolate Chickpea Cookie Bars.
As I mentioned, they contain no butter, no flour, no refined sugar yet taste absolutely decadent and indulgent.
You'll notice I said 'we' were seriously blown away? That's because not only did Joe sample these he ate more than three one. 😉
I wasn't sure how it was going to play out because he wandered through the kitchen when these bars were in the early stages. It looked a little something like this:
He asked me if I was making hummus and then noticed something.
"Is that peanut butter?!"
He was so confused!
LoL.
I had totally intended on tricking him into trying one before revealing the secret ingredient but had been caught red handed. He was skeptical to say the least. He thought I'd gone nuts. 🙂
However they looked soooo good when they came out of the oven neither of us could resist them.
A word of caution!
Like roasted chickpeas, these need to bake long enough to get the crispy crust that just make these bars something special, so be patient! Mine took about an hour, but a second batch I made took an hour and fifteen minutes, so make sure the toothpick comes out totally clean and that the edges are browning and feel set.
Truth be told I couldn't resist the 'batter'.
This recipe is so easy, all that is required is a blitz in a high powered blender or food processor. Just to the smooth consistency of hummus. I dipped the tip of a spoon in to try it.
Oh em gee. 😉
I could have eaten the whole batch totally raw!
Needless to say I had to pack a few off too work.
I did get to trick my boss and a couple of co-workers with my chickpea treats doing a blind test and not telling them the main ingredient. No one guessed it and they loved them.
Win!
Do you ever bring treats into work?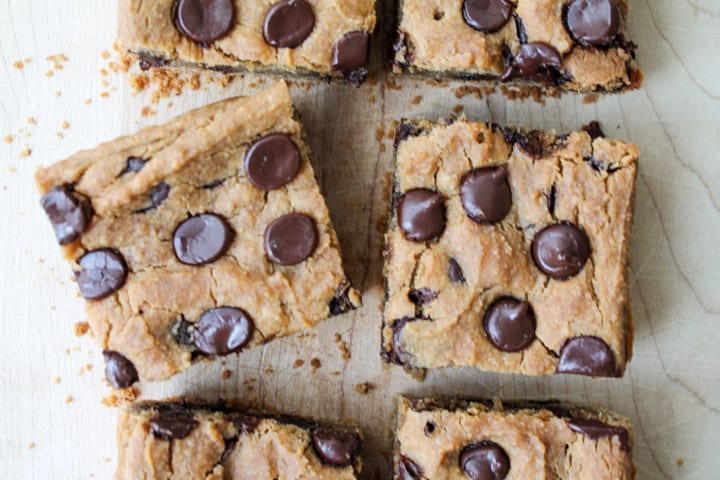 Do you wish you worked with me? 😉
Why swap out the flour for chickpeas? They are good for you! Check out these Eight Great Reasons to add Chickpeas to your Diet.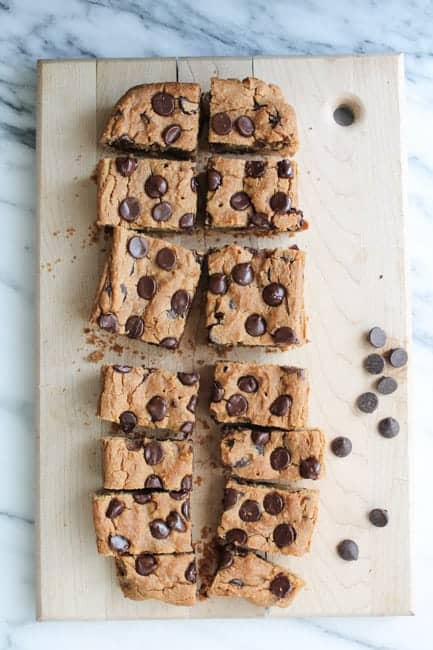 Chocolate & Peanut Butter Chickpea Cookie Bars – Gluten Free & Vegan
Keyword:
chickpea cookie bars, vegan cookie recipe
Ingredients
1

can

398ml. chickpeas, rinsed & drained

½

cup

peanut butter

I used a natural chunky variety

¾

cup

maple syrup

2

tsp

vanilla

¼

teaspoon

baking powder

¼

teaspoon

baking soda

¾

cups

dark chocolate chips

reserve ¼ cup for the top

pinch

sea salt
Instructions
Preheat oven to 350 and line a loaf pan with parchment paper

In a food processor (or high speed blender), add all ingredients except chocolate chips and process until batter is smooth, similar consistency to hummus

Stir in 1/2 cup of the dark chocolate chips

Scoop the batter into the lined pan and smooth it out evenly. Lightly press the remaining chocolate chips over top

Bake for 60 minutes or until toothpick comes out clean. This will vary with ovens so be patient and wait until the edges are beginning to brown

Cool for 10 minutes in the pan then transfer to a rack for another 30 minutes for them to set

Cut into squares