Oh the beautiful pomegranate! You know that the Christmas season is coming when you start seeing pomegranate bins popping up at the grocery stores. There is absolutely nothing like the burst of fresh juice that comes out of the arils of a freshly cut pomegranate. The only drawback is the mess created when slicing into one of these beauties. Deep red juice that stains cutting boards and shirts alike 😉 Well, my friends, I have a great method for cutting open pomegranates that is simple and clean.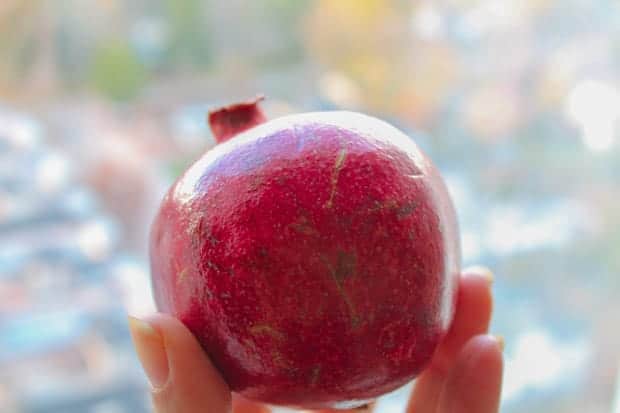 You want to get set up first with a deep bowl filled with water.
Then, using a sharp knife, slice off the tip top of the pomegranate.
Next cut an 'x' on the top. Don't cut all the way through, just score the top less than an inch deep.
Pop it into the water and with your fingers; break the pomegranate into four pieces with the help from the grooves on the top.
By keeping the fruit under the water it is so much easier to get the arils out from the thick skin without spraying blood red juice everywhere. Excellent!
To free all the juicy pockets, I methodically broke them out and most of the white rind floated to the top while the arils sank to the bottom. This made it easy to separate things. I skimmed the top of the water to scoop out the floaties. Then, I plucked the beads from the bottom of the bowl and transferred them into a colander and rinsed them off.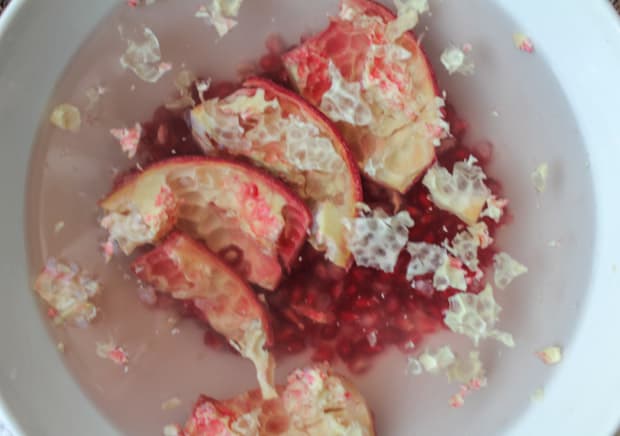 After promptly downing a handful, I brought the bowl out to the living room for Joe to have a try. I scooted back to the kitchen for, I swear, 2 minutes and when I came back, they were.all.gone. All of them! Completely oblivious, Joe had munched them all down, thinking they were for him. Arg! Luckily, I had another pomegranate and an easy way to prepare it, so all was forgiven.
Until later … Then I will bring up how someone ate all of the pomegranate. Maybe that someone would like to make me a nice cup of tea? Thanks someone 😉 !