10 Must Have Gifts for Bakers
Baking is more than making all types of baked goods for many baking enthusiasts; it's a creative hobby requiring certain tools and equipment to get the job done. That's why we're here to help you out! We've compiled a list of 10 must-have baking gifts for the everyday baker, perfect for those who are passionate about baking. Check out our collection to find the perfect gift for bakers in your life.
As an Amazon Associate, I earn from qualifying purchases.
Trust me, these kitchen tools make great gifts for bakers and won't just make their baking experience even more awesome, but also show how much you appreciate those yummy treats they whip up.
Encourage the home bakers and budding pastry chefs that you love with these great gift ideas. Create a charming homemade gift by assembling an assortment of gifts for bakers in a beautifully crafted basket.
Cookie scoops
Gifting a set of cookie scoops is always appreciated. They are handy tools for any baker, ensuring perfectly portioned cookies every time. They can effortlessly fill muffin liners with batter, shape meatballs with ease, and much more. You can even use cookie scoops to measure ingredients accurately.
Another great use for cookie scoops? Uniformly portioning cookie dough energy balls for chilling or scoops of ice cream or peach sorbet for a bowl of dessert.
High-quality baking sheets
Baking sheets are a kitchen staple that proves to be a versatile piece of equipment. Look for heavy-duty rimmed sheets that won't warp under high heat and will ensure there are no more unevenly cooked treats.
We recommend having baking sheets in various sizes to tackle different recipes, whether a small batch of cookies, a big batch of granola, or even sheet-pan dinners. The right-sized sheet on hand makes life so much easier.
Baking pans
Bakers need many types of pans, depending on what they are baking. A fancy bundt pan is always an appreciated gift, but every baker needs the basic pans for coffee cakes, pies, cinnamon roll muffins, and bread. These are the pans that we keep in our cupboards.
Our Pick
Mixers
A stand mixer is a game-changer for any baker; it can do the work a handheld mixer can't. Our professional-style KitchenAid mixer is a powerhouse that makes whipping, kneading, and mixing ingredients a breeze, saving time and effort.
Our Pick
But, for small tasks, a small electric hand mixer will come in handy. A hand mixer is perfect for someone short on space but still needs this tool. Plus it is a more economical choice!
Our Pick
Does your loved one already have a mixer? One of the BEST gifts is this super cute decorative ceramic bowl. They will think of you every time they use it adding a nice touch of nostalgia and elegance to their counter space.
Our Pick
Digital kitchen scale
Bakers know that using a kitchen scale allows for more accurate measurements of ingredients, and many recipes are written in pounds, ounces, and grams for this very reason.
We like how easy this digital scale is to use; you can easily zero out the weights, and it can weigh up to 22 pounds.
Silicone baking mats
Silicone baking mats are a baker's best friend. They provide a non-stick surface that eliminates the need for parchment paper and ensures even baking. Plus, they're eco-friendly and reusable, making them a sustainable choice.
We use these silpat mats for baking cookies and pastries and also set pies on them to catch drips for an easy clean-up. You can even cut them to fit your various-sized baking sheets.
Our Pick
Quality baking tools
Every baker needs high-quality baking tools to ensure the success of their recipes. We personally rely on these tools for most of our baking recipes and often find that we have duplicates of some items because we use them so frequently.
Our Pick
Pastry bags and piping tips
Piping bags are not just for cake decorators. They are useful to add an extra flourish to many baked goods, like a swirl of whipped cream topping on pastries for an elegant touch, or to fill pasta shells, hummus deviled eggs, or pipe macaroons.
A piping bag and star tips are all a baker needs.
Rolling pin
A sturdy rolling pin is essential for rolling out dough for pies, cookies, and pastries. There are different types, but we prefer this French rolling pin with tapered ends, making it easy to grip and roll the dough.
Your other option is a straight rolling pin with handles.
Oven thermometer
An oven thermometer is a small, affordable gift every baker can use to help determine the accuracy of the oven temperature. Just because the temperature on the oven says 350 F, that doesn't mean that is the actual temperature inside.
We keep this thermometer in the oven for a reliable way to monitor and adjust the temperature.
Our Pick
Last-minute gifts for bakers
If you are at the end of this list and still aren't sure what to get a cute or classy apron is a great gift idea for a baker. Or how about a classic baking cookbook? Something like the Art of Fine Baking or The Baking Bible.
Our Pick
Essential kitchen tools are perfect for the cook, but if you have a friend or family member who is totally into baking, finding the ideal gifts for bakers that complement their baking passion can be a thoughtful gesture. Whether the baker is a seasoned pro or just starting their baking journey and building a kit, these gifts will help them create even more delicious treats and make their time in the kitchen all the more enjoyable.
So, knead no more — choose the perfect gift and watch their culinary creativity flourish with all kinds of sweet bakery deliciousness.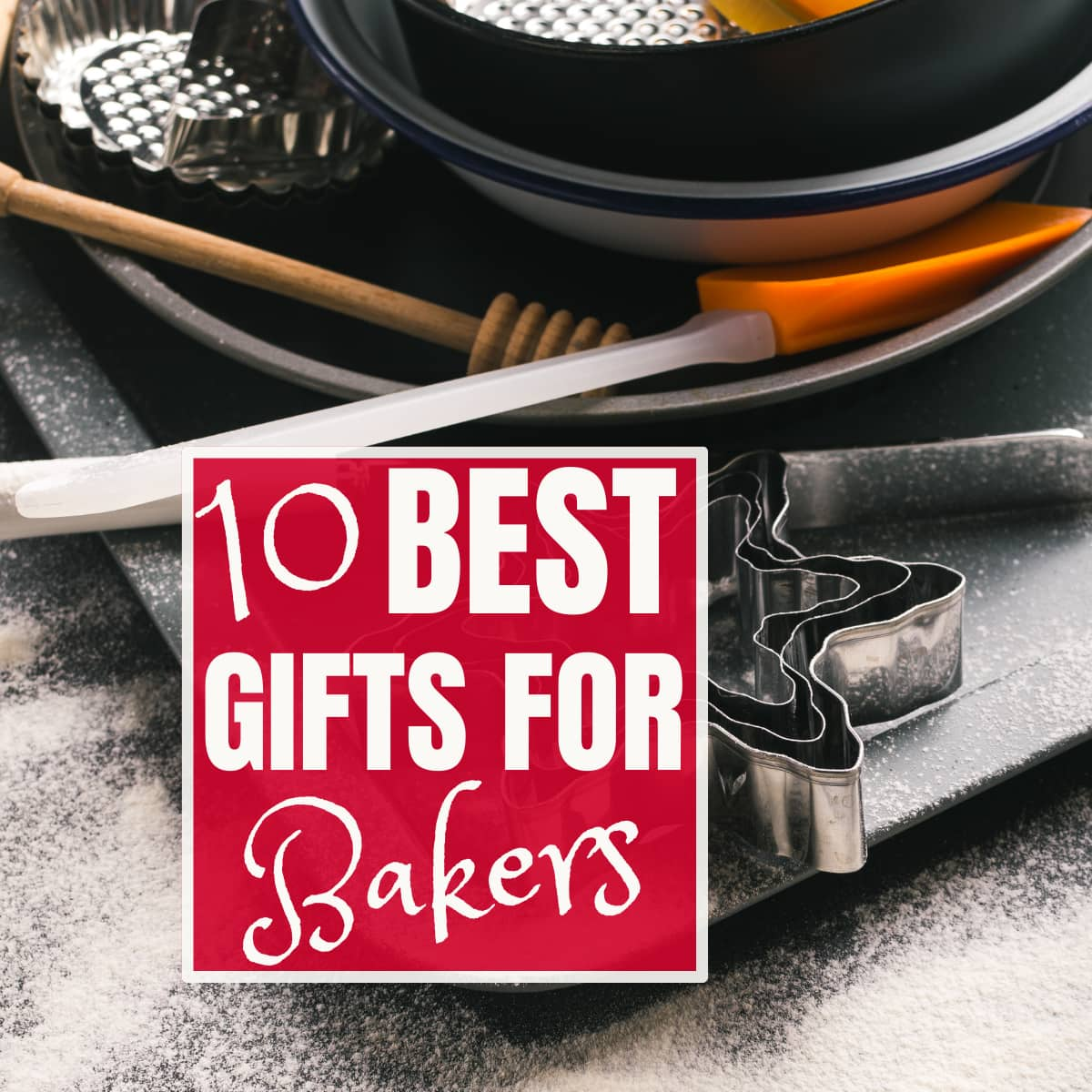 If you've tried any of these gifts for bakers, please let us know by leaving us a comment below. We're always interested in feedback!
Be sure to follow us on social media! We love pinning to Pinterest, sharing on Facebook, and posting pics on Instagram. See you there. 🙂
As an Amazon Associate, I earn from qualifying purchases.
This article originally appeared on Food Drink Life.