I just so happen to have some leftover hummus. This really excites me as I now have the opportunity to try out these deviled eggs I have seen floating around the Internet, using hummus instead of mayo, mixed with the hard egg yolks…
I KNOW!!
I also tried out a new method of hard 'boling' the eggs. I set the oven to 375  and baked for 25 minutes in a muffin tin…
Then transfered the eggs to a bowl of cold water.
Let them sit in the cold water for 10 minutes, then pat them dry.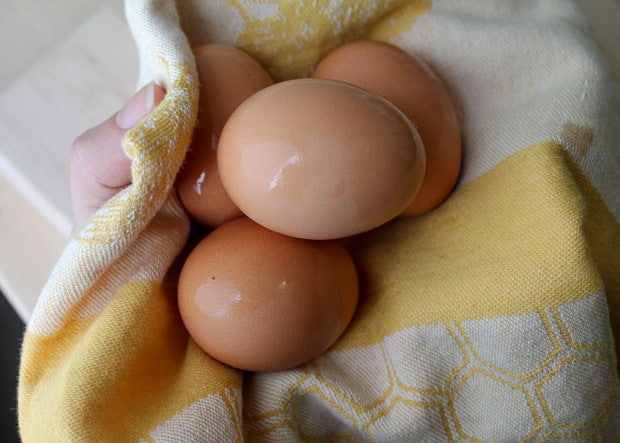 You can store them in the fridge…just remember which end you placed the hard boiled ones. You don't want any surprises;)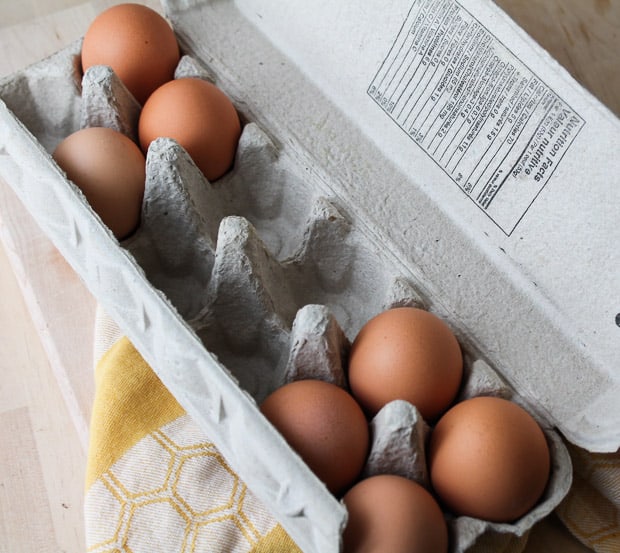 I found the baking method pretty effective. The eggs were nicely cooked. However, there was a little brown spot on each egg. I'm guessing that was the pressure point of the egg touching the hot pan.  Other than that they were fine. Basically, just aesthetics.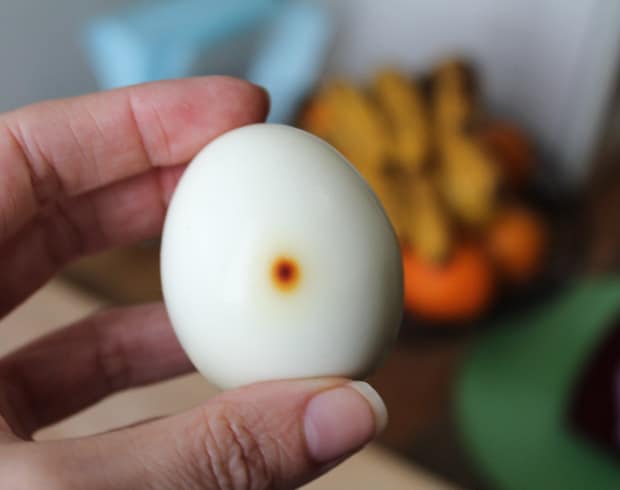 And if you guessed that it's a bunch of brown bananas in the back ground, you'd be right! I'm never far from a browning banana…
Now, let's make deviled eggs a whole lot healthier! Ditch the mayo and mix the yolk from the eggs with some hummus, about equal parts with the amount of yolk you have. Using the hummus cuts out the fats that aren't beneficial and makes this a protein packed, hearty snack.
And naturally, since this is an Honour System recipe, we are going to add some spice. One thing I've learned in my journey along the road of healthy eating is to season your food. Adding different herbs and spices adds life to what you're eating and gratifies the senses.
For the filling of the deviled egg I added turmeric, cayenne powder, paprika, sea salt and pepper. Sometimes I think I should have named the blog 'Sea Salt & Pepper'! I also added a swirl or two of mustard.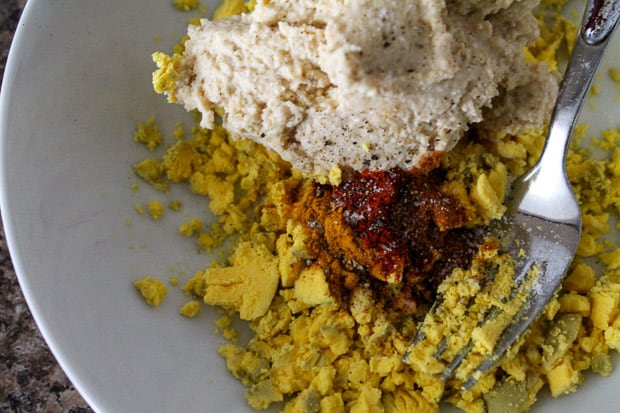 Give them all a good mash and pipe into your hollowed egg white.
I have to say…this was pretty darn good:) It was a first for me and it was a big hit. I also have ideas swirling around my head for ways to turn this into a sandwich. Stay tuned…
As an Amazon Associate I earn from qualifying purchases.
Hummus Deviled Eggs
Keyword:
hummus deviled eggs
Instructions
Cut hard boiled eggs in half.

Remove yolks and place in seperate bowl.

Add remaining ingredients to the bowl and mash together with a fork, mixing well.

Pipe or spoon into egg whites.

Sprinkle with paprika.
Nutrition Facts
Hummus Deviled Eggs
Amount Per Serving (4 g)
Calories 116
Calories from Fat 63
% Daily Value*
Fat 7g11%
Cholesterol 186mg62%
Sodium 140mg6%
Potassium 145mg4%
Carbohydrates 4g1%
Protein 8g16%
Vitamin A 730IU15%
Vitamin C 0.3mg0%
Calcium 33mg3%
Iron 1.4mg8%
* Percent Daily Values are based on a 2000 calorie diet.