I have to say, I'm pretty pumped about making my own mayo.
I once worked with a chef who warned me never to trust a restaurant that didn't make their own mayonnaise. "It's oil and egg!" he would say. This chef was also British so there was a bit of a Gordon Ramsey-esque disdain in his tone.
That was many moons ago and I am only just now making my own mayo. I think I've been so into using avocadoes or Greek yogurt lately that mayonnaise just hasn't been on my radar. Well, that has changed, my friends and my old chef friend would be proud. 😉
The best part when you make homemade mayonnaise, of course, is that you control the ingredients. Instead of scary GMO canola oil, I'm using a light organic olive oil. My eggs are free range and hormone free. Oil and egg, baby.
All you need is a blender. The key is to let the oil stream into your blender super slowly.
Oil and egg become mayonnaise.
Magic.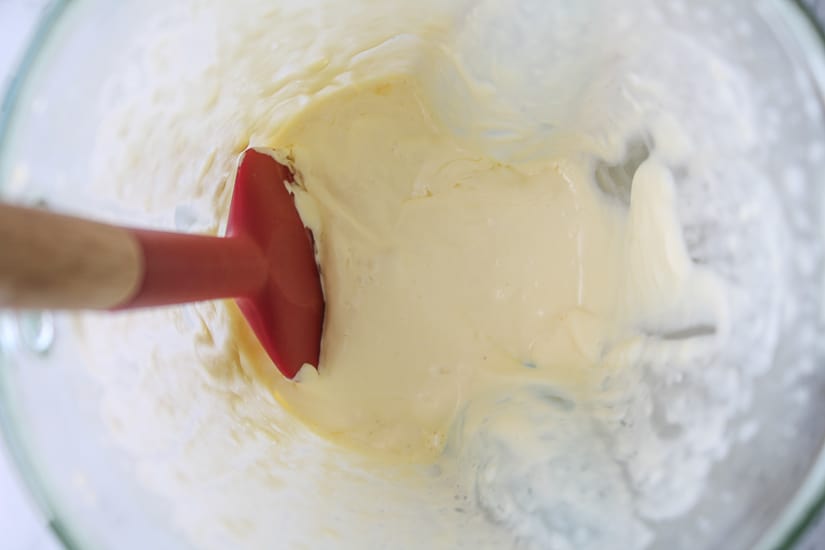 The options for customizing are endless. I've already made a curry mayo for a chicken salad (stay tuned!) and you just KNOW that chipotle mayo is soon to follow. Since completing the Whole 30 challenge last month, I've been fully embracing the healthy fats. 😉
So have some fun acting all chef-like and totally make yourself some homemade mayonnaise!

As an Amazon Associate I earn from qualifying purchases.
How to: Make Homemade Mayonnaise
Keyword:
homemade mayo recipe
Instructions
Place the egg, 2 tbsp. of vinegar, dried mustard and salt into a blender. Blend on high speed for about 10 seconds

Turn the speed to low and very slowly drizzle in the olive oil. Make sure the stream is really thin and you pour very slowly. This helps to emulsify everything smoothly. Taste for seasoning and add more vinegar or salt if you'd like

Store covered in the fridge for a week
Nutrition Facts
How to: Make Homemade Mayonnaise
Amount Per Serving (4 g)
Calories 1641
Calories from Fat 1629
% Daily Value*
Total Fat 181g 278%
Cholesterol 163mg 54%
Sodium 1229mg 51%
Potassium 60mg 2%
Protein 5g 10%
* Percent Daily Values are based on a 2000 calorie diet.