Spicy Dipping Sauce Recipe
This delicious Spicy Dipping Sauce recipe is one of those easy sauces with simple ingredients that strikes the perfect balance of flavors between creamy and spicy. With just a couple of easy steps, you'll have a versatile condiment that pairs perfectly with appetizers, meats, vegetables, or even as a delightful drizzle over salads. Get ready to dip, dunk, and savor every bite.
As an Amazon Associate, I earn from qualifying purchases.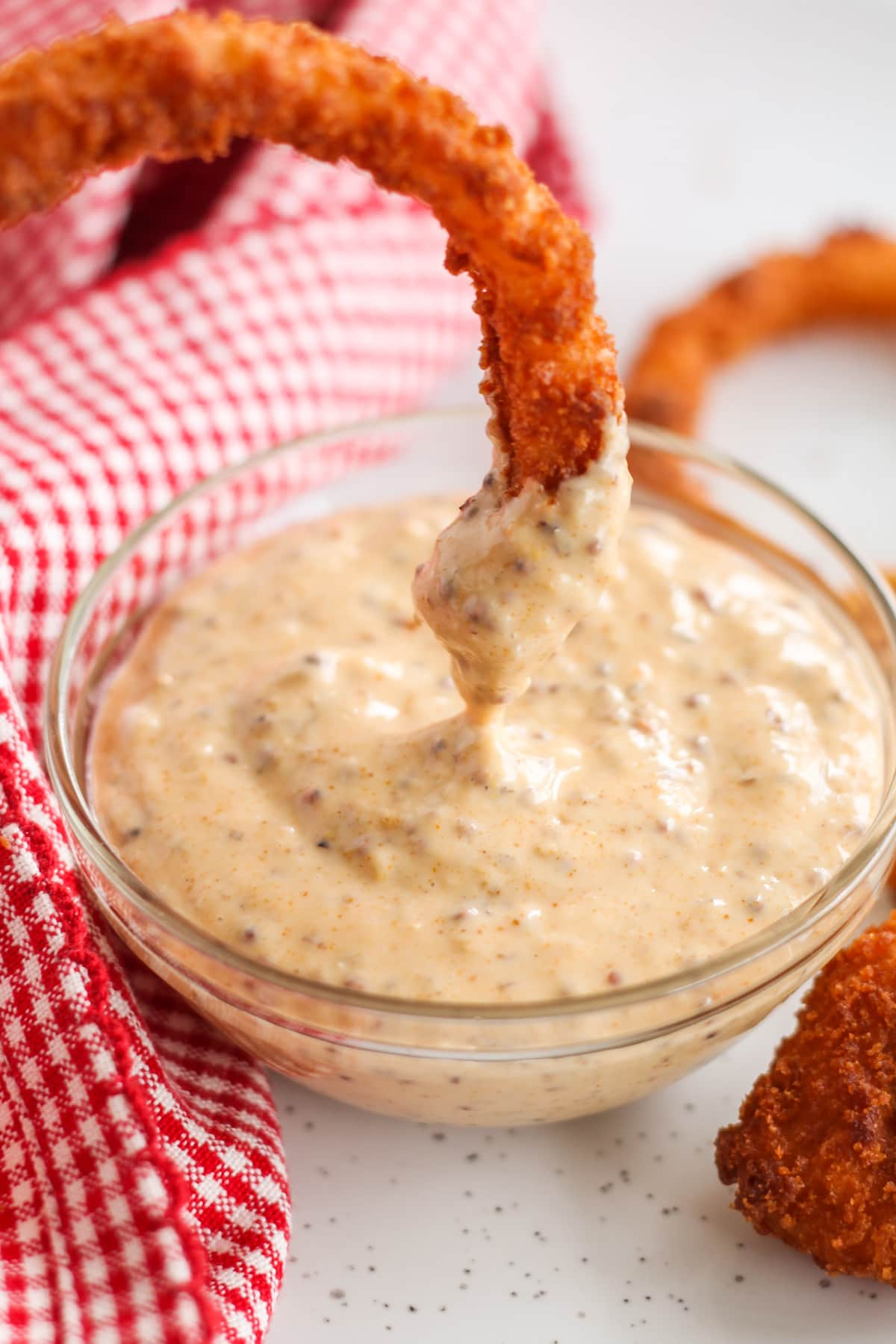 Why we love this recipe
This sauce has no added sugar! Making your own homemade dipping sauces means you have control over the ingredients.
It is super versatile and can be used as a dip for your favorite finger foods or as a steak or chicken dipping sauce.
This recipe is also naturally gluten-free. Bonus!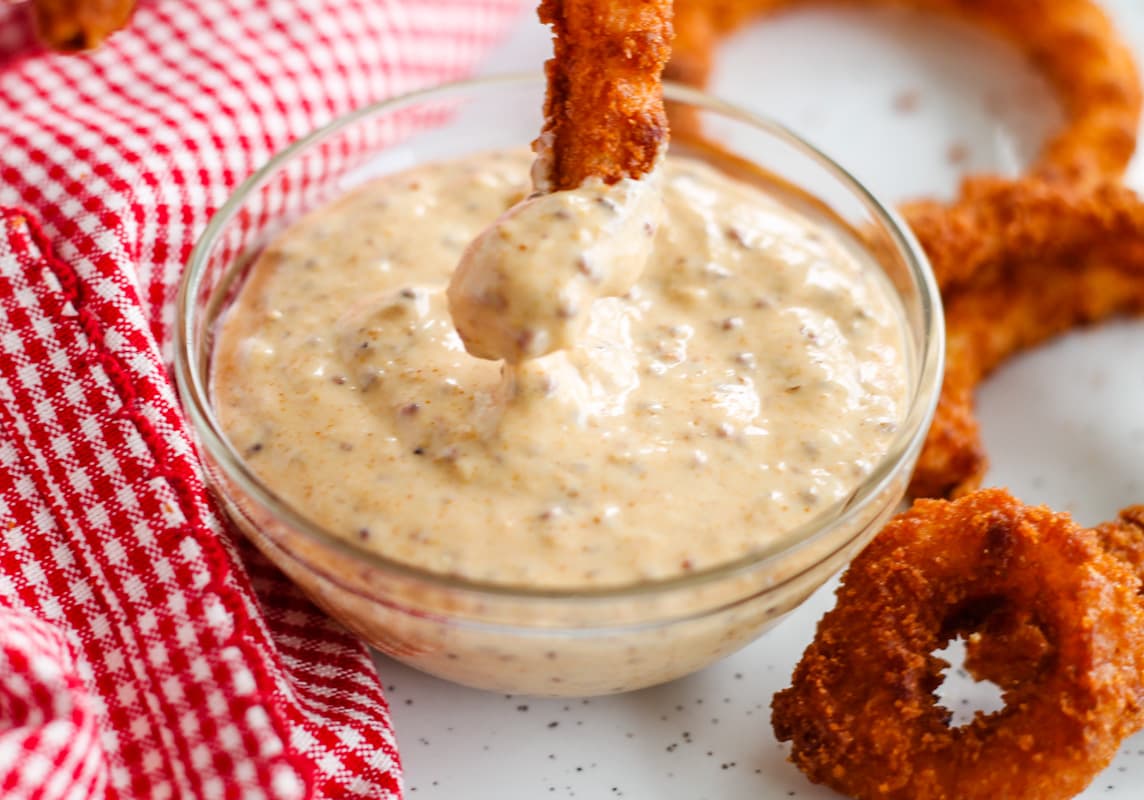 Ingredients
mayonnaise – we love using our homemade mayo! So creamy without additives or weird oils. Greek yogurt also works! You could also substitute sour cream but add a squeeze of lime or lemon juice or a splash of apple cider vinegar to bring a little acidity/tang.
grainy mustard – use your fave. We like the punch of a grainy Dijon mustard but yellow mustard works too.
paprika – you can use sweet, hot, or smoked paprika.
prepared horseradish – the sharp pungent flavor adds balance to the creamy mayo.
pickle juice – our secret ingredient! Pickle brine contributes a salty sour element to the sauce.
sriracha hot sauce – this is optional but adds a nice punch of heat for a spicy sauce. You can use your favorite brand. Or use chili sauce.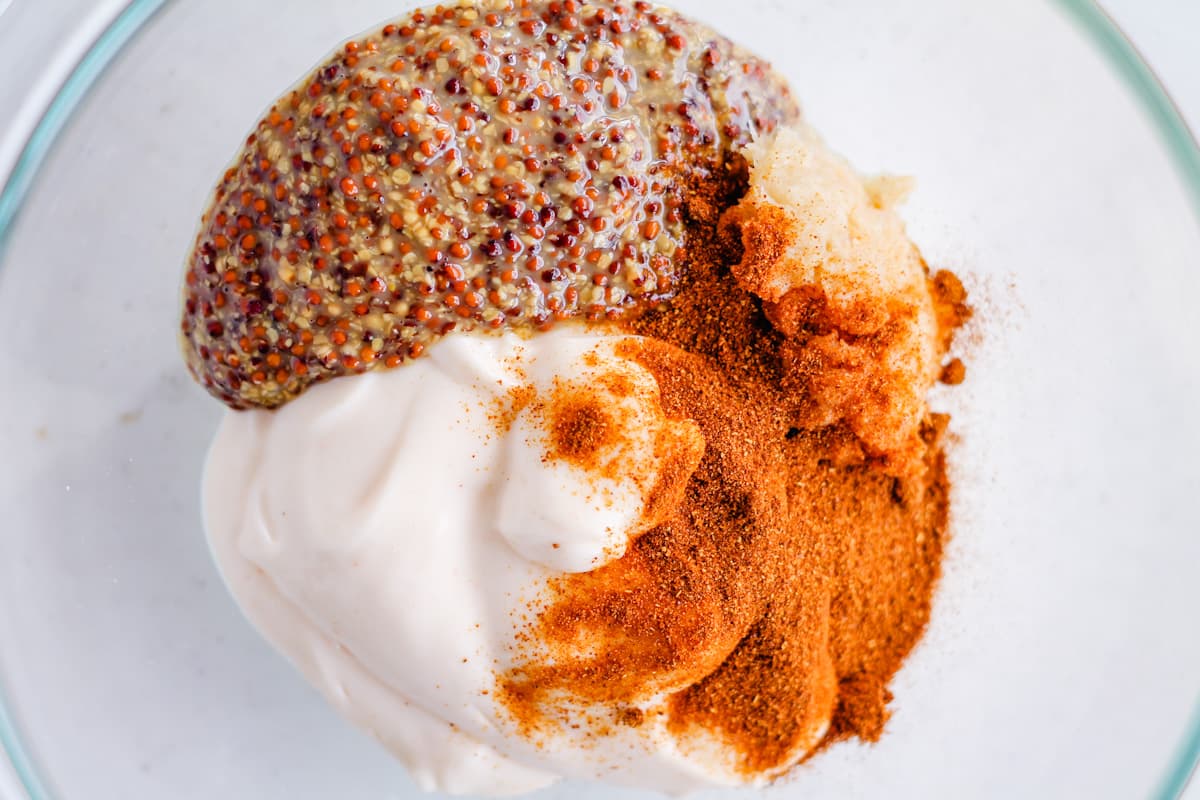 Equipment
measuring cups and measuring spoons
spoon or spatula – we love using a small spatula for stirring so we can scrape out every last bit.
Instructions
It's so simple to make this yummy sauce. All you need to do is measure out the ingredients and stir! Easy, right?
We use homemade mayonnaise, so maybe that will make it a little more tedious but it's worth it to be in control of the ingredients. It's the honour system here, friends! We try to make the best choices we can so it's homemade mayo for the win. We generally make a batch every week and it always gets used up.
Step 1
First, add the ingredients except the hot sauce to a mixing bowl.
Then, give it a good stir. Make sure the ingredients are fully incorporated.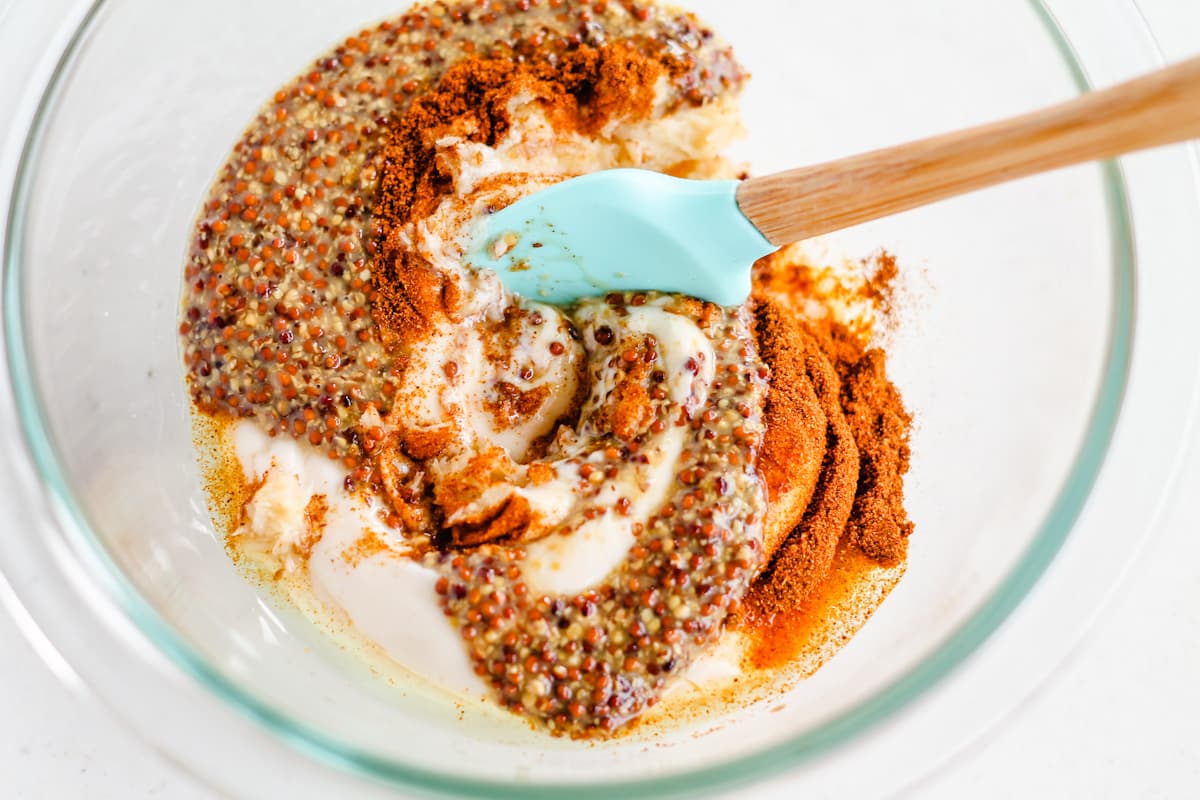 Step 2
Next, add the sriracha if you are using it. We recommend adding a few drops at a time and testing the spice level.
This stuff can be firey!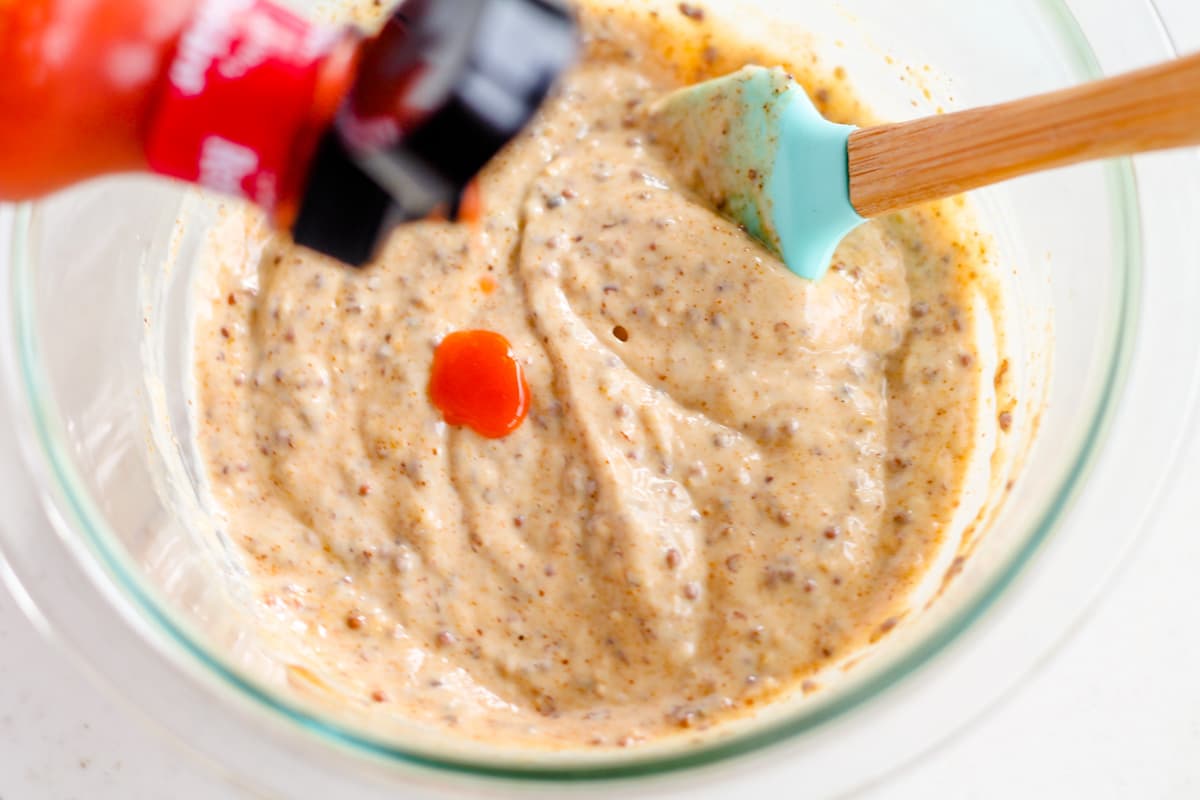 Step 3
Give it all one last stir to mix in the hot sauce.
The dipping sauce tastes best if you let it sit in the fridge for an hour before serving for the flavors to develop.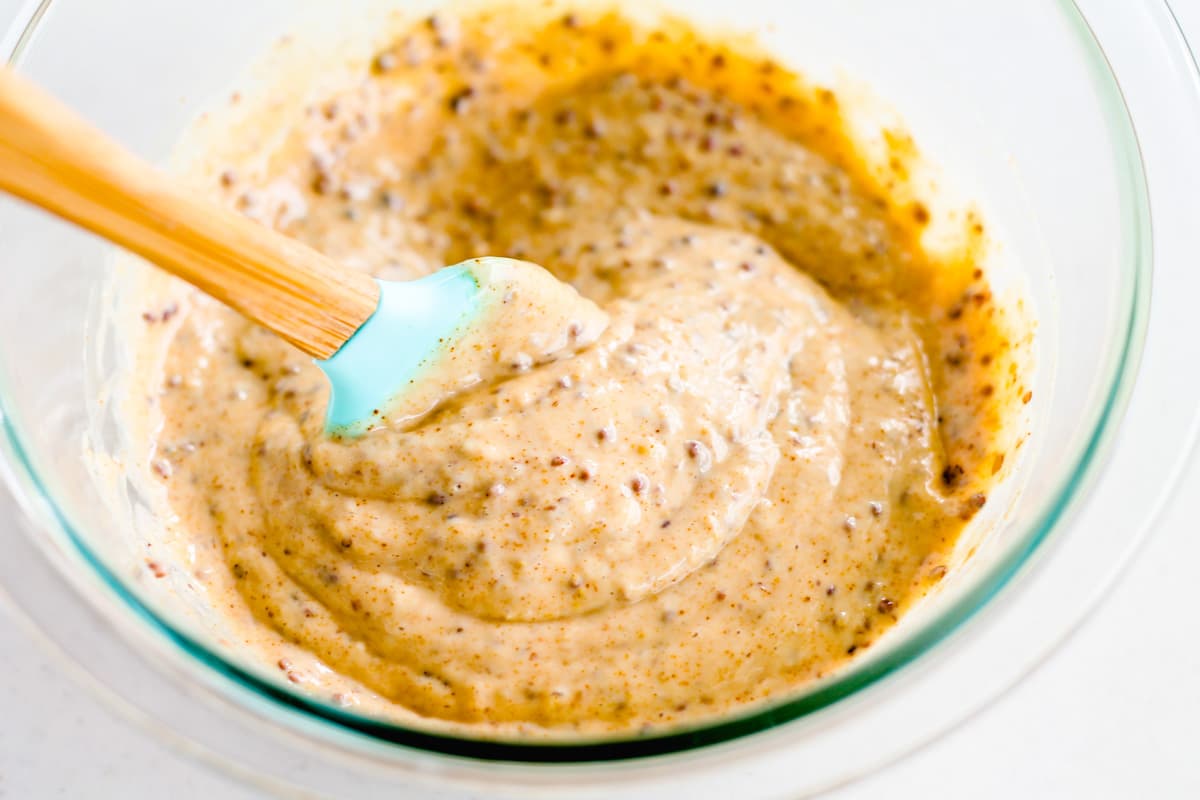 Expert tip
My favorite kitchen tool for stirring has got to be a small spatula. It scrapes the sides down so cleanly and gets all that goodness swirling around.
I cannot live without my little army of cute spatulas!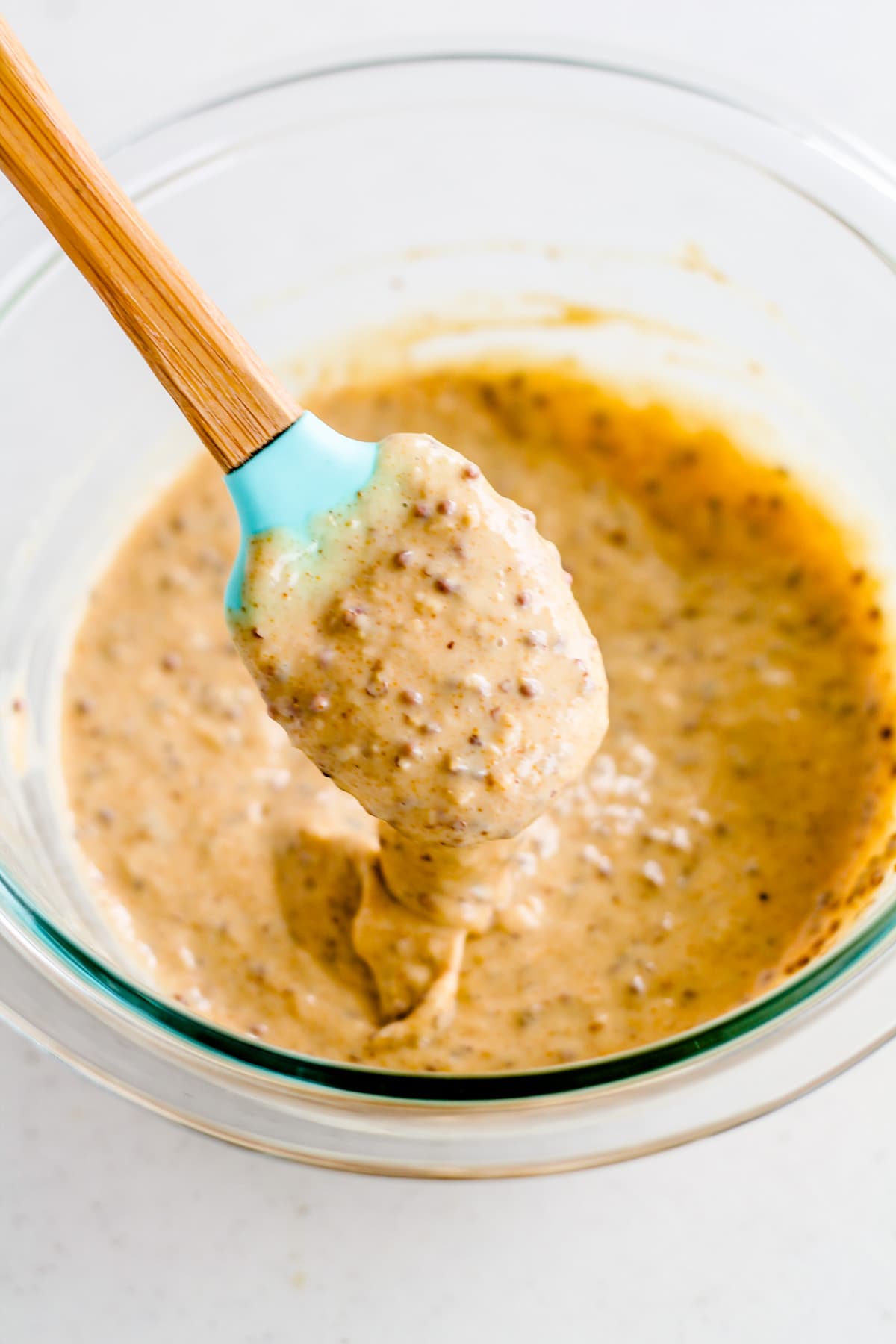 Recipe variations
For a touch of natural sweetness, add a teaspoon of honey to create a rich honey mustard sauce. Delicious with chicken fingers or nuggets. This is one of the best chicken dipping sauces.
Play around with spices like black pepper, and onion or garlic powder to vary the taste. Start with a little and sprinkle in more as needed.
Stir in fresh herbs like dill, parsley, cilantro, or chives for a crisp twist.
Make a smoky version by incorporating chipotle peppers. Chipotle is smoked cayenne peppers in an adobo sauce and it is super delicious with creamy mayo.
Serving suggestions
Use this dip as a fry sauce instead of ketchup for oven-baked french fries or potato wedges. Perfect for game day!
We love serving it with crispy onion rings.
Instead of BBQ sauce serve this dip with your grilled meats or seafood.
Slather it on some bread or buns and elevate your burgers or your favorite sandwich.
Stir it into rice to add some pizazz to your side dish. We love it drizzled on Cilantro Lime Rice!
This dipping sauce can also double as a salad dressing or be mixed with matchstick vegetables as a spicy cole slaw.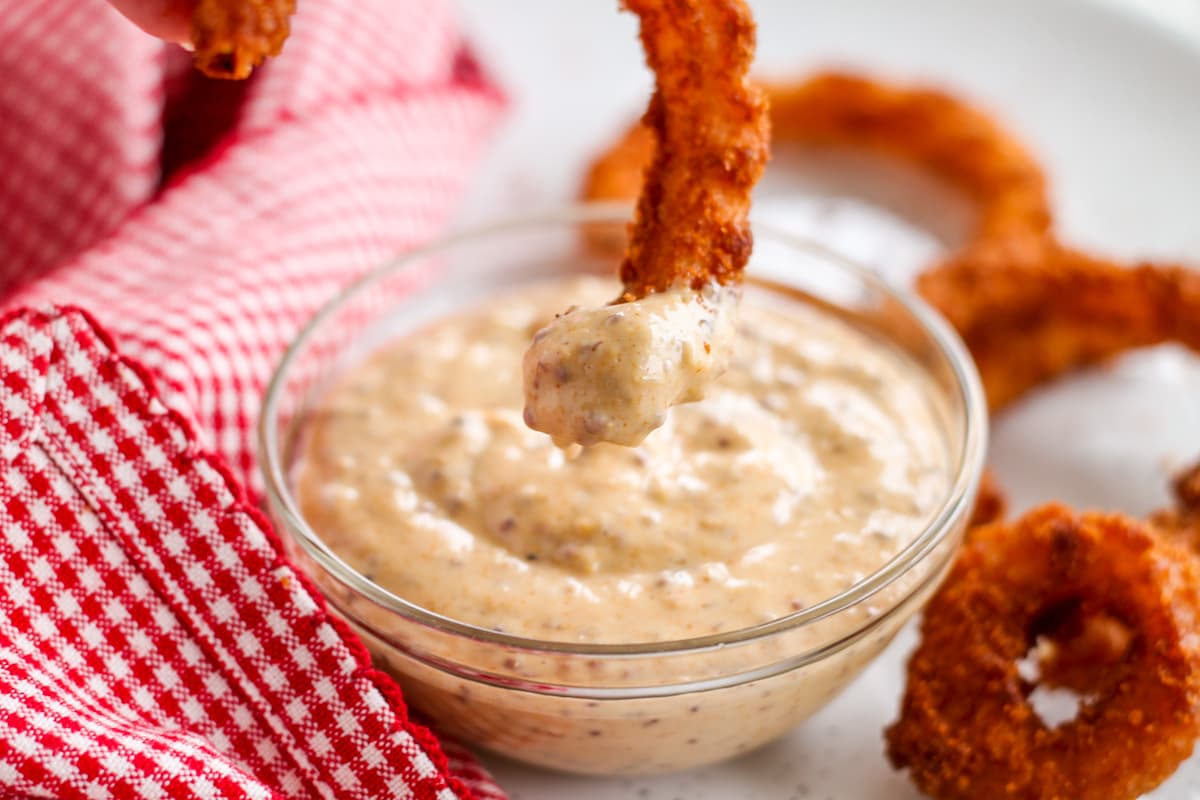 FAQS
Can I make this dipping sauce in advance?
Yes, it can be made in advance. In fact, it tastes even better after the flavors have had time to meld together. Simply prepare the sauce according to the recipe, store it in the refrigerator, and allow it to chill for at least a few hours or even overnight.
Can I adjust the consistency?
Yes, you can adjust the consistency by adding more or less of the mayonnaise. If the sauce is too thick, you can thin it out with a little water, milk, or citrus juice.
Storage tips
This sauce will keep in the fridge for up to 3 days. Store it in an airtight container with a tight-fitting lid in the refrigerator and give it a good stir before serving.
Freezing is not recommended as the texture and flavor can be affected. The mayonnaise could separate and become watery when thawed. That is why it is best to prepare dipping sauce in smaller batches like this one to ensure freshness and avoid the need for freezing.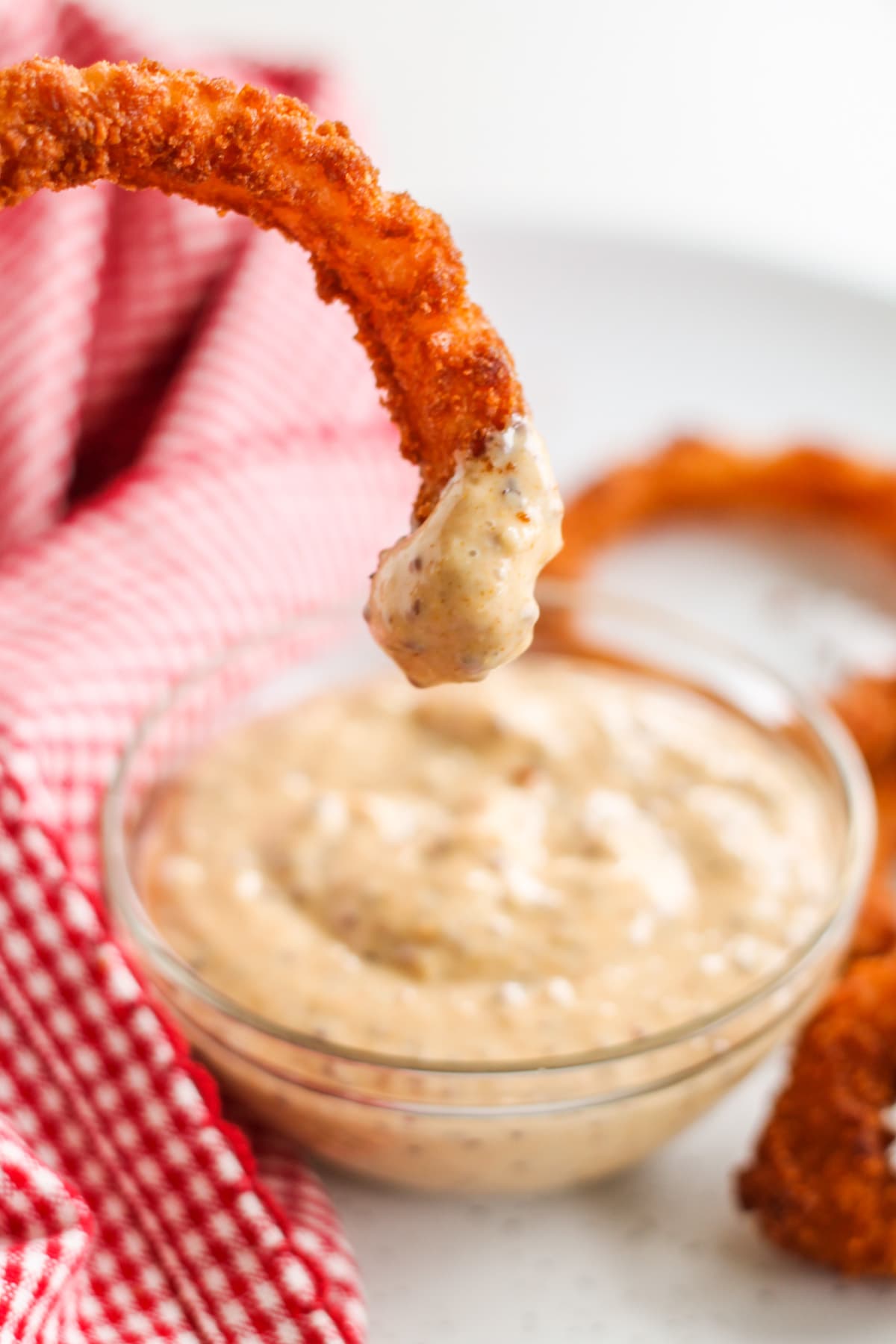 More healthy sauce and dip recipes
**This recipe was originally posted on November 17, 2021, updated on Updated June 6, 2021, and updated again on July 7, 2023.**
If you've tried this Spicy Dipping Sauce recipe, please rate it and let me know how it turned out by leaving me a comment below. I'm always interested in feedback!
Be sure to follow me on social media! I love pinning to Pinterest, sharing on Facebook, and posting pics on Instagram. See you there. 🙂
As an Amazon Associate, I earn from qualifying purchases.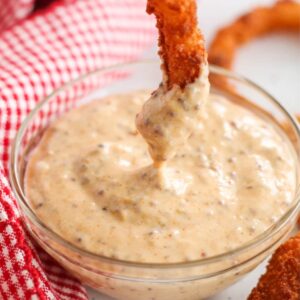 Dipping Sauce
This delicious Dipping Sauce recipe is one of those easy sauces with simple ingredients that strikes the perfect balance of flavors between creamy and spicy.
Instructions
Add all of the ingredients, except the hot sauce, to a small mixing bowl and stir until well combined.

Drip the hot sauce in a few drops at a time, tasting for your desired spice level.
Notes
This sauce will keep in the fridge for up to 3 days.
Store it in a glass container with a tight-fitting lid and give it a good stir before serving.
Nutrition
Calories:
123
kcal
Carbohydrates:
6
g
Protein:
1
g
Fat:
11
g
Saturated Fat:
2
g
Cholesterol:
7
mg
Sodium:
508
mg
Potassium:
55
mg
Fiber:
1
g
Sugar:
2
g
Vitamin A:
607
IU
Vitamin C:
1
mg
Calcium:
11
mg
Iron:
1
mg