This flavourful Vegan Pad Thai is so quick to whip up! Sweet and spicy with hits of citrus. Using roasted almonds makes this meal peanut allergy friendly.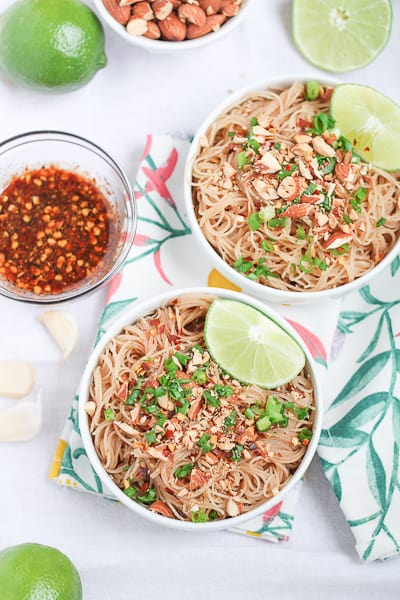 I love making this Vegan Pad Thai.
It is so useful!
Beside being super easy it also does double duty. You can enjoy this as both a quick vegan meal or stretch it out as a side dish by adding your choice of protein.
VEGAN PAD THAI
Ever since making this faux soy-less 'soy' sauce I've been brainstorming dishes to use it in.
A fast food favourite is Pad Thai. I knew that my sauce would be an excellent homemade Vegan Pad Thai ingredient.
I enjoy recreating restaurant meals for a couple of reasons. Firstly, coming from a hospitality background, I know first hand how much butter, salt, and cream go into everything. You'd be amazed. I worked with a chef who's catch phrase was 'butter makes it better'.
Eating out is something I now reserve for special occasions and holidays. Even when on holiday, I try to book into hotels that have kitchenettes so I can at least make a few things myself instead of relying on restaurant food for every meal.
Secondly is the expense!
I often hear people lamenting about the cost of eating healthy/organically, yet these very people are no strangers to restaurants and eating out is a regular habit. If one was to add up the cost of eating out even 2-3 times a week it would probably be the same total as my weekly grocery bill. And we eat, let me tell you! When I had my tea leaves read in Victoria this summer, the reader actually picked up on my appetite. She said "You really like to eat!" What can I say? The tea leaves didn't lie. 😉
Anywho, back to the Pad Thai!
HOW TO MAKE VEGAN PEANUT FREE PAD THAI
This is so simple to throw together.
In a small bowl, stir together my 'soy' sauce, fresh lime juice, a minced clove of garlic, some lovely toasted sesame oil (highly recommended!) and spices like chili flakes, ground ginger and chili powder.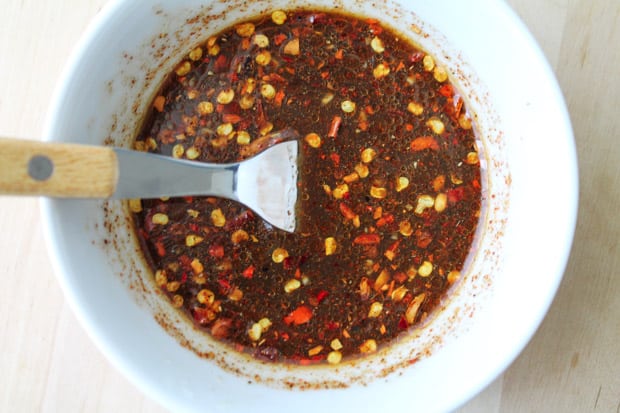 I use brown rice vermicelli noodles and cook them according to the package directions. Choose whatever noodles you like best!
Chop up some fresh cilantro, green onions and a few roasted almonds.
These noodles take no time to make. Basically boil the water and soak the noodles for a couple of minutes until they have reached your desired doneness.
Pour them into a big bowl and toss in the sauce.
Next, I topped everything off with the cilantro, onions and almonds and that's it!
This dish is a winner for me and Joe (that's a stamp of approval right there!).
It tastes light and fresh with a bit of a kick. I like the texture of the crunchy green onions and roasted almonds. It's a great weeknight option when you want something fast, easy and, the best part, guilt free!
MORE HEALTHY VEGAN RECIPES:
*Originally posted September 27, 2013. Updated October 3, 2018*
Be sure to follow me on social media! I love pinning to Pinterest, sharing on Facebook and posting pics to Instagram. See you there. 🙂
As an Amazon Associate I earn from qualifying purchases.
Pad Thai - Vegan, Gluten Free, Peanut Free
Keyword:
gluten free pad thai, peanut free pad thai, vegan pad thai
Instructions
Combine all ingredients, with the exception of the noodles, cilantro, green onions, and almonds, into a small bowl and stir well with a fork

Cook noodles according to the package instructions

Drain the noodles and toss in the sauce

Top with the cilantro, green onions and roasted almonds