Tangy Vinaigrette Coleslaw – Gluten Free, Paleo
Two reasons to make this Tangy Vinaigrette Coleslaw.
1. It's an easy side to toss in the fridge for BBQ's and we all know summer is just around the corner.
2. Cabbage is cheap, people, and it lasts forever. Oh, and this slaw is less than 50 calories per serving, if you count those kinds of things.
OK, so that last one is technically three things but whatevs. 😉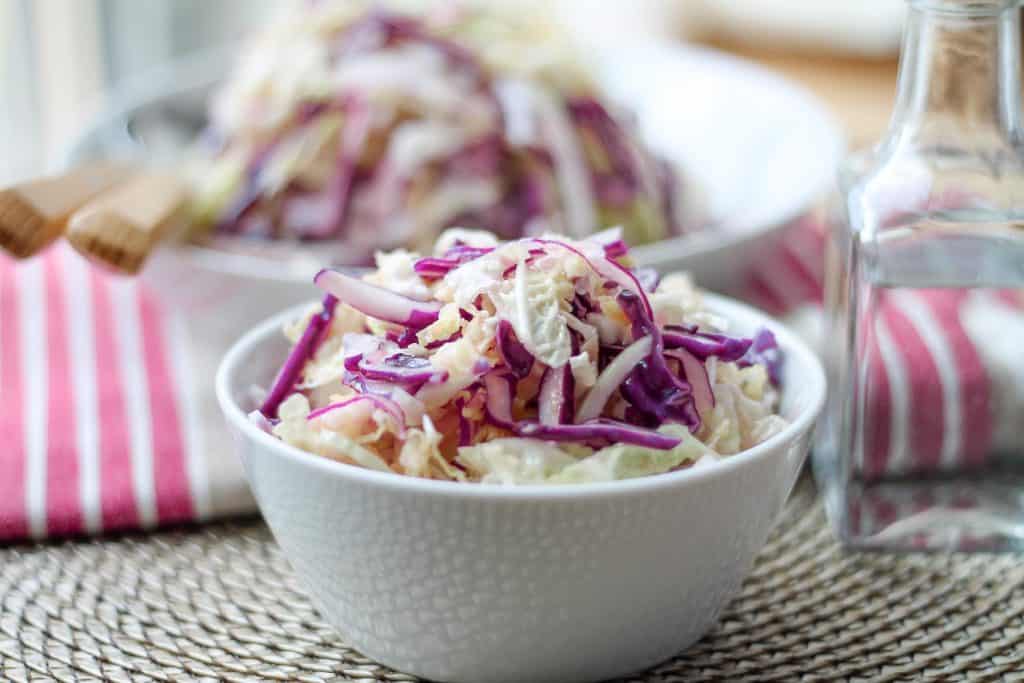 Cabbage is one of those veggies that, if it's stored covered in your crisper, will last for weeks. No rotten, browned grossness going in the trash like some other vegetables if you don't get them made when you had planned. Cabbage has staying power.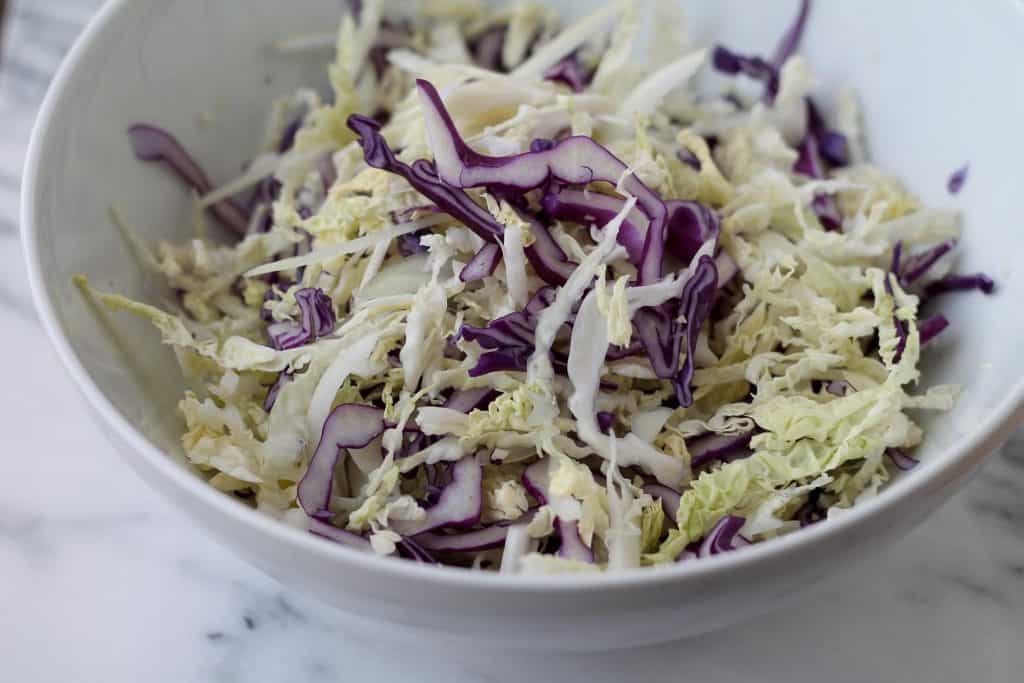 It is also overlooked as far as nutritional value and health benefits.
Did you know that cabbage can help clear your skin? It's very high in sulfur which is known as the beautifying mineral. It also contains well known cancer preventative compounds that inhibit the growth of tumours. It is packed with Vitamin C. Cabbage is actually one of the oldest known vegetables, so that says something about it's strength, am I right?
For this particular slaw I wanted to switch it up from the typical creamy style and used a simple, tangy vinaigrette with a touch of sweetness to mellow out the pungent cabbage flavour.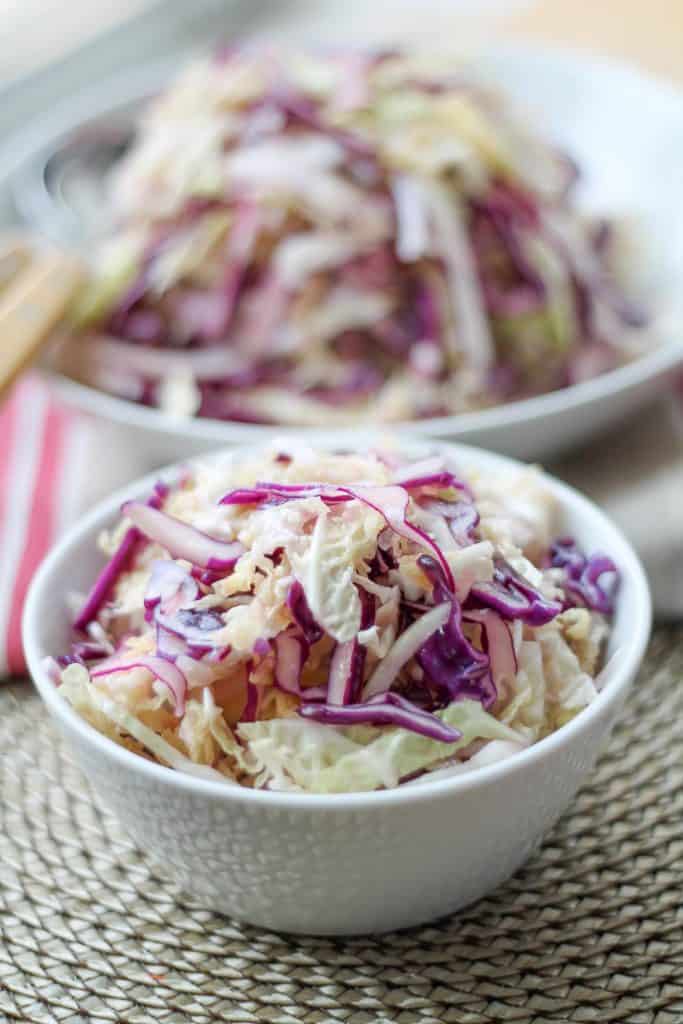 And you must let this coleslaw sit for the allotted time. There is no two ways about it. Please don't think you can mix up cabbage and get right to eating it. It has too strong a flavour and, in my opinion, is not palatable. The dressing softens the cabbage and everything relaxes into a nice little side dish.
Great with my favourite Chili Lime Chicken, or whatever is coming off your grill this summer.

As an Amazon Associate I earn from qualifying purchases.
Tangy Vinaigrette Coleslaw - Gluten Free, Paleo
Ingredients
4

cups

finely shredded savoy cabbage

2

cups

finely shredded red cabbage

1/2

medium onion

thinly sliced

2

cloves

garlic

finely mince1 1/2 tbsp. olive oil

2

tbsp.

vinegar

1

tbsp.

honey

1/2

tsp.

sea salt

1/4

tsp.

dried mustard
Instructions
Place the shredded cabbage, sliced onion and minced garlic in a large mixing bowl and toss to combine. Set aside

In a small saucepan combine the olive oil, vinegar, and honey over medium heat. Stir until it comes to light bubble then remove from the heat. Stir in the sea salt and dried mustard and stir again. Let the mixture cool for 2-3 minutes before tossing it with the cabbage.

Cove the bowl and refrigerate for 2-3 hours.
Nutrition
Serving:
6
Calories:
36
kcal
Carbohydrates:
8
g
Protein:
1
g
Sodium:
181
mg
Potassium:
192
mg
Fiber:
2
g
Sugar:
4
g
Vitamin A:
800
IU
Vitamin C:
32.3
mg
Calcium:
34
mg
Iron:
0.4
mg