These Ginger Almond Cookies are sweet and slightly spicy. Using almond flour adds flavour and provides an allergy friendly gluten free cookie.
Soft and puffy, sweet and slightly spicy, these Ginger Almond Cookies were the perfect sweet treat for celebrating the end of my Whole 30 challenge.
I realize that the whole point is to avoid these types of things but my food philosophy is slightly different.
You see, I love food. 🙂
I love to cook, bake and eat. If my ingredients are whole foods from the earth I see no reason not to enjoy them. It's what works for me to maintain a healthy lifestyle and once you find that balance for yourself, you stick with it.
My balance includes Ginger Almond Cookies. 😉
GINGER ALMOND COOKIES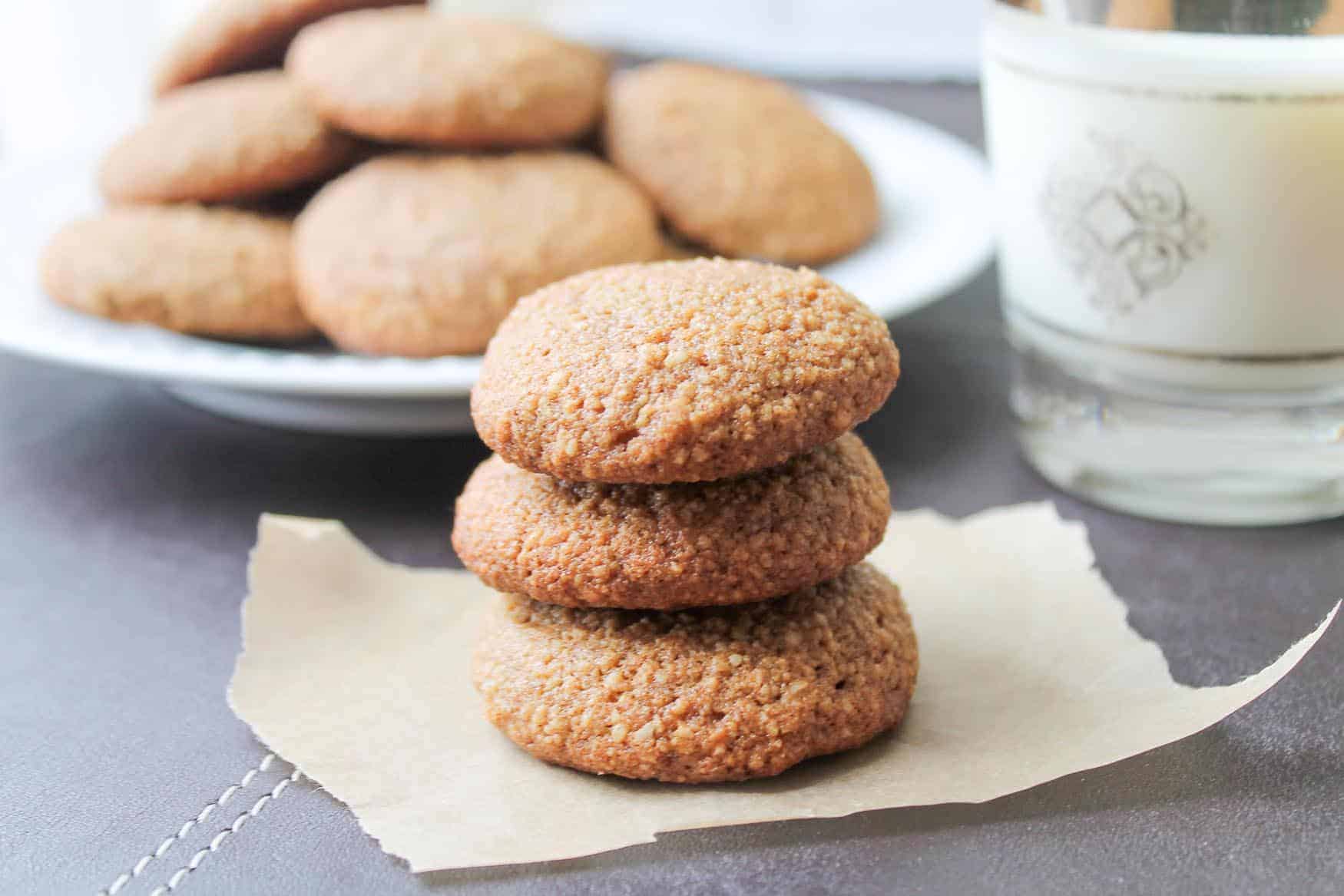 I have a kind of new found love for ginger. Opposite from most spices with me, where I really pour it on, I find ginger is better when it is more subtle.
Just like a hint in the background that says a soft hello.
I used ground almonds as the base of these cookies and the nutty flavour went perfectly with the ginger and cinnamon.
If you wanted to make these vegan, I'm sure flax or chia eggs would work well.
These cookies stayed crisp around the edge and nice and soft in the centre.
The main strategy for that is to get them out of the oven in time.
You definitely don't want to over cook these because in my opinion, the puffiness is the best part.
Have a great week everyone!
It always is better when you start it with cookies. 🙂
MORE GLUTEN FREE COOKIE RECIPES:
Grain Free Coconut Chocolate Chip Cookies
Banana Bread Breakfast Cookies
*Originally posted May 18, 2015. April 4, 2019*
Be sure to follow me on social media! I love pinning to Pinterest, sharing on Facebook and posting pics to Instagram. See you there. 🙂
As an Amazon Associate I earn from qualifying purchases.
Ginger Almond Cookies - Gluten Free
Keyword:
ginger almond cookies, gluten free cookies
Instructions
In a medium mixing bowl whisk together the almond flour, brown rice flour, coconut sugar, cinnamon, ginger, salt and baking soda. Set aside

In another mixing bowl, beat the eggs and then whisk in the melted coconut oil, vanilla and maple syrup

Add the wet to the dry mixture, stir well, cover and chill in the fridge for 30 minutes

Preheat your oven to 350 and line 2 baking sheets with parchment

Scoop tablespoon sized balls onto the lined baking sheets, 15 per sheet, and press down slightly. They won't spread out much when they bake

Pop in the oven and bake for 14-15 minutes, rotating the sheets halfway through

Check for a light brown on the bottom of the cookie and they are done. Don't over cook these or they wont have the nice puffy texture

Cool on the sheet for 5-10 minutes. Store covered at room temperature