Spaghetti Squash Bolognese
This Spaghetti Squash Bolognese recipe is a fabulous way to sneak more veggies into your dinner. Ditch those pasta noodles and get on board with spaghetti squash!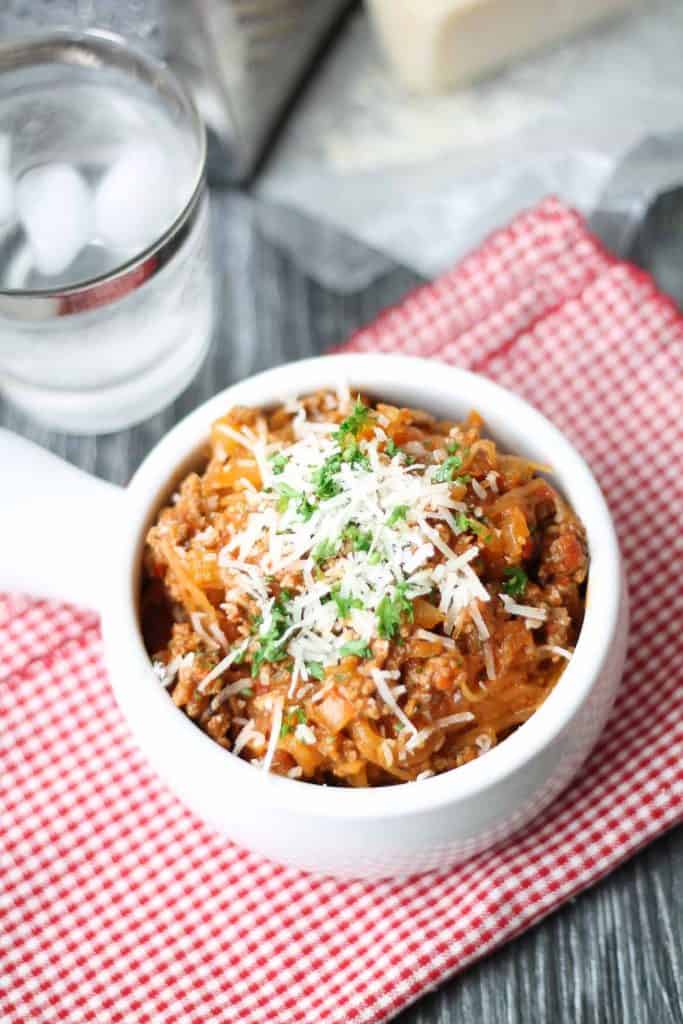 We love protein-packed recipes like this Spaghetti Squash with a rich beefy sauce. Other delicious dishes with beef include this Tex Mex Casserole and these yummy Air Fryer Stuffed Mushrooms.
Today, I got back in the kitchen.
For the first time in weeks, I cooked, did dishes, baked, did more dishes, ate, then did a few more dishes. It was nice therapy.
With all that's gone on in the past few weeks, my usual inspiration had waned, and my desire to create, completely diminished.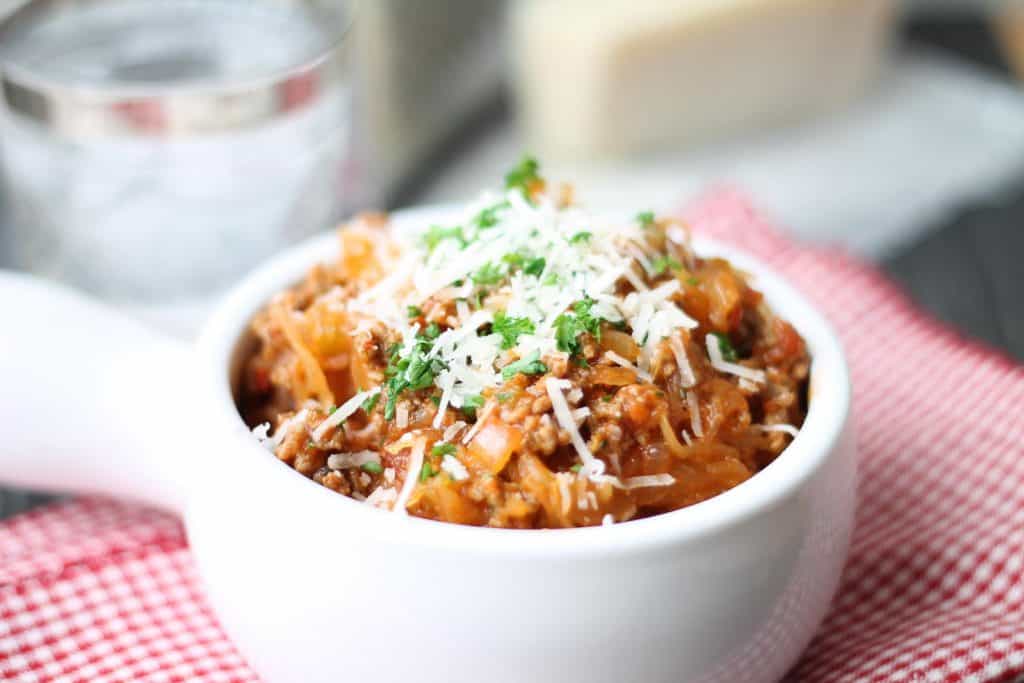 What I needed was comfort food. Something classic and familiar. An easy dish to prepare – nothing fancy. My mind drifted to beefy Bolognese sauce, laced with cheesy goodness. What better pairing for this rich sauce than spaghetti squash? Its mild taste and al dente texture complemented the bold Bolognese.
We also love this Rigatoni Bolognese when we are craving a more traditional version. Yum!
Spaghetti Squash Bolognese
So, here it is.
My foray back into food blogging mode.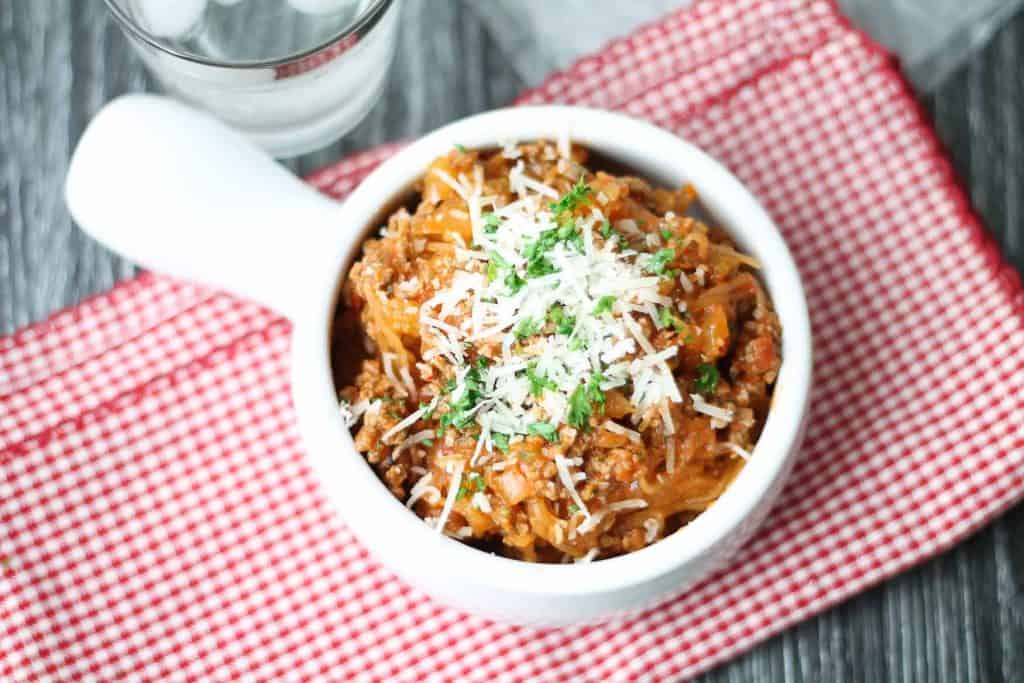 Speaking of food blogging, I wanted to shout out to those wonderfully sweet bloggers, and readers for that matter, who left heartfelt messages for me about losing our beloved cat.
It truly touched my heart, even if it did make me feel all weepy again. It was so appreciated and restored my faith in humanity a bit. Someone who really doesn't know me from Adam felt compelled to comfort me and reach out with messages of understanding and even lovely stories about their own animals. I felt uplifted and I think it gave me the energy I needed to move on from the sadness.
I'll always miss little Louis, and he'll hold a special place in our hearts as Joe and I adopted him together. Our first.
Sigh.
Anyway, like I said, I'm getting back on track and I'll spare you guys any more depressing stories. Onward and upward.
Good food always helps too. Healthier comfort food like this Spaghetti Squash Bolognese.
You know, cheesy food.
Food with cheese.
Did I mention adding cheese to this?
Yes, I did.
Say cheese! 😉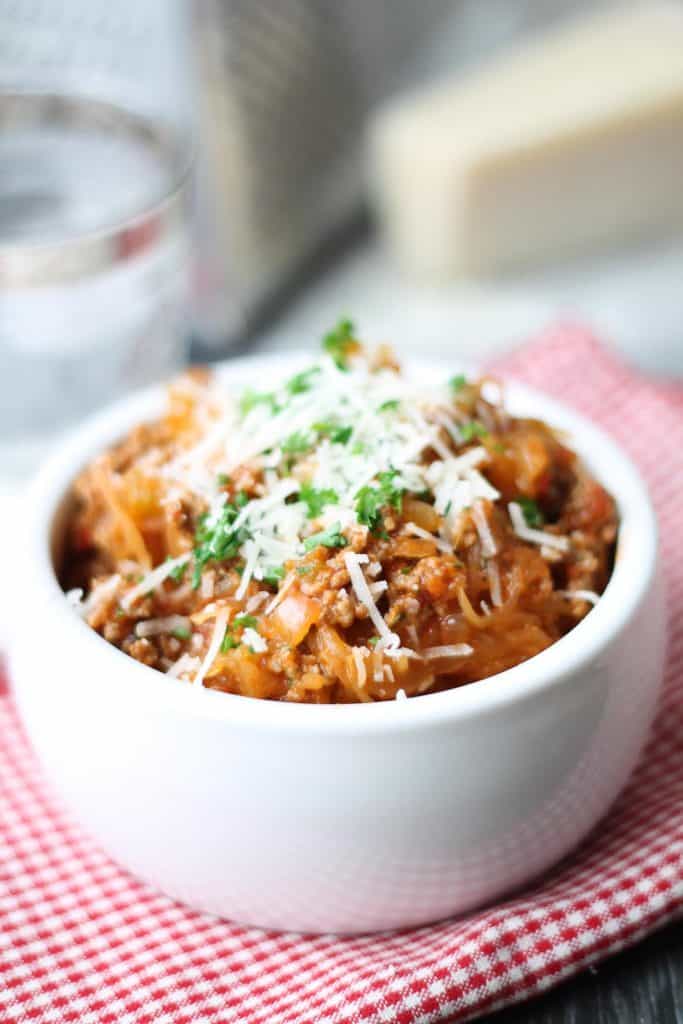 MORE GLUTEN FREE SQUASH DINNER RECIPES:
Spaghetti Squash Lentil Lasagna
Baked Spaghetti Squash with Chicken and Beans
*Originally posted August 26, 2015. Updated February 28, 2019
Be sure to follow me on social media! I love pinning to Pinterest, sharing on Facebook and posting pics to Instagram. See you there. 🙂
As an Amazon Associate I earn from qualifying purchases.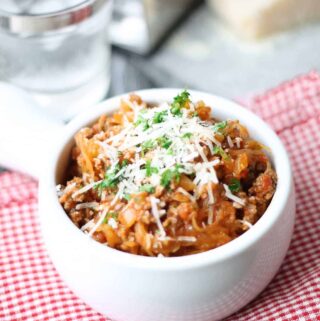 Spaghetti Squash Bolognese – Gluten Free
This Spaghetti Squash Bolognese recipe is a fabulous way to sneak more veggies into your dinner. Ditch those pasta noodles and get on board with spaghetti squash!
Ingredients
1

medium spaghetti squash

1

tbsp.

olive oil

1

lb

ground beef

1

tsp

oregano

1

tbsp.

olive oil

1/2

medium onion

chopped

2

celery stalks

diced

2

garlic cloves

minced

1

tsp

chili flakes

optional

1/4

cup

fresh chopped parsley

1/2

cup

grated mozzarella

1/2

cup

grated parmesan

plus more for sprinkling on top
Instructions
In a large sauce pan add 1 tbsp. of olive oil and heat over medium heat.

Add the beef, season with salt, pepper and the oregano, and cook, stirring every so often until it is browned all the way through. Transfer it to a paper towel lined plate and set aside. Drain any excess fat from the pan, return it to the heat and drizzle in another tablespoon of olive oil

Add the onion and celery and sprinkle with sea salt and pepper. Stir and cook until softened, about 5 minutes. Stir in the garlic and stir for another minute. Add the cooked beef back into the pot and pour in the marinara sauce. Stir in the parsley and chili flakes and turn the heat to a low simmer, stirring occasionally

Now for your spaghetti squash!

Heat your oven to 375 and line a baking sheet with parchment

Slice off the top with the stem and the bottom of the spaghetti squash so you can steady it. Slice it lengthwise in half and use a spoon to scoop out the insides. Place the two halves on the baking sheet and drizzle 1/2 tablespoon of olive oil into each half and rub it in

Place the squash cut side down on the baking sheet and bake for 25-30 minutes, until browned along the edges

Remove from the oven and let sit for 5-10 minutes.

Meanwhile, stir the cheese into the sauce

Using a fork, shred the squash into strands and portion in to 4 bowls. Top with sauce and extra parmesan cheese

Leftovers are fabulous!
Nutrition
Serving:
4
Calories:
538
kcal
Carbohydrates:
20
g
Protein:
29
g
Fat:
38
g
Saturated Fat:
14
g
Cholesterol:
102
mg
Sodium:
424
mg
Potassium:
695
mg
Fiber:
4
g
Sugar:
7
g
Vitamin A:
1045
IU
Vitamin C:
12.1
mg
Calcium:
308
mg
Iron:
3.5
mg