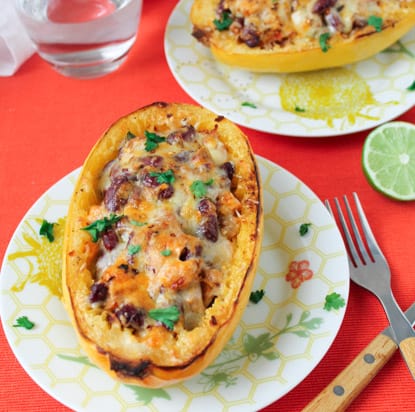 Has it become blatantly obvious that I have fallen in love with spaghetti squash? I apparently can't keep it a secret any longer. I LOVE SPAGHETTI SQUASH! Now I have taken my admiration to another level. Instead of scraping the delights out of the shell and tossing it away, I'm giving the entire squash the credit it deserves. The squash is stuffed with protein. Beans and the co-star of this show, my trusted chili lime chicken . Toss in some spice via salsa, fresh cilantro, and top it all off with a unique cheese blend and we have dinner, my friends! 🙂  
Another thing I really love is a good deal and with my preferred brand of canned goods, (No BPA in their tins), being on sale, stocking up was mandatory. Look for another roasted chickpea recipe coming soon. 🙂
I made this dish on Monday which is my cooking day, so I had plenty of time to make this from scratch, which included cooking the chicken. This might not be good for a busy weeknight dinner, but what I did was cook extra chicken so later in the week, I have it for soups or sandwiches, etc. Nothing like a cold chili lime chicken breast with fresh lettuce and avocado as a quick dinner or lunch. Boom!
Once the spaghetti squash has cooked, tutorial post here, shred out the insides, transfer it to a mixing bowl and add in all the goods.
Salsa with fresh cilantro, kidney beans, and the cooked chicken.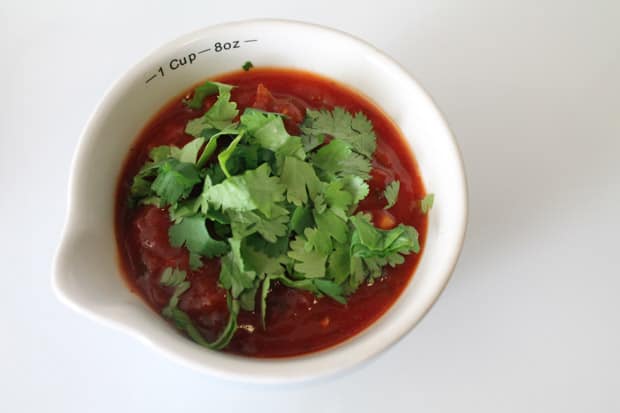 If I had some machego or another wonderful Mexican inspired cheese it would make this dish much more authentic. Improvisation was in order and I sprinkled chili flakes in with the cheeses I had in the fridge, which were marble and parmesan. It worked like a spicy charm. 😉
Stuff the squash shells with the chicken mixture and top with the cheese. Pop it under the broiler.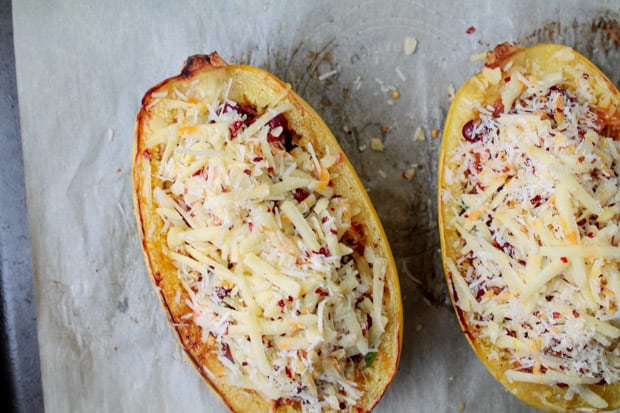 Once it's bubbly on top, we're ready to eat! Protein packed and full of fibre, this meal really satisfies.
Baked Spaghetti Squash with Chicken & Beans- Gluten Free
Ingredients
2 small cooked chicken breasts, cut into chunks
1 spaghetti squash
1 tbsp olive oil
1 can (398ml) beans, I used kidney beans, drained & rinsed
1 cup salsa
3 tbsp fresh cilantro, chopped
¾ cup shredded cheese, I used a combo of ½ marble, ¼ parm
sea salt & pepper
1 tbsp chili flakes, optional
Instructions
Preheat your oven to 425 and line your baking sheet with parchment
Cut the squash in half, scrape out the seeds and rub the inside with olive oil. Sprinkle sea salt & pepper. Place face down on the baking sheet & bake for about 25-30 minutes. The edges on the inside should be a bit browned and shreds should form easily with a fork
Meanwhile, toss the chili flakes with the cheeses and stir the fresh cilantro into the salsa
When the squash is ready, take it out and let it stand for 5 minutes. Turn the oven to the broiler setting
Fully shred the squash, leaving the shell intact. You will be stuffing it! Transfer the spaghetti squash to a mixing bowl.
Stir in the salsa, followed by the beans and chicken
Split the mixture in half and stuff each squash shell. Top with the shredded cheese
Place them back on the same baking sheet & broil until bubbly and browned. About 3-4 minutes
7.6.7
306
https://thehonoursystem.com/baked-spaghetti-squash-with-chicken-beans-gluten-free/