Can we talk about this Spicy Roasted Eggplant Quinoa Salad for a minute? This dish has it all. Tons of veggies, spice and fresh herbs to balance it all out. If you are looking for a new way to serve eggplant, you have found it! Safe for gluten free and vegan diets!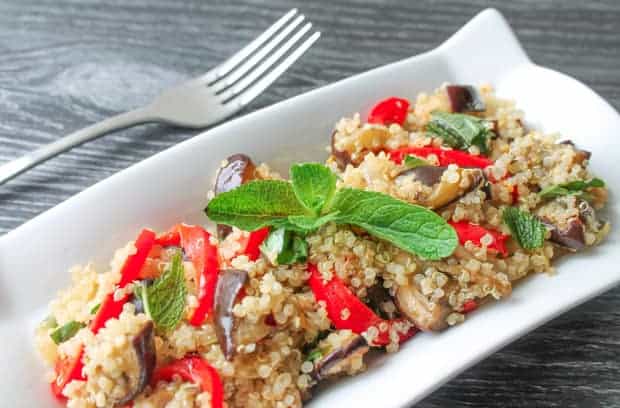 SPICY ROASTED EGGPLANT QUINOA SALAD
The first and only time I have had eggplant was a number of years ago in a vegetarian lasagna made by my brother's girlfriend.
It was delicious.
Then I never had it again … I'm not sure why …
Last week I was inspired by my blogger friend, Elle. She is the RD for My Fitness Pal and also writes her own fabulous blog, accordingtoelle.com. Elle brought me a ton of new readers a couple of months back by posting my recipe for Avocado Tuna Salad on the My Fitness Pal website and I am still super grateful.
Now, I have another reason to be grateful to Elle.
She inspired me to get back on the eggplant horse with this incredibly tasty salad.
I modified Elle's original a tad, to use what I had in my fridge, but the main star is the roasted eggplant. So shiny and purple!
How have I ignored you for so long?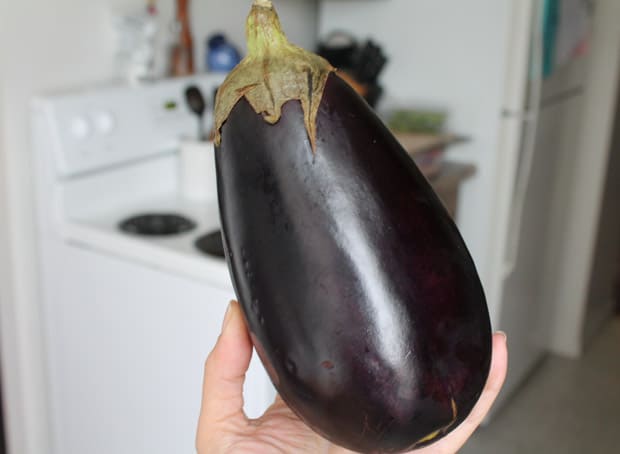 I also halved the original recipe as when I asked Joe if he was interested in joining me in trying an eggplant and quinoa salad he looked at me as though I had two heads.
I took that as a firm 'no'.
Well, more for me. 🙂
HOW TO MAKE SPICY ROASTED EGGPLANT QUINOA SALAD – STEP BY STEP IMAGES
The eggplant was chopped into chunks, tossed with olive oil, sea salt and freshly ground pepper and spread out onto a foil lined baking sheet. Then I simply popped it into a preheated oven.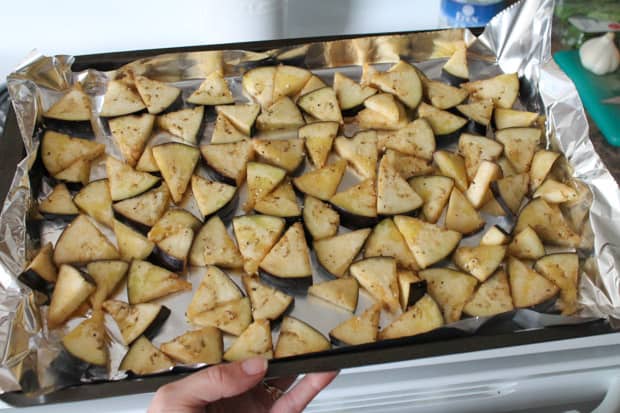 While the eggplant was roasting, I thinly sliced some red pepper and onion and placed a small pan on the stove with olive oil to heat.
Once it was warm, I tossed the veggies in with sea salt and fresh pepper to saute.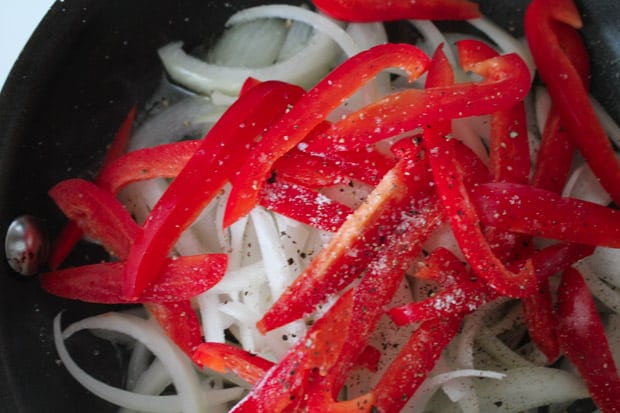 My kitchen was beginning to smell quite glorious, I must say!
While the peppers and onions cooked away, I minced a clove of garlic, then added it and a good helping of chili flakes to  the saute.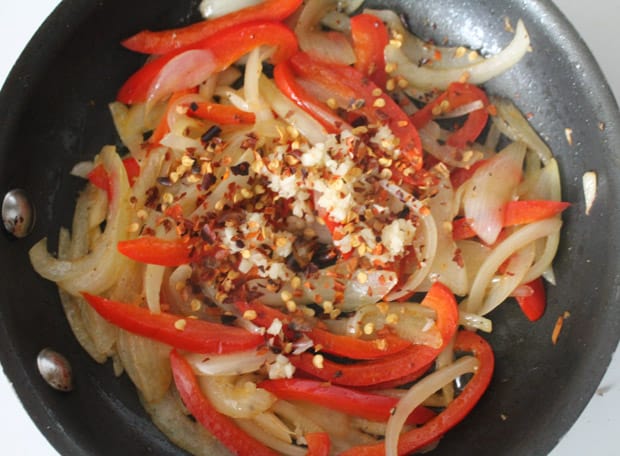 The timing turned out perfectly. Just as the onions were starting to look translucent, the oven timer went off and the eggplant was ready.
I sprinkled the roasted eggplant with even more chili flakes because that, my friends, is how I roll.
We had quinoa bolognese on the weekend and, as always, I cooked up extra quinoa to store in the fridge.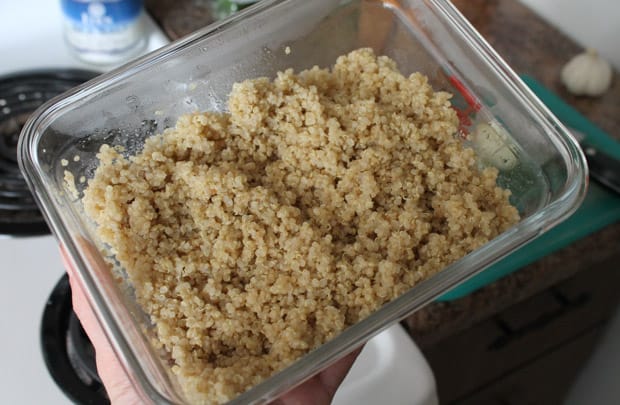 I tossed my pre-cooked quinoa into a large bowl and added the eggplant and the onion and pepper saute.
Then comes the piece de resistance!
Fresh mint and basil.
I love, love, love the smell of fresh basil.
So clean and aromatic.
Finish the whole thing off with fresh lemon juice and BOOM! Amazement in a bowl.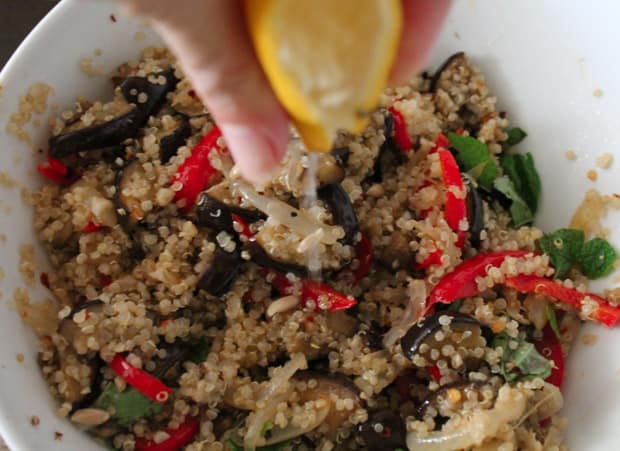 Thanks so much, Elle, for not only helping me to promote my blog and further this message of healthy, balanced eating, but for gently nudging me to pick up some eggplant and get re-acquainted with this delicious vegetable.
I now owe you two. 🙂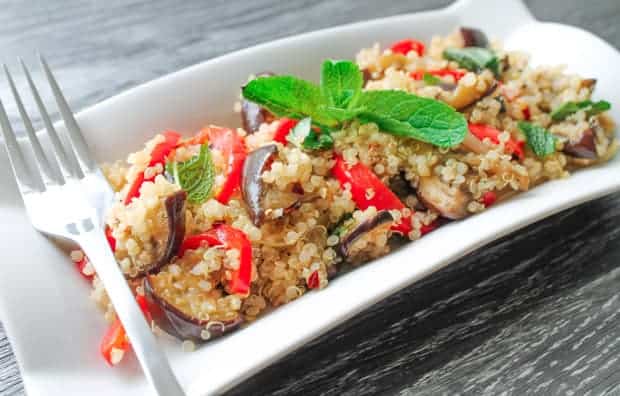 MORE HEALTHY QUINOA RECIPES:
Quinoa Stuffed Maple Sweet Potato
Be sure to follow me on social media! I love pinning to Pinterest, sharing on Facebook and posting pics to Instagram. See you there. 🙂
Originally posted in September 10, 2013. Updated August 21, 2019
As an Amazon Associate I earn from qualifying purchases.
I recommended using a non toxic skillet for a this recipe.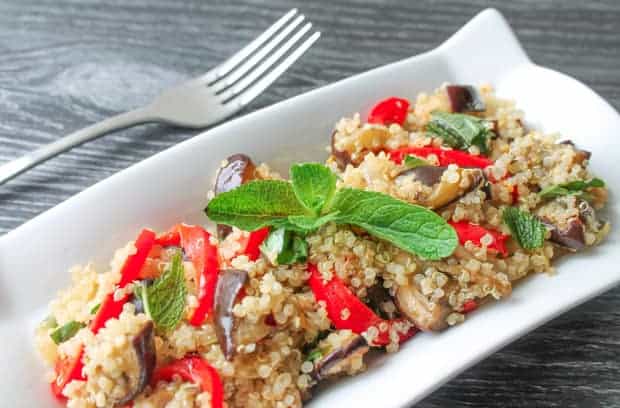 Spicy Roasted Eggplant Quinoa Salad
Keyword:
Spicy Roasted Eggplant Quinoa Salad
Ingredients
3

cups

cooked quinoa

1

small eggplant

chopped into wedges

1

small onion

thinly sliced

½

red pepper

thinly sliced

3

tablespoons

olive oil

1

clove

garlic

minced

8

fresh mint leaves

torn into small pieces

6

leaves

fresh basil

torn into small pieces

½

lemon

juiced

½

tbsp

chili flakes
Instructions
Preheat oven to 400 and line a baking sheet with foil

In a large bowl, toss together chopped eggplant, sea salt, fresh pepper and 2 tablespoons of olive oil

Layer eggplant on the baking sheet and roast for 20 minutes, tossing once or twice

Meanwhile, heat remaining tablespoon of olive oil in a small pan. Slice onion and red pepper and sauté with sea salt and fresh pepper, cooking until the onion is translucent and peppers are tender

Add garlic and half of the chili flakes, give it all a good stir and remove from heat

Once eggplant has finished roasting, sprinkle it with the remaining of chili flakes

Add everything to a large mixing bowl, toss in the mint and basil, squeeze in the lemon juice and toss again

Store, covered, in the fridge for up to a week
Nutrition Facts
Spicy Roasted Eggplant Quinoa Salad
Amount Per Serving
Calories 312
Calories from Fat 117
% Daily Value*
Fat 13g20%
Sodium 31mg1%
Potassium 621mg18%
Carbohydrates 42g14%
Protein 8g16%
Vitamin A 915IU18%
Vitamin C 31.6mg38%
Calcium 52mg5%
Iron 2.9mg16%
* Percent Daily Values are based on a 2000 calorie diet.