I love snacks with crunch factor! This Spicy Roasted Chickpeas recipe has that in spades. A gluten free and vegan treat that will satisfy that snack attack.
Snack time! I thought it would be apropos to post a few tasty snack items that also happen to of the healthier variety.
First up is this crunchy, spicy, salty snack that also full of protein.
Roasted chickpeas!
We all love chickpeas when they're whipped together into a delicious classic hummus, but who knew they are also equally as awesome when they are roasted into crunchy peas of goodness!
Add in some fiery spices to kick things into high gear. 😉
First things first you want to heat your oven to 400.
Now, remember when I made toasted coconut and recommended picking yourself up an oven thermometer? This is a recipe it comes in handy again.
This is what I set the oven to:
And THIS is what my thermometer read:
OK, you can't actually read the temperature.
I took this shot too quickly as hellishly hot heat blasted me in the freaking face. Word to the wise–>Don't open a 400 degree oven and stick your face in it!
By the time I recovered, the oven door had been open for a bit and a lot of heat had escaped. Of course this changed the temperature on the thermometer, which defied the whole purpose of said picture being taken.
So you'll just have to trust me it that it read 400. Twenty degrees different!
SPICY ROASTED CHICKPEAS
Moving on from the fact that my face felt a little sunburned, thanks to my impromptu heat bath, it was onto the chickpeas.
They are super simple to prep. Drain a can of chickpeas and rinse them. I like to peel the outer layers off each but that could just be my OCD. Peel them, leave the skins on, you decide.
Toss the chickpeas with a bit of olive oil and spread them onto a parchment lined baking sheet.
Into the oven they go for 40-50 minutes. That's right, 40-50. And you have to give them a stir every 10-15 minutes so they cook evenly. The timing is key as you don't want these chickpeas to have any softness in the centre.
The goal is a complete crunch all the way through. It takes a while but it's worth it!
And when it looks like this out my kitchen window, what else have I got to do?
While your chickpeas are roasting, stir up the spice blend. Remember, as always, I love spicy things so moderate the hot flavours (cayenne, chili) to your taste.
Once the chickpeas are roasted all the way through, sprinkle the seasonings on them while they are still warm and give them a good toss to coat them.
The result is a great crunchy snack that is reminiscent of Corn Nuts.
Anyone remember those?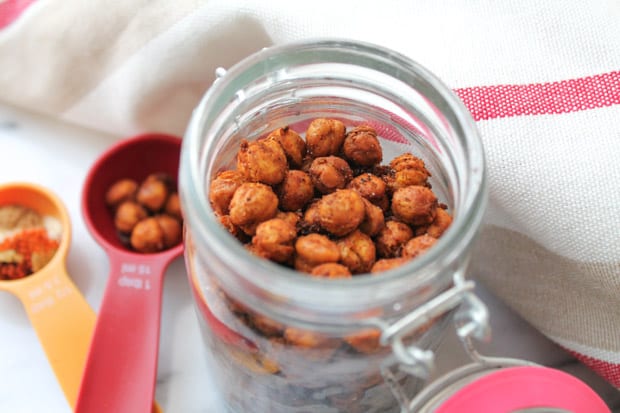 I remember buying them from the vending machine at the "Y" in Victoria when I was a kid.
These roasted chickpeas totally remind me of Corn Nuts but, of course, are not genetically modified garbage. 😉
This is a healthy, real food snack that's great for the table during the big game or movie night.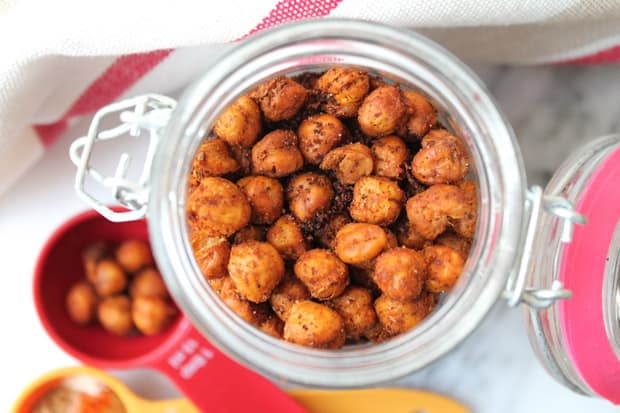 MORE HEALTHY GLUTEN FREE SNACK RECIPES:
Chocolate Chip Chickpea Cookie Bars
No Bake Chocolate Chia Power Balls
Originally posted January 27, 2014. Updated July 11, 2019
Be sure to follow me on social media! I love pinning to Pinterest, sharing on Facebook and posting pics to Instagram. See you there. 🙂
As an Amazon Associate I earn from qualifying purchases.
I used an Oven Thermometer in this recipe.
Spicy Roasted Chickpeas – Vegan & Gluten Free
I love snacks with crunch factor! This Spicy Roasted Chickpeas recipe has that in spades. A gluten free and vegan treat that will satisfy that snack attack.


Keyword:
gluten free vegan snacks, spicy roasted chickpeas
Instructions
Pre heat oven to 400 and line a baking sheet with parchment paper

Toss the drained and rinsed chickpeas with 1 tbsp of the olive oil and spread onto the baking sheet

Roast for 40-50 minutes, stirring every 10-15 minutes

Toss the spices & 1 tsp of the olive oil onto the warm chickpeas and stir well to coat them

Enjoy these right away as they will lose their crunch