On a recent trip to Goodness Me! I picked up a jar of Sunbutter (sunflower seed butter) that was on sale. Thankfully I don't suffer from any food allergies but I'm aware of the challenges surrounding them, especially nut allergies. It's like everything could contain nuts! Truth be told a ton of my recipes feature peanut butter. Seeing this great alternative to peanut butter with the Sunbutter, I decided then and there to create something wonderful with it.
Actually, re-create would be a better word. I based these cups on a Honour System favourite, Peanut Butter Freezer Fudge. That  recipe gets made pretty frequently around here and is always promptly devoured. I just can't get enough. I always prefer a chunky variety when it comes to peanut butter or almond butter so it was no different with sunflower seed butter.
So strange to see full sunflower seeds!
One of the best things about this recipe is how absolutely easy it is. Stir and pour. It's even easier right now with the coconut oil being liquid and all! I love coconut oil in the summer. 🙂 Always liquid.
I lined a muffin tin with paper liners and filled them a little over half way. You could even fill them less than half if you wanted smaller portions. Not to worry if you drip a little. It's not like anyone is taking pictures or anything … 😉
Sprinkle on  a few dark chocolate chips and kick it into high gear with delicious hemps seeds. Mmmm … hemp seeds. World's . Best . protein . ever .
Pop them into the freezer for about twenty minutes to let firm up. Note that these get melty pretty quick so keep them frozen.
These had great texture and flavour and are such a nice treat for those with nut allergies. Now just try not to eat them all. 😉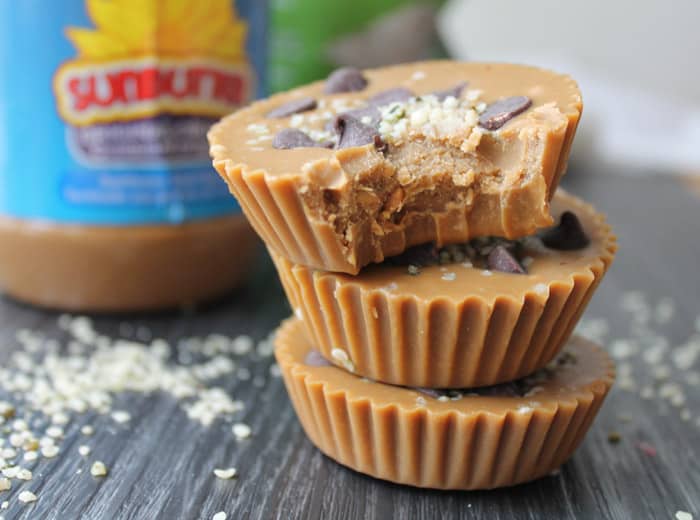 Sunbutter Cups with Dark Chocolate & Hemp Seeds – Vegan & Gluten Free
Ingredients
1 cup sunflower seed butter (I used chunky)
1/4 cup coconut oil
1 1/2 tbsp maple syrup
1/4 tsp sea salt
1/4 cup dark chocolate chips
2 tbsp hemp seeds
Instructions
Mix sunflower seed butter, maple syrup, coconut oil, and salt together in a bowl
Pour mixture into a lined muffin tin ( I made 8 sunbutter cups )
Sprinkle chocolate chips and hemp seeds over top and pop into the freezer for about 30 minutes to set
Store in the freezer in a sealed container
7.6.7
405
https://thehonoursystem.com/sunbutter-cups-with-dark-chocolate-hemp-seeds-vegan-gluten-free/