This Carrot Orange Juice is a powerhouse combination. A great recipe for beginners, this juice is wonderful for your health. If you want detox your body, boost energy and have your skin to glow from the inside this is the juice for you!
It has been an endless stream of juice recipes in my kitchen since the acquisition of our juicer and it continues with this Carrot Orange Juice.
I can't help it.
I have a new toy that is just begging to be played with and I am loving the fresh juices. Did you catch this minty fresh grapefruit juice?
One of the girls at work has been making fresh juices for awhile and she has given me so much inspiration. There are so many deliciously wonderful combinations.
This one in particular is a powerhouse for your skin.
If you want your skin to glow from the inside this summer then this is the juice for you.
Carrot Orange Juice
Let's start with the power of the mighty orange.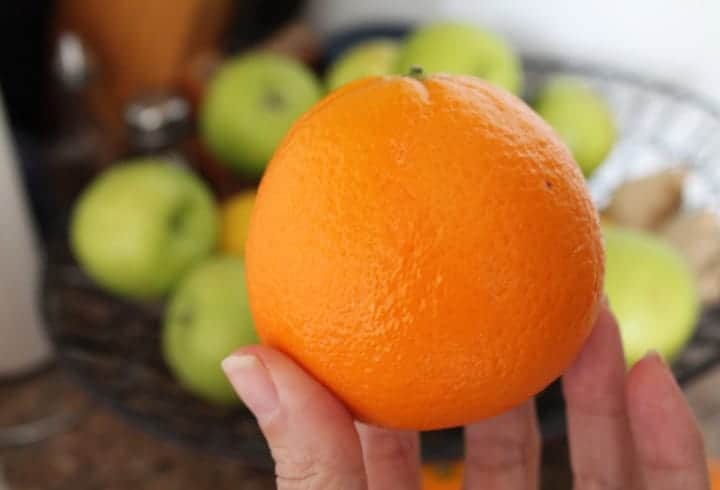 Fresh orange juice is a brilliant source of vitamin C, an essential ingredient collagen and elastin, which keeps your skin bright and tight. 😉
Now, for the carrots. I bought a five pound bag after reading all of the amazing benefits carrots have for your skin. Carrots are a good source of Vitamin A which prevents premature wrinkling, acne, dry skin, blemishes, and uneven skin tone.
Couple the Vitamin A with the antioxidants in carrots and you also have protection from sun damage.
Am I speaking your language?
I loved the flavour, texture, and most of all the colour of this Carrot Orange Juice. The vibrance of this drink made me feel vibrant too.
One of the cool things about juicing is that you are drinking the pure nutrients. Without taxing your digestive system by having to break down and fibres, the nutrients are all directly absorbed.
Good stuff!
This juice has earthiness from the carrots that is ever so slightly softened by the citrus punch from the oranges. It's truly a winning combination.
I love pouring it.
Once again, just look at that colour!
I've been enjoying this Carrot Orange Juice  in the mornings. It's a great way to start the day, especially now that the sun is here and I am greeted by warm summer sunshine in the AM.
Cheers to your health and cheers to beautiful, glowing skin!
Carrot & Orange Juice – Vegan & Gluten Free
Keyword:
carrot orange juice
Ingredients
4

large carrots

1

orange

peeled
Instructions
Pass the carrots and orange through the juicer and pour over ice
Nutrition Facts
Carrot & Orange Juice – Vegan & Gluten Free
Amount Per Serving
Calories 161
% Daily Value*
Sodium 168mg 7%
Potassium 1017mg 29%
Total Carbohydrates 38g 13%
Protein 3g 6%
* Percent Daily Values are based on a 2000 calorie diet.