My Mom's Health Fudge is a tried and true family recipe. Can fudge really be healthy? This easy, no bake vegan fudge is packed with nutritious, all-natural ingredients like toasted nuts, seeds, and dark chocolate.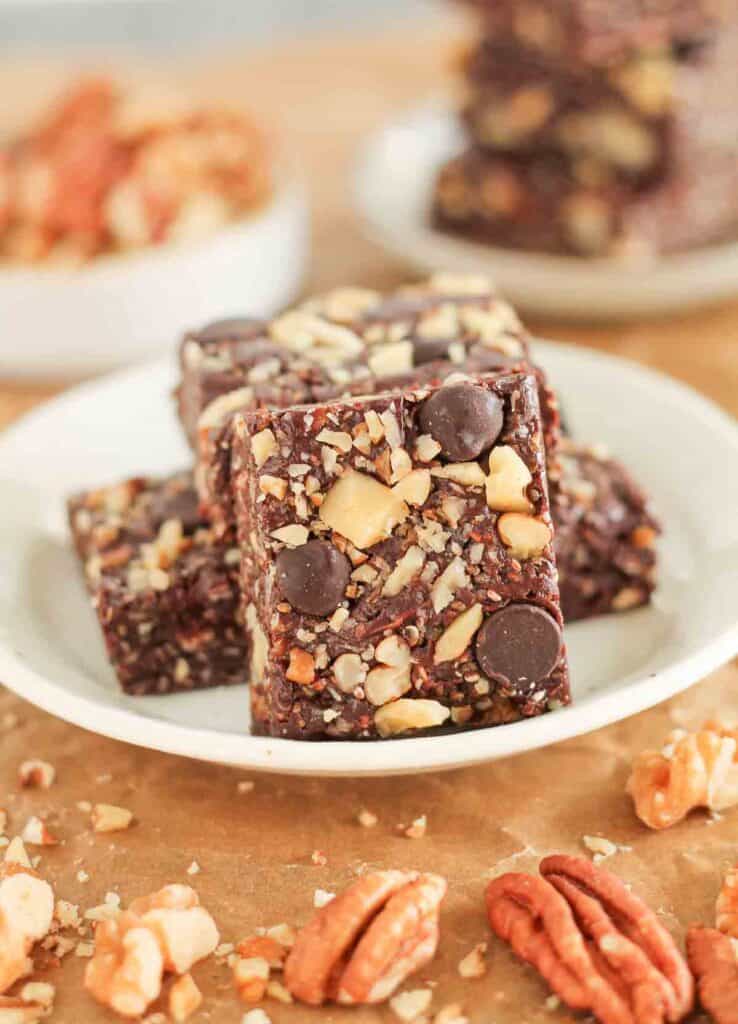 I like to make these no bake fudge bars around the holidays for a couple of reasons. One – they are a healthy fudge option compared to the white sugar and sweetened condensed milk variety. Two – I don't physically have my mom with me anymore and her recipes are a way to connect with some wonderful memories.
Trigger warning! Hit the "Jump to Recipe" tab now if you aren't up for an emotional blurb.
I know some readers come strictly for recipes and I totally understand that. But respectfully, some like to know a bit about the human behind the screen, and sometimes with recipes like this one, I have to honour where they came from.
Also, I have recently updated the photos for this post which I originally published in 2014. Back then blogs were allll about personal stories. Funny how things change!
Anyway, here is what my musings were six Christmases ago.
MOM'S HEALTH FUDGE
With my sweet tooth in the Christmas spirit, big time, I've been seeking out healthier options that still feel indulgent. Ones that still taste like Christmas, you know?
Enter this 'Health Fudge". Actually, we're calling it Mom's Health Fudge.
A few months back, my brother sent me a true piece of our family history. My Mom's spiral cooking notebook. It's filled with clippings from newspapers, recipe cards from church friends, and most importantly, handwritten recipes by both my Mom and my Grandma.
As a chubby kid who spent a big chunk of her childhood in the kitchen with my mom, my little life revolved around this book. I was always pointing out one recipe or another that I wanted my Mom to make or when I was old enough, would make myself.
Mostly, I wanted cookies. 😉
Not to get all serious and sad on you, but today would have been my Mom's birthday. We lost her to cancer over twenty years ago, but every December 19th I still silently pay my tributes. Christmas was never really the same after she passed away. I try not to dwell on it and instead focus on all of the wonderful blessings I do have, but I still miss her and remember how much effort she would put into our family Christmas dinners.
It shows you the power of creating memories and how food can play such a role. The holidays can seem like it's all commercial, yet it was the wonderful turkey dinner with stuffing and gravy and my Mom's apple pie that I remember much more than the gifts under the tree.
So this year, in her honour, I'm starting my own tradition. Food-related of course. This was one of the few healthy dessert recipes (which, let's face it, wasn't common in the '70s-'80s) I found taped onto the pages of my Mom's book. I adapted it to what I had on hand.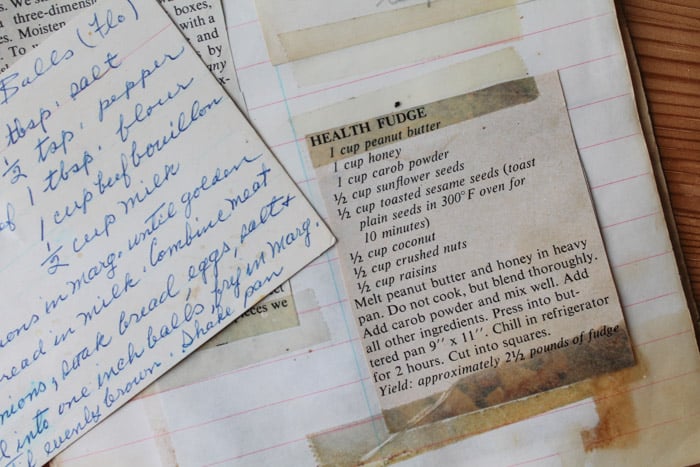 *Note the recipe card on the left. It's for Flo's Balls. Had to.
Let's get onto making the fudge.
INGREDIENTS YOU'LL NEED FOR THIS VEGAN FUDGE
sunflower seed butter
peanut butter
honey
cacao powder
sesame seeds
chia seeds
unsweetened shredded coconut
nuts (toasted is best!)
seeds
1/4 cup dark chocolate chips
HOW TO MAKE MOM'S HEALTH FUDGE
It's fairly easy!
First, I use a combo of sunflower seed butter and peanut butter. The original recipe called for sunflower seeds which I didn't have, so the sun butter seemed logical. It turned out to be the best part of this fudge! We highly recommend using it. There was this ever so slight saltiness that just tied everything together.
Another addition added was chia seeds. I LOVE chia seeds. They give such a great snap to no bake treats.
Add in your cacao and honey (maple syrup for vegan) for some beautiful natural sweetness.
Stir it all togather really well.
Press it all into a loaf pan and chill well in the fridge.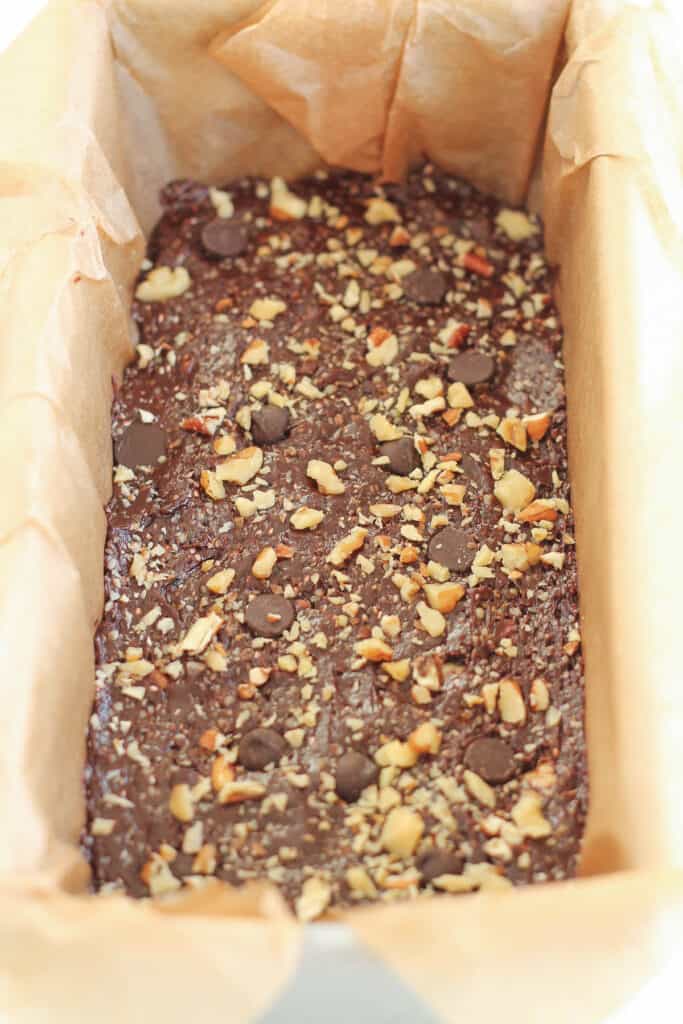 It slices into the best little squares. Both the taste and texture of this Health Fudge was bang on. We totally love and absolutely devour these bites of goodness.
We think you should too. My Mom would like that. She had a great love of food. Especially the sweet, chocolaty things. 🙂
Maybe this Health Fudge recipe will become a tradition in your house. Not just for the holidays either.
This healthy option can be enjoyed year round.
Originally Posted December 19, 2014. Updated December 24, 2020.
Be sure to follow me on social media! I love pinning to Pinterest, sharing on Facebook, and posting pics on Instagram. See you there. 🙂
As an Amazon Associate, I earn from qualifying purchases.
Mom's Health Fudge
My Mom's Health Fudge is a tried and true family recipe. Can fudge really be healthy? This easy, no bake vegan fudge is packed with nutritious, all-natural ingredients like toasted nuts, seeds, and dark chocolate.
Instructions
In a medium saucepan over medium-low heat, melt together the sunflower seed butter, peanut butter, and honey (or maple syrup for vegan). When it's blended together, remove from heat and stir in the cacao powder and mix well.

Stir in the rest of the ingredients and mix well again.

Press into a parchment-lined loaf pan and top with the extra chocolate chips and chopped nuts.

Refrigerate for about 2 hours then slice into squares.

Store covered in the fridge for up to a week.
Nutrition
Calories:
137
kcal
Carbohydrates:
16
g
Protein:
3
g
Fat:
9
g
Saturated Fat:
3
g
Cholesterol:
1
mg
Sodium:
5
mg
Potassium:
113
mg
Fiber:
3
g
Sugar:
10
g
Vitamin C:
1
mg
Calcium:
61
mg
Iron:
1
mg