No Bake Chocolate Chia Power Balls
These healthy No Bake Chocolate Chia Power Balls are your gluten-free ticket to a healthy yet delicious pick-me-up. This easy to make snack is full of fiber and of course lots of tasty chocolate flavour!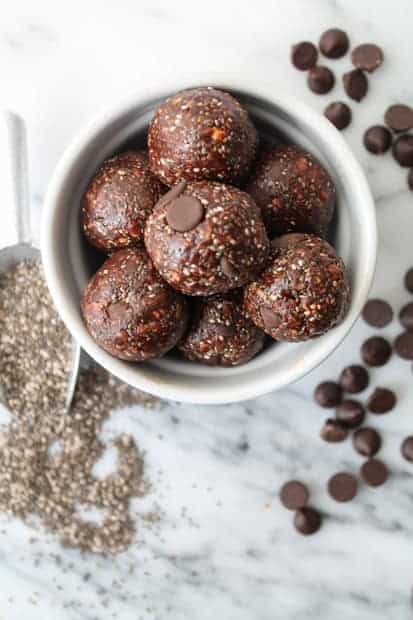 I've embarked on an ongoing quest for pre-workout fuel that won't weigh you down.
My old standby of coffee wasn't cutting it anymore and I came up with these Almond Butter Coconut Energy Balls.
Delicious!
Now, I'm upping my game and sharing with you something even more delicious.
Something chocolatey!
Who doesn't love chocolatey?
No Bake Chocolate Chia Power Balls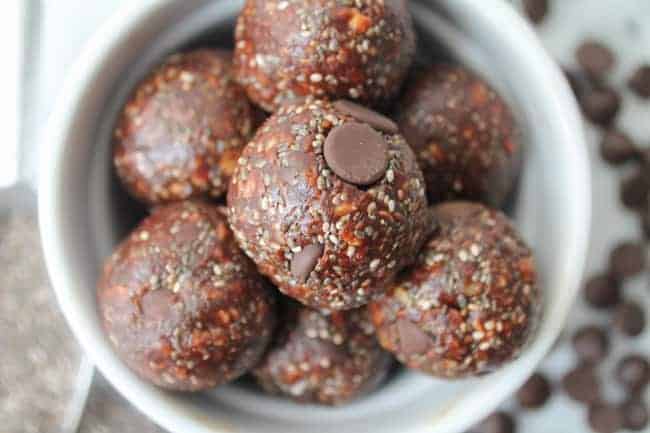 To make these babies naturally sweet, I used my go-to honey, a fabulous local product from Mancini's.
By the way, the honey wasn't the only thing that was sunny and bright when I whipped up these bites of energy. The sun actually made an appearance here in Southern Ontario!!
We've had a brutal winter to say the least. From ice storms to blizzards and everything in between. Even though spring has sprung in a lot of the country, my neck of the woods has continued to be dull and grey.
But not this blessed Sunday.
Today we enjoyed sunshine and a balmy ten plus degrees.
I know it's not much, but I'll totally take it!
You know who else loved the rays this afternoon? My beautiful boy, Louis, that's who.
He blissed out in this patch of sun and didn't move a muscle for hours. Needless to say, the bed didn't get made. 😉
OK, back to the balls!
Gluten free oats and chia seeds are going to give these the staying power to get you through your workout, the afternoon, Dancing with the Stars, whatever you need.
After melting together some almond butter with the honey, I added in some raw cacao powder and vanilla.
Combine this with the oats and chia seeds and mix it up again.
I let this chill for a bit before adding the chocolate chips.
This is so the chips keep their shape, otherwise they would just melt into the mixture.
Roll it out into golf ball sized rounds and that's it!
Energizing, tasty, decadent, but most of all healthy!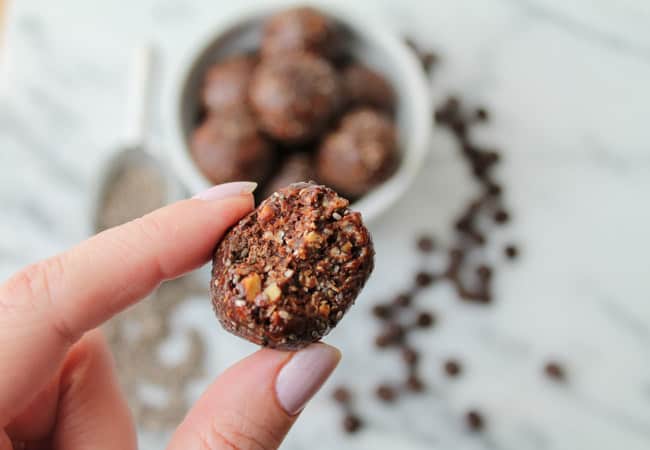 As I like to say, BOOM!!
Enjoy these No Bake Chocolate Chia Power Balls.
MORE HEALTHY GLUTEN FREE SNACK RECIPES:
Chocolate Chunk Cookie Dough Protein Balls
Be sure to follow me on social media! I love pinning to Pinterest, sharing on Facebook and posting pics to Instagram. See you there. 🙂
As an Amazon Associate I earn from qualifying purchases.
No Bake Chocolate Chia Power Balls
These healthy No Bake Chocolate Chia Power Balls are your gluten-free ticket to a healthy yet delicious pick-me-up. This easy to make snack is full of fiber and of course lots of tasty chocolate flavour! #glutenfree #snacks #healthy
Instructions
In a small sauce pan over low heat, melt together the almond butter and honey, then stir in the cacao powder, sea salt and vanilla. Stir well until everything is combined

In a mixing bowl stir together the chia seeds and oats

Pour the chocolate mixture over the oats and seeds and mix well. I used my fingers to really blend it well

Pop the mixture in the fridge for 5 minutes to cool down

Add in the chocolate chips and roll into balls. Set in the fridge for 30 minutes to harden

Store in the fridge in a sealed container
Nutrition
Calories:
120
kcal
Carbohydrates:
14
g
Protein:
3
g
Fat:
6
g
Saturated Fat:
1
g
Sodium:
4
mg
Potassium:
129
mg
Fiber:
2
g
Sugar:
7
g
Calcium:
57
mg
Iron:
1
mg