OK. I'm going there. I'm going to that 'hard core' healthy place that most of your friends and family will just not go. That much talked about place of no return.
Dun, dun, duuuuuuuun….
Green Juice!
And I love it here. 🙂
Drinking these juices, and this may sound corny, makes me feel immediately healthier. I'm energized and my blood pumps stronger. Who knows if it's just a 'placebo' effect, but really, who cares? If it makes you happy, right?
From what I've read about my particular juicer, the leafy greens don't yield a huge amount of juice so there needs to be:
a) a lot of leafy greens
and
b) a lot of other green things like cucumber, celery, etc.
Boom! Look at that pile!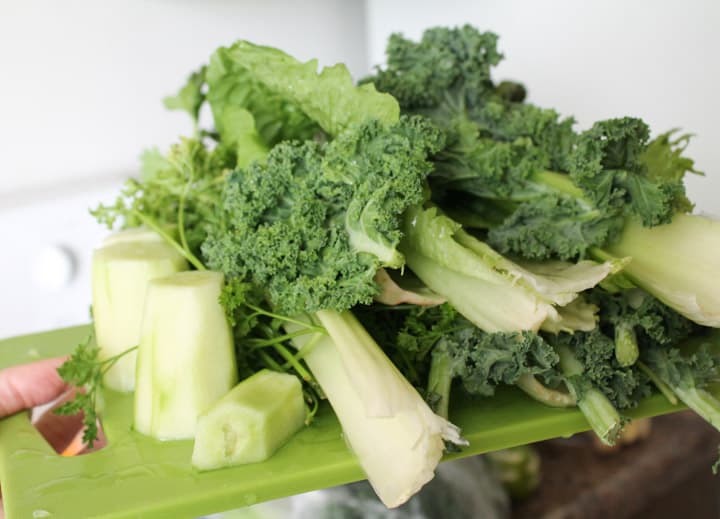 And don't forget the green grapes. This sweetened up the juice, making it a little more fruity. I'm not totally crazy.
Well, not totally. 😉
My favourite part was juicing the kale. The aroma that wafted up from my juicer as it pulverized the leaves. Pure kale. I loved the earthy, green smell.  Close second? Tossing in the grapes and watching them bounce around like the ball at a bingo hall.
The nice thing about the container that holds the fresh juice is the lid that separates the foamy, weird stuff from the green gold, as I like to call it.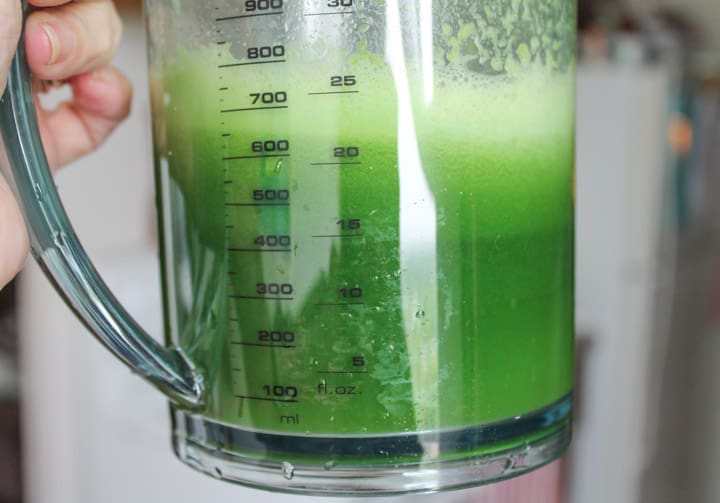 A drawback to juicing is the lack of fibre so, I wouldn't let this replace a good old fashioned green smoothie completely, but it is an amazing, hydrating way to pack in a bunch of nutrients into one glass. 
Juicing is  also a great way to use up the vegetables that may be about to go bad in your crisper or pantry. Toss them all in the juicer and drink 'em down.
In the meantime, cheers to your greens! Join me in that crazy, healthy place. You won't regret it. 🙂
Lean & Mean Green Juice
Ingredients
5

romaine leaves

5

kale leaves

1

cucumber

peeled

1/2

bunch parsley

3

celery stalks

1

cup

green grapes
Instructions
Pass all ingredients, leafy greens first, through your juicer and serve over ice
Nutrition Facts
Lean & Mean Green Juice
Amount Per Serving
Calories 181
Calories from Fat 9
% Daily Value*
Fat 1g2%
Sodium 66mg3%
Potassium 1302mg37%
Carbohydrates 39g13%
Protein 8g16%
Vitamin A 20520IU410%
Vitamin C 182.4mg221%
Calcium 270mg27%
Iron 3.5mg19%
* Percent Daily Values are based on a 2000 calorie diet.