Instant Pot Apple Crumble for the win! Beginners will learn how to make this easy, healthy, vegan recipe that the whole family can enjoy.
The Fall season and desserts featuring apples seem to go hand in hand.
You can't throw a stone without hitting an apple image on Instagram or a recipe on Pinterest and I, for one, love it!
Crunching through a pile of brown leaves followed by spooning Instant Pot Apple Crumble in to my mouth is destined to become a new tradition around here.
Instant Pot Apple Crumble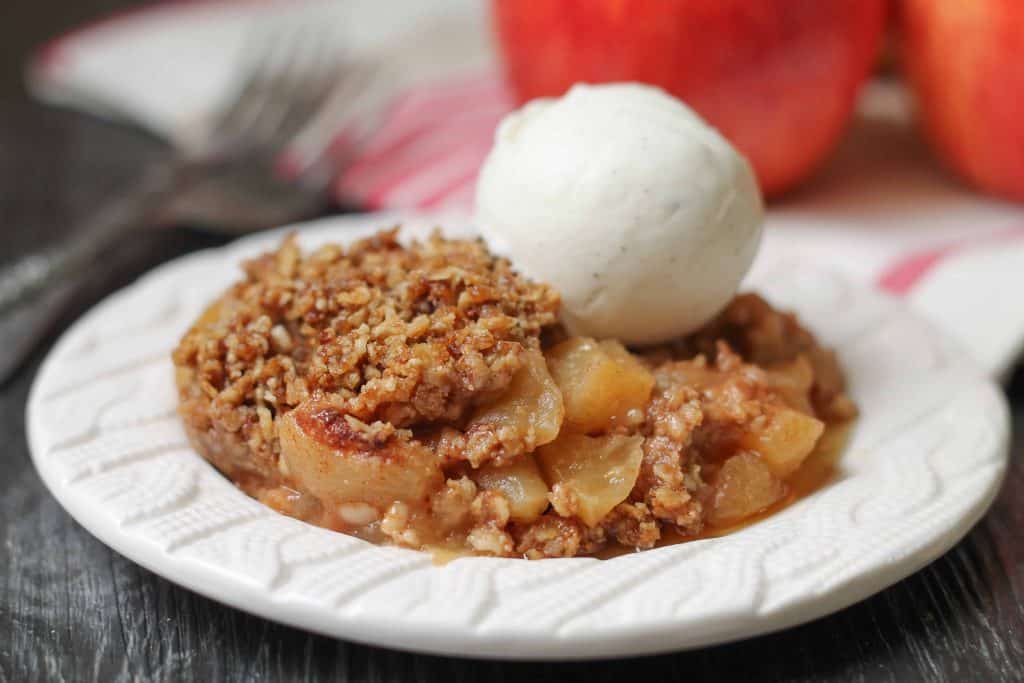 That was exactly how I spent my day yesterday. It was a little blustery, even a few snow flurries which is bananas for Vancouver in November, but I still had errands to run so, off I went.
My time living in Ontario (almost 20 years!) has taught me well about dressing for colder weather.
Layers is the key.
And good gloves.
Undeterred by the weather, I was rewarded with a fabulous afternoon. It seemed a lot of local Vancouverites were scared off by the white flakes and I virtually had the sidewalks and shops to myself.
To make the day even better, honey crisp apples were on sale at the grocery store. They happen to be my absolute favourite apple and I greedily scooped up bagful.
As I left the store I was reveling in my the deal I was getting, because usually they are so expensive.
It was my birthday this last week, but generally I'm not into big celebrations. I loathe the thought of getting older and absolutely cringe at the question "How old are you?" and as a result, I'm pretty quiet about the big day.
If I can, I take the day off work as a gift to myself.
This year I also treated myself to this yummy Instant Pot Apple Crumble.
It was so easy to throw together and leftovers reheated nicely another day. I popped the glass storage container right into the oven while I put away the dishes.
Don't skip the ice cream, either! There are so many options for non dairy ice creams if you're following a vegan diet.
Enjoy!
LOOKING FOR MORE INSTANT POT RECIPES?
These are favourites around The Honour System Kitchen:
As an Amazon Associate I earn from qualifying purchases.
For my Instant Pot Recipes I use the Instant Pot DUO60 6 Qt
Instant Pot Apple Crumble – Vegan
Apple Crumble in the Instant Pot! Beginners will learn how to make this easy, healthy, vegan dessert recipe that the whole family can enjoy.
Keyword:
instant pot apple crumble, vegan apple crumble
Instructions
In a small mixing bowl, stir together the oats, spelt flour, coconut sugar and salt. Pour the coconut oil over and stir well, coating the oats. Set aside.

Place peeled & chopped apples in the liner pot. Sprinkle them with the cinnamon and pour the maple syrup over top. Cover with the water.

Drop the oat mixture evenly over top

Lock the lid in place and seal the valve. Press manual and cook on high pressure for 8 minutes. Allow the pressure to fully release naturally.

Serve warm with vanilla ice cream (use coconut milk ice cream for vegans)