Back when I used to eat things without reading labels (gasp!) I used to chew all kinds of gum like a fiend. Sour gum, gum balls, minty gum, cinnamon gum, you name it, I've chewed it. I envied Violet Beauregarde as a child, if that tells you anything. And if you get that reference we are probably kindred souls. 😉
Anywho, one particular gum I used to enjoy was a vanilla mint combo. A flavour pairing that at first I was wary of but warmed up to pret-ty darn fast. I chewed the crap out of that stuff. Loved it. Now, I didn't somehow learn how to create gum, but I did combine a little mint and vanilla in a chocolate protein bar.
Sounds good, no?
As a Brand Ambassador for North Coast Naturals, I'm the lucky recipient of products to create whatever my little heart desires. Their vanilla flavoured Iso-Protein Powder fit the bill for both the vanilla and protein element of these bars. Nice! Some oats, peanut butter, chia seeds and almond milk add even more sources of protein to add a lot of staying power to these babies.
Just a hint of peppermint extract lends the cool minty flavour, just be careful with the bottle. Peppermint extract is super strong and you don't want to overpower anything with it. It's easy to accidently pour out a little too much so watch those peas and q's when measuring!
I cut these into eight bars for the photos, but then cut them into squares as I found the portions pretty generous. You do you. 😉
These are pretty low sugar and have a nice steady release of energy. Perfect for breakfast on the go or even a nice mid afternoon pick me up. I hope you enjoy them! 🙂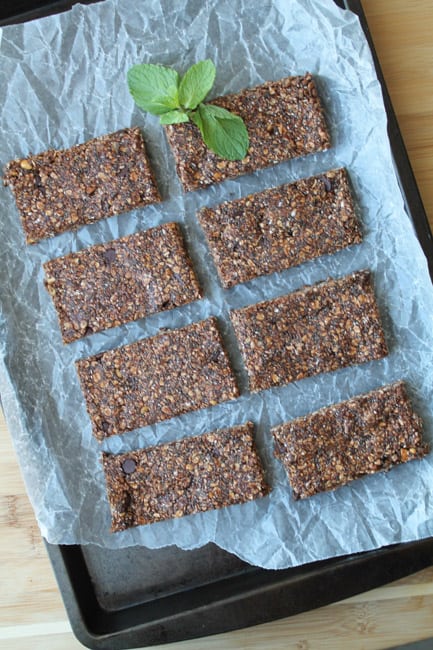 As an Amazon Associate I earn from qualifying purchases.
Vanilla Mint Chocolate Protein Bars – Gluten Free
Course:
Breakfast, Dessert, Snack
Keyword:
vanilla mint chocolate protein bars
Instructions
Line a 9x9 dish with parchment paper and set aside

In a large mixing bowl stir together the dry ingredients (the first five listed) and in a medium sized bowl stir together the wet ingredients (the last four), then combine the two on the large bowl and mix well

Press the mixture into the dish very firmly and place in the freezer for 30-45 minutes to set

Cut into eight bars or sixteen squares

Store refrigerated in a sealed container
Nutrition Facts
Vanilla Mint Chocolate Protein Bars – Gluten Free
Amount Per Serving
Calories 122
Calories from Fat 36
% Daily Value*
Fat 4g6%
Cholesterol 3mg1%
Sodium 37mg2%
Potassium 127mg4%
Carbohydrates 16g5%
Protein 4g8%
Vitamin C 0.1mg0%
Calcium 64mg6%
Iron 0.9mg5%
* Percent Daily Values are based on a 2000 calorie diet.