Sometimes you just need a little chicken soup, if you know what I mean. The weather is getting blustery, I've been more travelling than usual, the days are darker and shorter, I've been sick … all very good reasons to dig out the soup pot and get some warmth and comfort.
I was inspired by Chelsea's homemade chicken noodle soup. As soon as I saw her post I knew chicken soup of some kind was in my future. There is something therapeutic about a piping bowl of brothy goodness.
My attendance record at school was really good. My mom prided herself on us not only getting to school on time but going every day. She would even schedule dentist appointments during our lunch hour so we wouldn't miss any time. However, things like the chicken pox happened and the flu happened, so there were times when there was no way we could go to school. Those days were spent on the couch, blanketed with a hand knit afghan, and sipping chicken soup. I watched the Price is Right.
Is it weird that I really look back fondly at being sick? 😉
So onto the soup. Bonus? It's super quick and easy. The base is the golden trio of onions, carrots and celery.
I also added in the immune boosting goodness of fresh minced garlic. That should kick this cough I've been fighting in the butt! Toss in the chicken, cover it with broth and let the whole thing bubble up nice.
Some fresh parsley and a big ole scoop of quinoa completes the picture.
Don't forget to rinse those seeds though, people! If you didn't know, quinoa has this soapy tasting coating on it and soapy's no good in this soup. Or anything for that matter. Rinse it good.
Treat yourself to some coziness this Fall. Any chicken soup will do. 🙂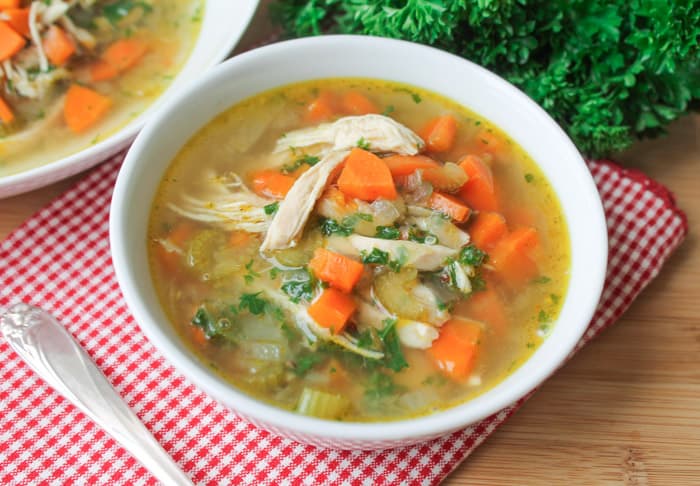 As an Amazon Associate I earn from qualifying purchases.
Chicken Vegetable & Quinoa Soup – Gluten Free
Course:
Main Course, Soup
Keyword:
chicken vegetable quinoa soup, gluten free chicken recipes
Instructions
Set a large soup pot over medium low heat with the olive oil and butter

Once the butter has melted, add the onion, carrots and celery, season with sea salt & pepper and sauté until soft. About 10 minutes. Add in the garlic and dried thyme and stir for another minute

Add in the broth and the chicken breasts and bring everything to a boil. Reduce heat to medium and simmer for 30 minutes

Remove chicken breasts from the liquid and shred with a knife and fork. Return the shredded chicken to the pot.

Pour in the dried quinoa and fresh parsley and cook for another 10 minutes
Nutrition Facts
Chicken Vegetable & Quinoa Soup – Gluten Free
Amount Per Serving
Calories 370
Calories from Fat 117
% Daily Value*
Total Fat 13g 20%
Cholesterol 79mg 26%
Sodium 330mg 14%
Potassium 1164mg 33%
Total Carbohydrates 26g 9%
Protein 37g 74%
* Percent Daily Values are based on a 2000 calorie diet.