Peanut Butter & Dark Chocolate Breakfast Muffins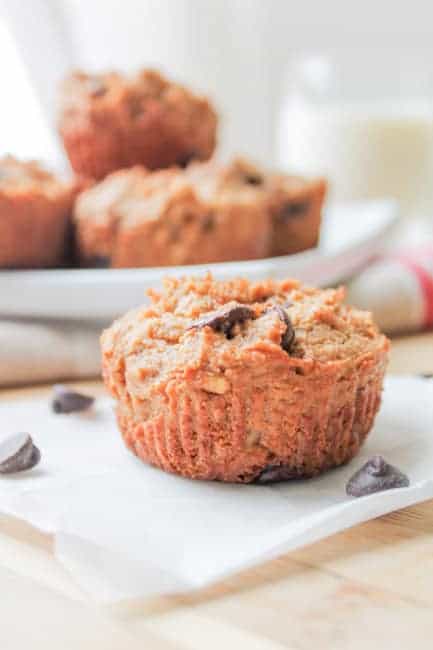 So this week, I had a granola bar fail. Big time. I used a ton of oats, chia seeds, sesame seeds, protein, hemp …  a ton of stuff. It didn't work out and totally fell apart. It's a nice cereal I guess … if I needed cereal … which, I don't.
Onto a brown rice based casserole with beans I soaked and cooked myself from dried! How exciting!
 Ummm … yeah.
My attempt was unfortunately unsuccessful. Waaaaaay too many beans. It was pretty funny, actually. We looked down at our plates and they were both covered in beans! Like twenty of them. And we had already eaten more than half.
Two strikes.
Today, I baked these muffins. I know I talk about the weather a lot (I never realized it until I started this site, but I totally do!) but, today was a proper snowy day.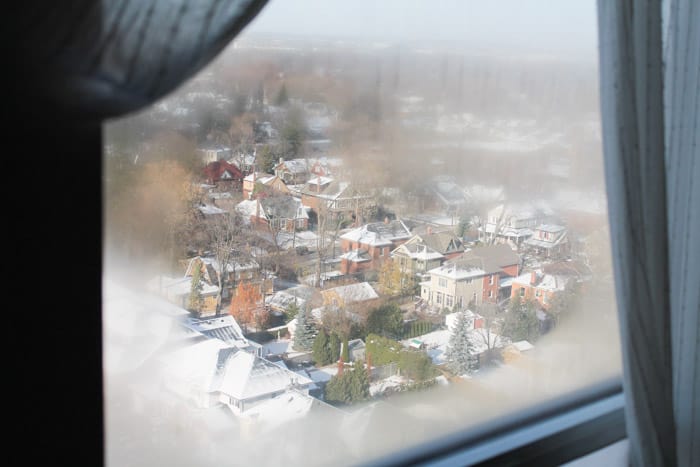 What a better way to enjoy the flakes blowing past the window but with a hot cup of tea and a warm out of the oven muffin. Perfection.
I'm a BIG peanut butter gal. It's been a constant since I was a kid. From probably twelve or so on, I made my own breakfast and I had peanut butter on toast every . single . morning. and every morning after that for probably the next twenty years. Seriously.
What can I say? When I find something I like, I really stick with it.
I did move onto oatmeal, with a nice glob of almond butter which I've been enjoying as of late. The only thing is sometimes I just don't have the time in the morning to not only cook up breakfast, but take the time to eat it. One simply cannot inhale a bowl of oats.
So enter the Peanut Butter Muffin.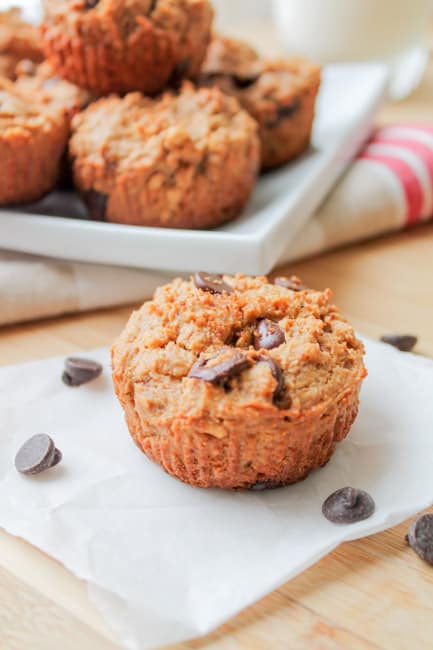 Fast and easy to bake up. Super healthy with a steady energy source to get your day going.
Considering the bad luck I'd had in the kitchen, I had a wee celebration when they came out of the oven. They were what I'd hoped for in terms of peanut buttery-ness. It was like peanut butter toast with a few chocolate chips strewn in. Not too sweet and definitely not cakey. They are more on the dense side which was what I was looking for. I don't want to be eating cake for breakfast like the muffins they pawn off at the coffee shops.
Grab and go!

As an Amazon Associate I earn from qualifying purchases.
Dark Chocolate & Peanut Butter Muffins
Instructions
Preheat your oven to 375 and line a muffin tin with 12 liners

Whisk together the flour, salt and baking powder in a large mixing bowl

Add the milk, eggs, sugar, peanut butter, chocolate chips, vanilla, and coconut oil and stir until incorporated

Spoon evenly into each well of the tin

Bake for 18-20 minutes, testing for a clean toothpick

Cool on a rack for 15 minutes and store in an airtight container
Nutrition
Calories:
251
kcal
Carbohydrates:
21
g
Protein:
7
g
Fat:
16
g
Saturated Fat:
8
g
Cholesterol:
14
mg
Sodium:
202
mg
Potassium:
244
mg
Fiber:
2
g
Sugar:
8
g
Vitamin A:
35
IU
Calcium:
76
mg
Iron:
1
mg