Instant Pot Quinoa is an easy, hands off way to prep this versatile, nutritious side dish. Quinoa is so customisable, making it ready to add to your next meal.
One of the things I use my pressure cooker for most is prepping. I love having cooked side dishes already on hand and this Instant Pot Quinoa is super versatile.
Throw a handful into a salad, toss some into a soup, or top it with some Bolognese for a filling meal.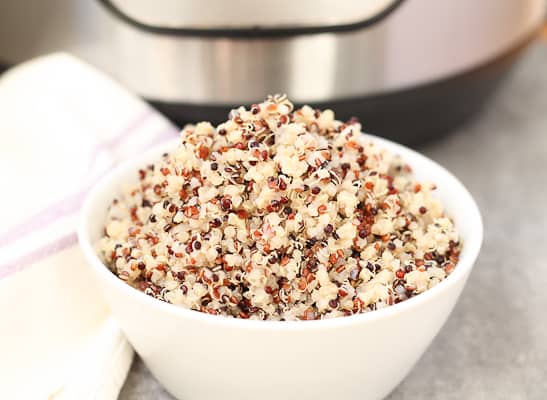 Instant Pot Quinoa
Full disclosure, this recipe takes the same amount of time as would on your stove top. The word 'instant' in Instant Pot is a tad misleading. For things like bone broth, which normally takes a good 12 hours, 3 hours in the IP could be considered instant, but not really.
What I like is the hands off approach and I love the consistency. There are a few factors like altitude, etc. that impact your cooking times, but once you find your sweet spot, you've got your formula set.
So awesome.
I like to use a tri-colour quinoa for the best texture. I know, I know. It's more expensive. Why is it that the wonderful things always are?
Either way, I find that the plain white quinoa tends to get a little mushier and gloopier. The addition of the red and black seeds add more of a 'al dente' situation, which I like so much better.
WHY EAT QUINOA?
Not familiar with quinoa? It's a wonder seed with numerous health benefits. For me, I love the combination of fiber and protein content. I'm always shy of protein goals set by my naturopath, so foods that contain it are always a big bonus for me. Want more info? Check out this article for some useful insight.
I used water and a pinch of sea salt for this recipe to make it super simple, but if you have some broth on hand that will add some nice flavour to your Instant Pot Quinoa.
Enjoy!
MORE HEALTHY QUINOA RECIPES:
Spicy Butternut Squash with Chicken and Quinoa
Vegan Crunch Bar with Popped Quinoa
Originally posted January 21, 2018. Updated March 22, 2019
Be sure to follow me on social media! I love pinning to Pinterest, sharing on Facebook and posting pics to Instagram. See you there. 🙂
As an Amazon Associate I earn from qualifying purchases.
For my Instant Pot Recipes I use the Instant Pot DUO60 6 Qt
Instant Pot Quinoa – Gluten Free
Instant Pot Quinoa is an easy, hands off way to prep this versatile, nutritious side dish. Quinoa is so customisable, making it ready to add to your next meal. #instantpot #glutenfree #recipe
Keyword:
gluten free recipe, instant pot quinoa, instant pot recipe
Instructions
Rinse quinoa well

Add the rinsed quinoa, water and sea salt to your Instant Pot

Lock on the lid and set the valve to seal

Press manual and set the time to 1 minute

Allow the pot to release the pressure naturally for 20 minutes. Release any remaining pressure and carefully remove the lid

Fluff the quinoa with a fork and serve

Store leftovers in a sealed container in the fridge for up to a week