Here is my Whole 30 take on the Colonel's chicken. 
I don't see much marketing for KFC these days (I guess watchers of the Real Housewives aren't their target market?) so maybe this idea will be lost on some, but back in the day, it was called Kentucky Fried Chicken and it was seasoned with eleven herbs and spices. According to the TV anyway.  😉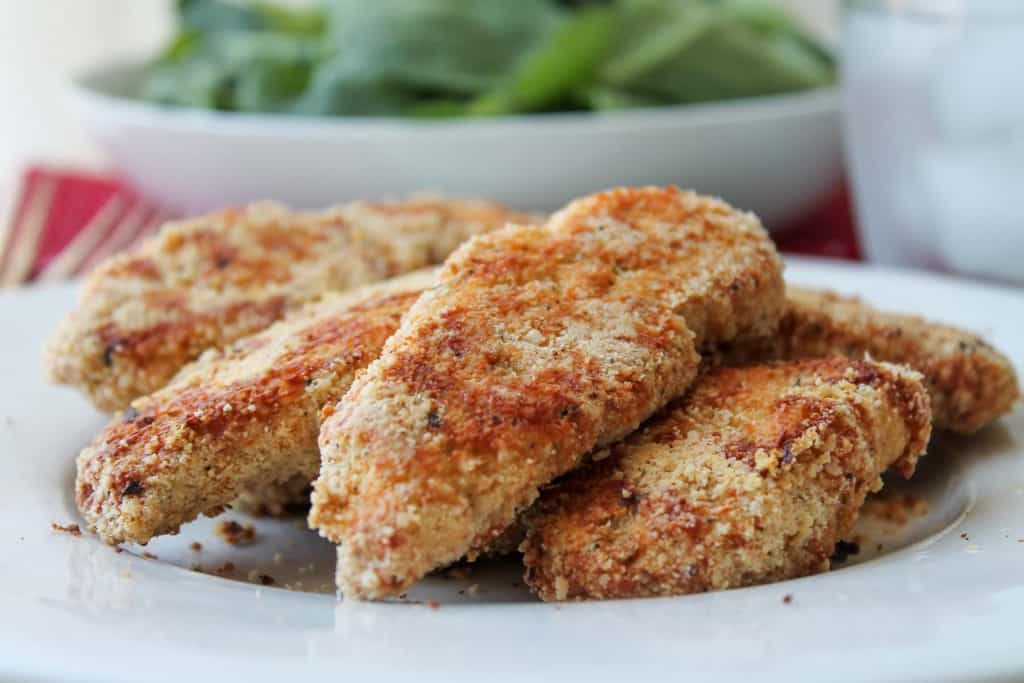 This Almond Breaded Chicken with Eleven Herbs & Spices is a kind of homage to a favourite treat from my childhood. Most days my Mom cooked breakfast, packed lunches, and prepared dinner, but on occasion we would have Chinese takeout, pizza or, my favourite, Kentucky Fried Chicken. It was always so exciting to have these takeout dinners and I was usually allowed to invite a friend over. Fun! I even loved the chicken more cold, out of the fridge for breakfast. Weird? Probably.
Anyways, instead of greasy, deep fried, artery clogging chicken this version is oven baked and breaded in eggs and ground almonds. My spice cabinet is pretty stocked which gave me the idea for the eleven herbs and spices shtick. I picked out my favourites and whisked them into the ground almonds.
They crisped up nicely in the oven and the almond breading created a lovely little crust.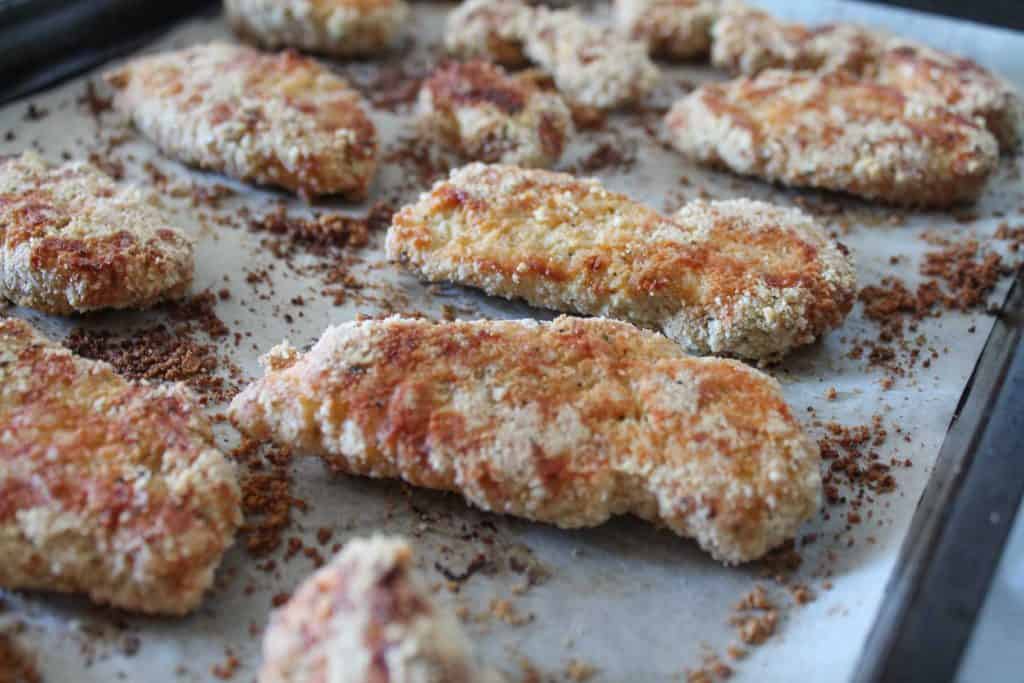 You can pretty easily whip up a dip to go along with them, or just use ketchup or mustard for dipping. I would totally go for a honey mustard type dip, but since the Whole 30 is only on day 19, no honey for me. –> sad trombones <–
Instead we used organic Dijon mustard to dip the fingers and it worked perfectly. I paired it up with some greens dressed in my Whole 30 friendly vinaigrette and loved . it . all . Great little dinner for families or if you just feel like being a kid again. 🙂 Enjoy!
As an Amazon Associate I earn from qualifying purchases.
Almond Breaded Chicken Fingers with 11 Herbs & Spices
Keyword:
almond breaded chicken fingers
Instructions
Preheat your oven to 350 and line two baking sheets with parchment paper, Spray them with your cooking spray and set aside

In a large bowl whisk the spices into the ground almonds. In another medium bowl whisk together the eggs

Set up a breading station with the cut chicken, egg wash and almonds. Have your baking sheets ready. One by one dip the chicken into the egg then dredge it through the almonds and place them evenly spaced onto your baking sheet with the larger pieces in the centre of each

Bake for 40 minutes, flipping halfway through

Check for any pink inside the middle of your largest piece to make sure they are cooked through
Nutrition Facts
Almond Breaded Chicken Fingers with 11 Herbs & Spices
Amount Per Serving
Calories 318
Calories from Fat 162
% Daily Value*
Fat 18g28%
Cholesterol 154mg51%
Sodium 307mg13%
Potassium 448mg13%
Carbohydrates 6g2%
Protein 32g64%
Vitamin A 155IU3%
Vitamin C 1.3mg2%
Calcium 77mg8%
Iron 1.9mg11%
* Percent Daily Values are based on a 2000 calorie diet.