This easy, healthy Creamy Coconut Curry Chicken Vegetable Soup is the immune boosting, bone warming, nutrient packed meal your body will thank you for. Dairy free and Gluten Free!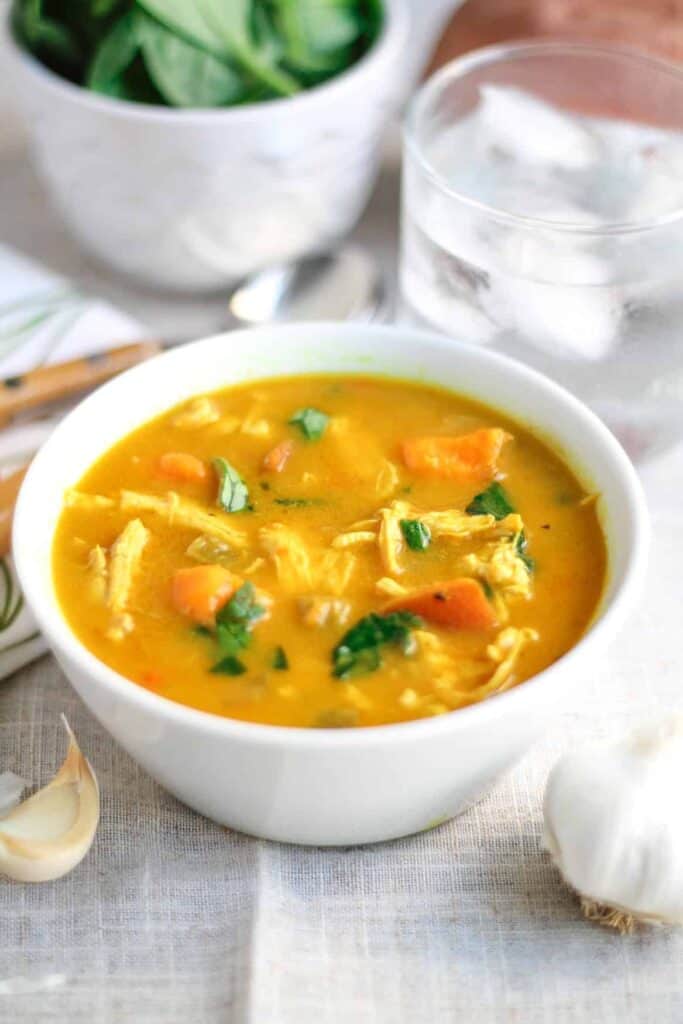 This is one tasty number! Every spoonful of this Creamy Coconut Curry Chicken Vegetable Soup is bursting with flavour.
Using warming spices like turmeric, curry, and cumin adds a nice toasty flavour. Velvety coconut milk brings the decadent creamy taste that makes this soup filling and hearty.
Chunks of vitamin C packed sweet potatoes will help you fight off any nasty bugs that might be kicking around at your home/work/school/environment.
CREAMY COCONUT CURRY CHICKEN VEGETABLE SOUP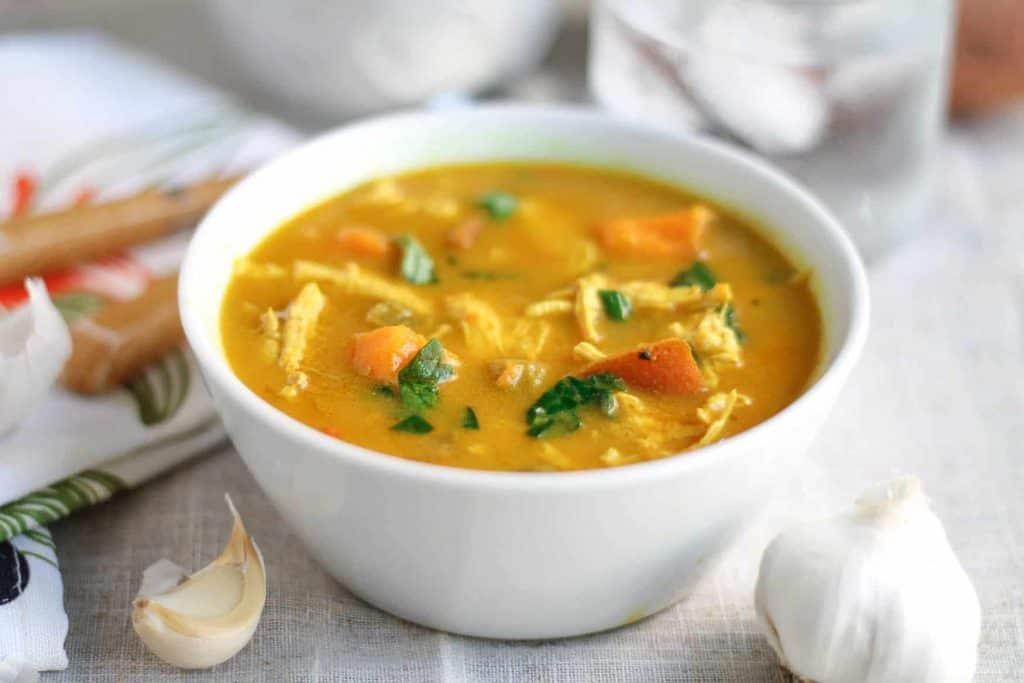 I wish I'd had a batch of this last week before I picked up the most wicked cough and cold combination. This resulted in spending three entire days without a voice. This isn't easy when you live in my world.
I do a lot of talking.
On the bright side, it was a peaceful time for Joe! 😉
I've come to the conclusion that running myself ragged and sustaining myself on tuna sandwiches and oatmeal just isn't going to cut it. Getting sick like this and having it take so long to get better was a real eye opener for me.
Letting my veggie intake slip has had an effect on my health in a direct way. I haven't been sick in literally years and only once in years had it lasted longer than a week.
Now that I'm on the mend I need to get back to more structure in my eating and get going on my leafy green consumption!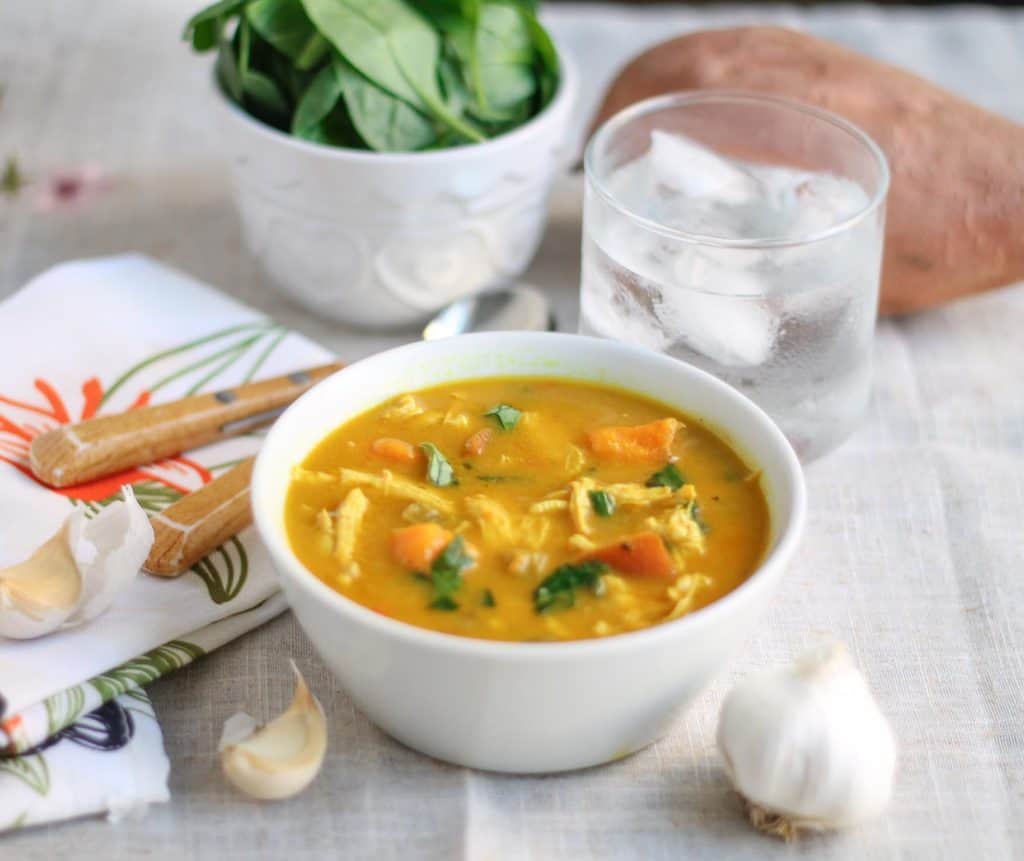 Meanwhile, there are lots of immune boosting antioxidants from the turmeric in this Creamy Coconut Curry Chicken Vegetable Soup. This will be added protection form any future winter ailments.
My goal is to keep well for the rest of the season.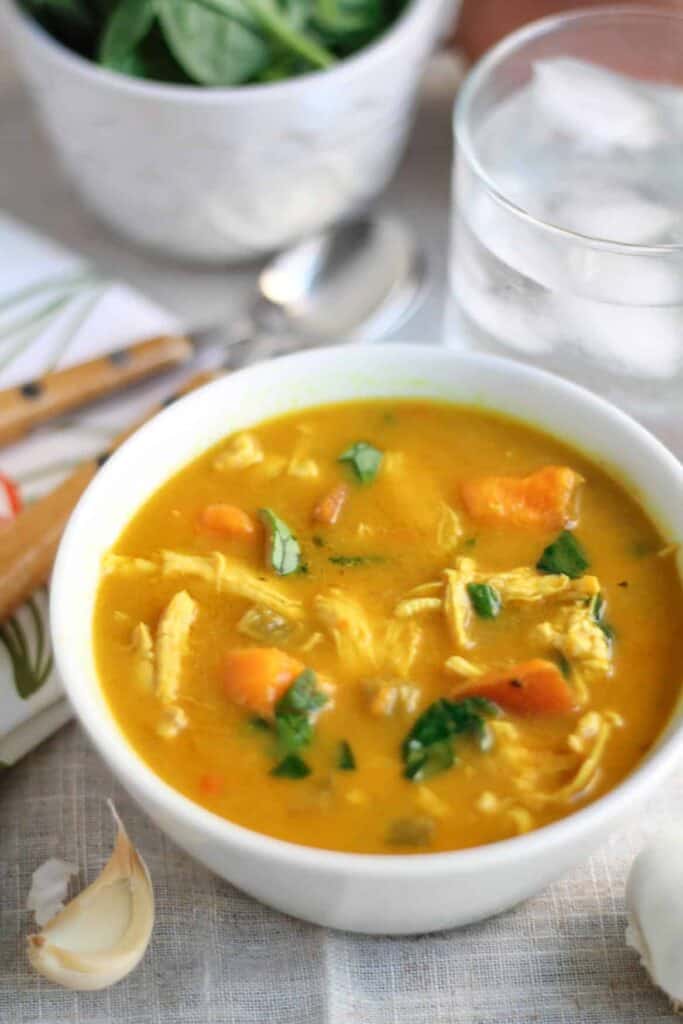 If you would like another fabulous coconut curry recipe, I recommend this popular chicken marinade. Both curry and turmeric are wonderful spices for reducing inflammation.
*Originally posted December 3, 2015. Updated November 5, 2018*
Be sure to follow me on social media! I love pinning to Pinterest, sharing on Facebook and posting pics to Instagram. See you there. 🙂
Sharon
Yields 1 pot of soup
Creamy Coconut Curry Chicken & Vegetable Soup
15 minPrep Time
40 minCook Time
55 minTotal Time
Ingredients
1/2 tbsp. butter, preferably grass fed
1/2 tbsp. olive oil
1/2 cup chopped onion
1/4 cup chopped celery
1/4 cup chopped carrots
1 sweet potato, scrubbed and chopped into bite sized chunks
2 cloves garlic, minced
2 tbsp. curry powder
1 tsp turmeric
1 tsp cumin
sea salt & pepper
1 398 ml. can of full fat coconut milk
2 cups chicken broth
2 cups water
2 chicken breasts
4 cups spinach, torn into pieces
Instructions
In a soup pot, heat butter and olive oil over medium low heat.
Add the chopped onion, celery, carrot and potato. Season with sea salt and pepper, stir well and saute for 5-7 minutes, stirring occasionally. Add the garlic and cook, stirring continuously for another minute. Add the curry powder, turmeric, and cumin and stir well for another 30 seconds.
Pour in the coconut milk, broth and water, stir well. Bring to a boil and add the chicken breasts. Reduce heat to medium low and simmer for 30 minutes, stirring occasionally and adding liquid if needed to keep the chicken covered.
Once the chicken is cooked through, remove the chicken from the pot and shred with fork. Return the shredded chicken to the pot along with the spinach and stir again.
Serve
7.8.1.2
51
https://thehonoursystem.com/creamy-coconut-curry-chicken-vegetable-soup/