So let's talk about this Lemon Chicken Vegetable Soup, shall we? Simply seasoned with sea salt & pepper with just a hint of cayenne to give it some heat. I use brown rice in this recipe which gives me the chance to use my favourite kitchen hack –> the easiest way to cook brown rice! This recipe is also packed with veggies, so use up what you have languishing in those crispers if you don't have exactly what I've listed. That's what I did! 😉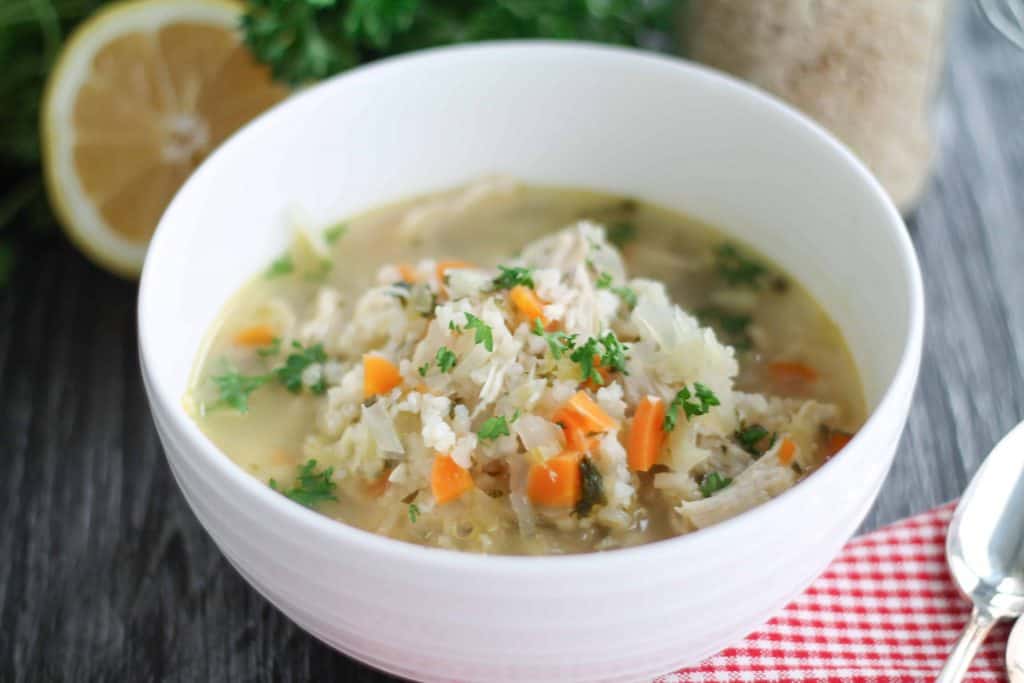 Now that we've talked about that, lets talk about something else. Like the THREE YEAR ANNIVERSARY of this little website, my baby, The Honour System.
When I think back three years I cant believe how much has changed. I was super bored and uninterested in my job and wanted something more. I was avid reader of a couple of blogs and always pondered the idea of writing my own. What held me back was my lack of social media presence … aaaaand by that I mean I have no friends. 😉 Lol! But seriously, I don't. There are a handful of girls I have known since childhood who are great friends ( a special shout out to my bestie of a stupid number of years Julie! ) and some friends I knew at work but that's it. My family reach is even smaller. Three on my side and three on Joe's. That's our family. Who would ever read my website? All of my ten friends and family? So, I pushed the idea aside, and continued on with my life.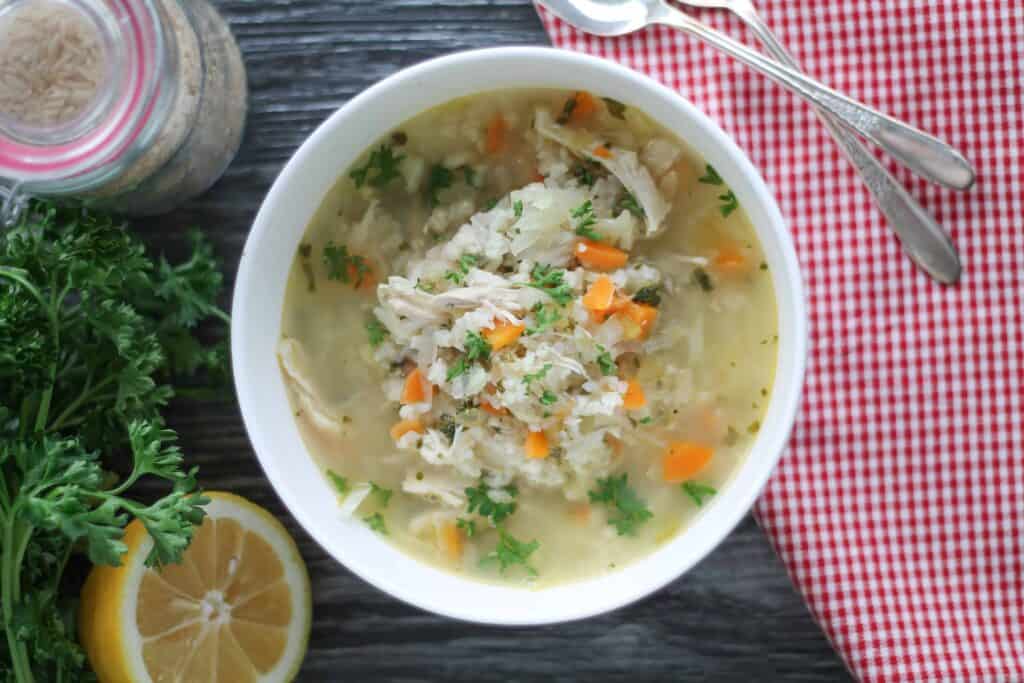 Then one day when Joe and I were out for a walk, we were talking about cooking/eating healthy and Joe said, completely offhandedly, "you should do a blog". Holy shit. Did he just say that? From that moment it was ON.
Operation food blog by Sharon.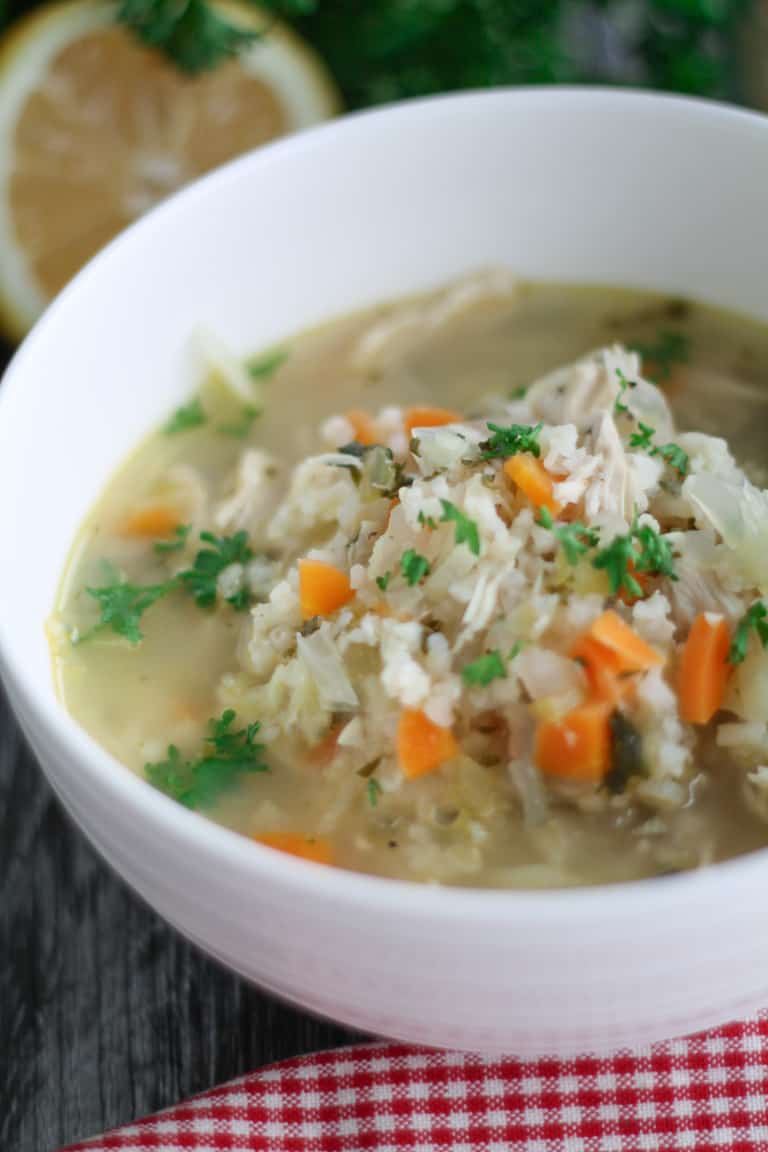 I was so excited! All of the planning, the layout, the photography and the recipes … I was bursting with ideas and energy. I went full steam ahead for like a year straight, churning out five posts a week, sometimes working for five or six hours a day on the blog in addition to my regular full time hours at my 'day job'. I did have slight blogger burnout after that year, often stressing when a recipe would fail or when the lighting would fade and the photos weren't up to snuff. I switched to three posts a week and settled in nicely.
Now, I'm not a full time blogger, but having this website made that job I didn't love so much seem much less annoying. Little work issues didn't bother me because my headspace was all Honour System, all the time. It was so nice!
Then, my life kind of took a bit of turn. We had been contemplating a move for a long time. Being from the west coast originally, I always felt like one day I would return to BC. Joe loved it also and each time we visited he grew more interested in the idea of moving. When we lost our boy, Louis, the choice became much easier. I would see that sweet, furry little creature everywhere. All of our furniture was still completely Lou-i-fied and it was like a move was in order anyways. Neither of us could bear staying there with the ghost of Lou.
But it wasn't just my cat I lost. After he passed away, my passion for recipe developing, staging photos, intensive grocery list making, etc. faded also. I was just too sad to think about it. Basic meals became our staples and blog posts started becoming fewer and farther between. Once the move to Vancouver happened, my blogging basically halted. Back in Burlington, I could do my 'day job' in my sleep. My brand new shiny Vancouver job, not so much. I've had to work through a huge learning curve at work and of course, orienting myself with the city and settling in has been an adjustment. At least I'm not worried about making friends! 😉
Anyways, this is a long roundabout way of saying that, even though I've taken some personal time away from the Honour System I do plan on returning in regular capacity soon. With the signs of spring and sunshine filled days, I have felt renewed and energetic about cooking and not having endless cloudy, rainy days ( sorry Vancouver, but you know its true! ) should make photography a little less challenging.
Case in point, the shots for this Lemon Chicken Vegetable Soup! See how this all comes full circle? It's right back to the soup. Enjoy peeps! And big hugs to those who have stuck around, leaving nice comments or sending sweet messages. Mwah, mwah, mwah. I love you!

As an Amazon Associate I earn from qualifying purchases.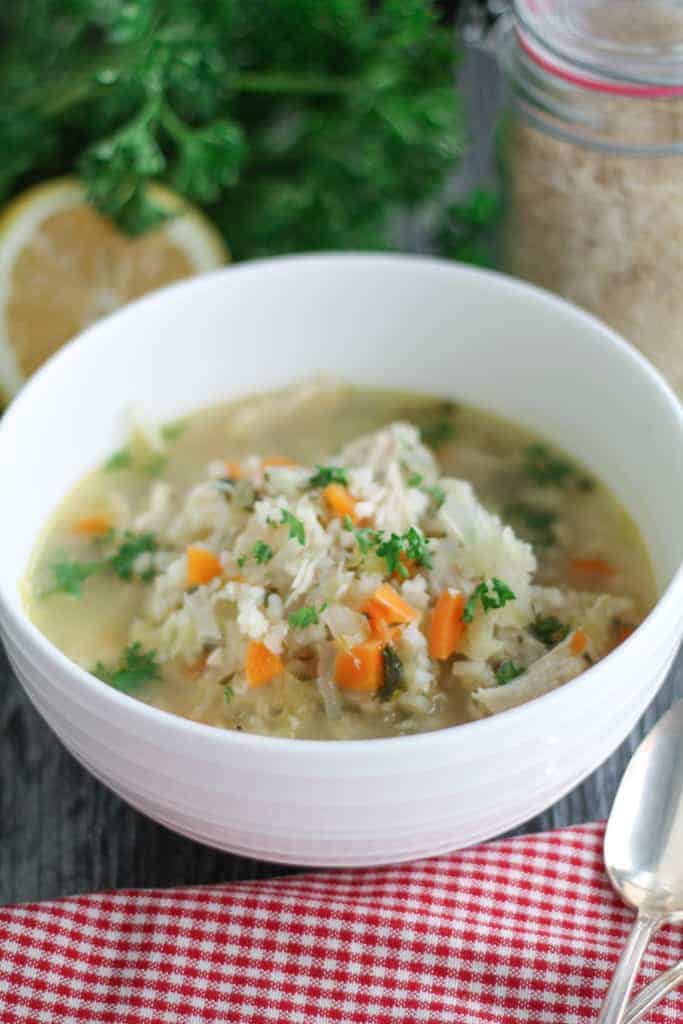 Lemon Chicken Vegetable Soup - Gluten Free Recipe
Course:
Main Course, Soup
Keyword:
gluten free chicken recipes, lemon chicken vegetable soup
Ingredients
1

cup

dry brown rice

2

cups

thinly sliced savoy cabbage

1

cup

finely diced onion

1

celery stalk

finely diced

1/2

cup

finely diced carrots

3

cloves

garlic

minced

1

tbsp.

olive oil

1

tsp

butter

1/2

lemon

thinly sliced

2

chicken breasts

1/4

tsp

ground cayenne pepper
sea salt & pepper

to taste

6

cups

broth

1/2

cup

fresh chopped parsley
Instructions
In a large pot over medium heat, melt together the olive oil and butter

Add in the sliced cabbage, onion, celery and carrot. Season liberally with sea salt & pepper, stir and cook until softened. About 7-8 minutes, stirring periodically

Add in the minced garlic and stir for one minute

Stir in the cayenne pepper

Add the chicken breasts to the pot and cover with the broth. Add the lemon slices and bring to boil. reduce the heat to a low simmer and cook for about 30 minutes

Meanwhile in a separate pot, cook your brown rice. Use the package instructions or my method which is on the site, link in the body of the post. Set aside

Remove the chicken form the pot to a plate. While it cools a bit, remove the lemon slices and discard them. Shred the chicken with two forks and return it to the pot

Evenly distribute the rice into 4-6 bowl and cover it with soup. Top with fresh parsley