This snack recipe is on constant repeat in our kitchen! Chewy delicious and only FOUR ingredients, these Healthy Peanut Butter Rice Crispy Balls are made WITHOUT powdered sugar making them an ideal treat for toddlers and adults alike. Naturally gluten free and vegan rice krispies balls!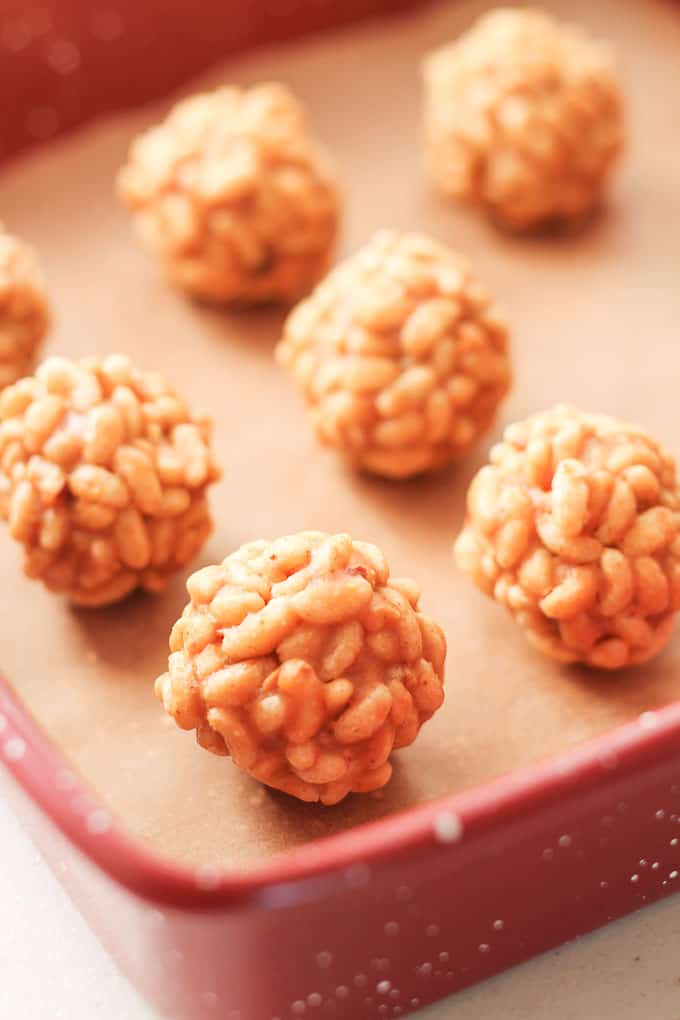 Looking for healthier recipes with Rice Krispies cereal? These rice krispies balls are made with brown rice syrup and natural peanut butter. What could be better?
Also, if you need a good boost of energy before a workout or a quick sweet snack these are excellent. Crispy, chewy and just plain delicious!
HOW TO MAKE HEALTHY PEANUT BUTTER RICE CRISPY BALLS
These little balls of whole grain goodness are quick to whip up and have a short ingredient list. Only FOUR whole foods ingredients are needed!
Crispy Rice Cereal – I prefer using a brown rice variety.
Peanut Butter – Again, natural. Only peanuts listed on the label.
Brown Rice Syrup – this stuff is the BEST binder.
Vanilla – and if you don't have any, that's cool too. They will still be delish!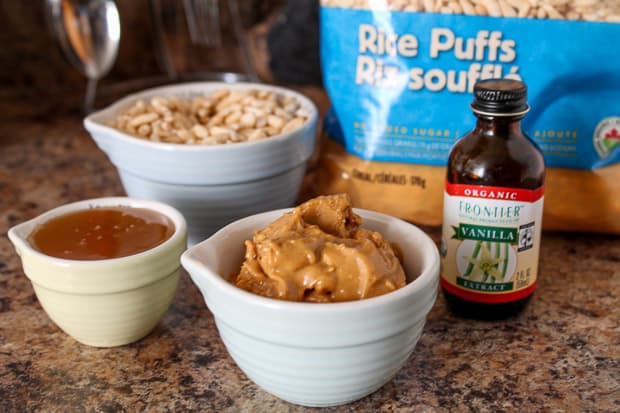 Mix together peanut butter, brown rice syrup and vanilla in a small saucepan.
Remember to do this over a low heat an be careful not to burn.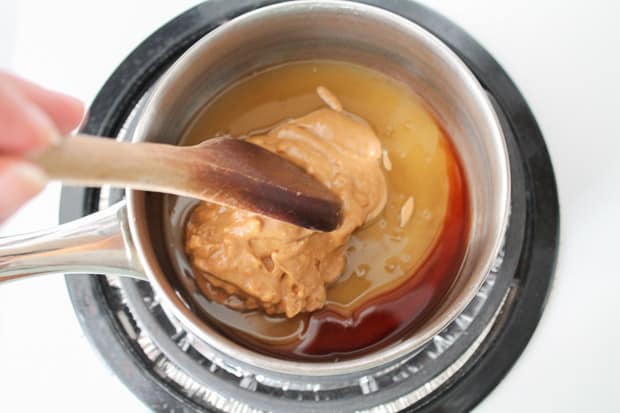 Heat until the ingredients are blended together and become liquid-y.
Don't you just love chunky peanut butter? Hands up for those nuts!!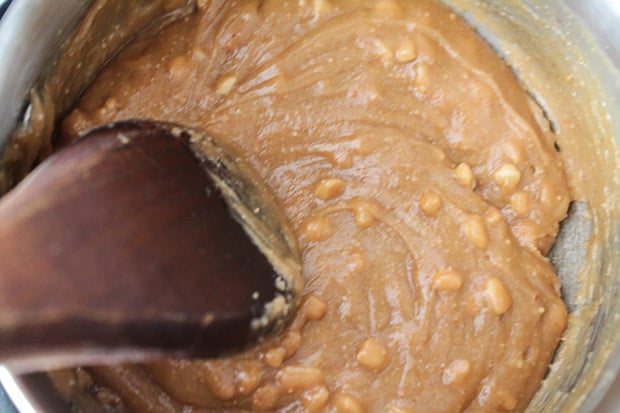 In the meantime measure out your rice crispies into a mixing bowl.
I prefer using the more natural brown rice crispies that you can easily find at the grocery store on online.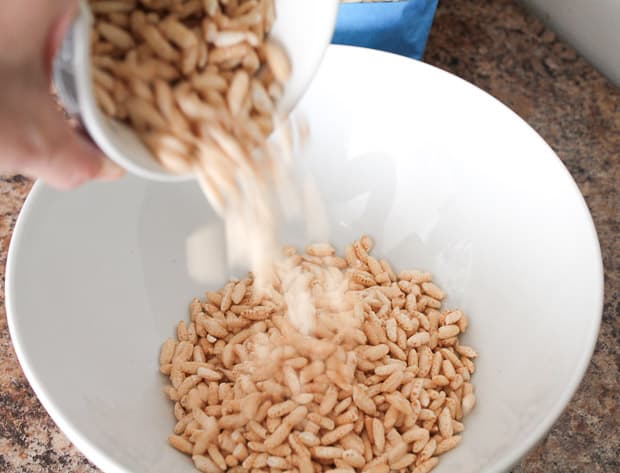 Pour the contents of the saucepan over the puffed rice and mix well.
Sometimes I use a spatula sometimes I use my hands. 😉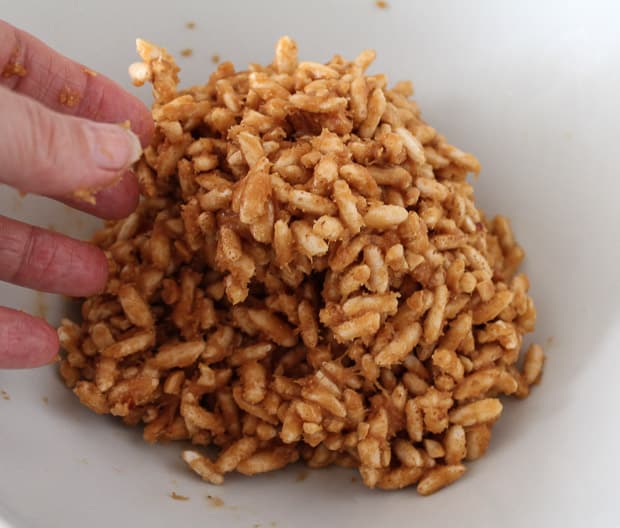 Form the mixture into balls and and store in the fridge.
A good technique for rolling the balls is to dampen your hands a little when the mixture starts to stick to them!
They stay nice and chewy!
Trust me as I have bitten into many. 🙂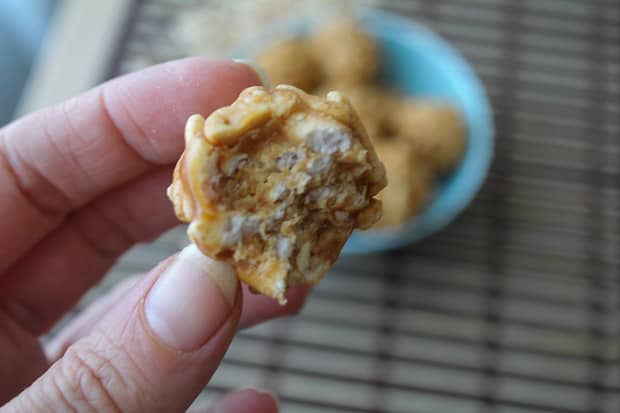 These balls are the bomb!
Like I said earlier they are the perfect 'little something' to have before a workout as they aren't heavy and are a good form of slow releasing energy that will keep you moving.
I'd also recommend them for a afternoon pick me up when you find yourself looking for something sweet. My picky fella loves these balls and that is a strong seal of approval. 😉
I would think they'd be great for kids lunches as well.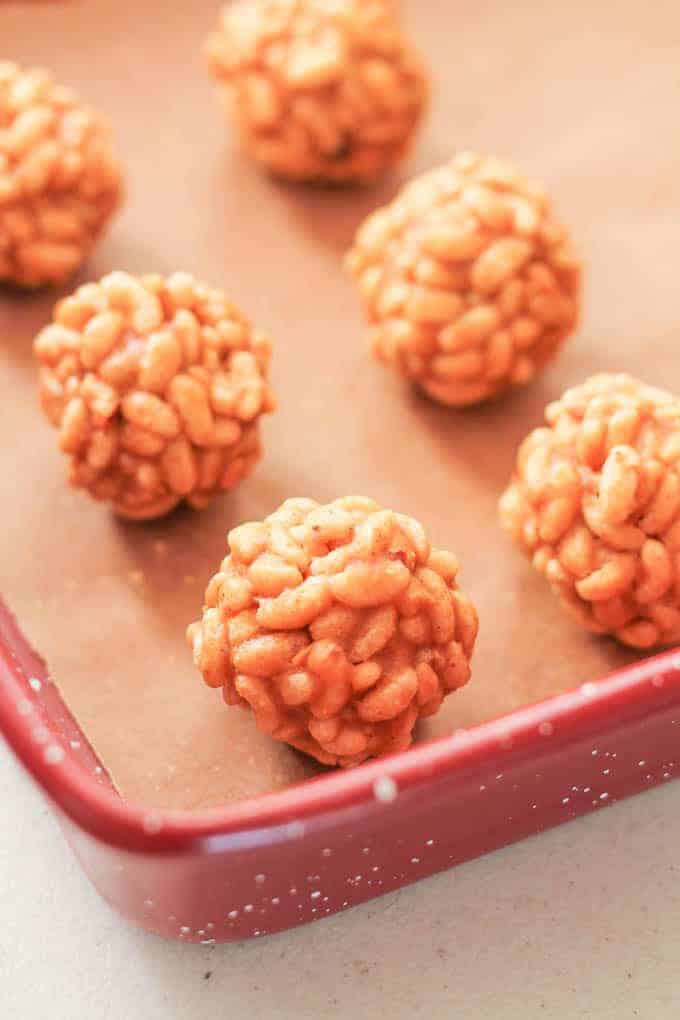 MORE HEALTHY TREAT RECIPES:
Chocolate Chickpea Cookie Bars
Originally posted May 6, 2013. Updated May 13, 2020
Be sure to follow me on social media! I love pinning to Pinterest, sharing on Facebook and posting pics to Instagram. See you there. 🙂
As an Amazon Associate I earn from qualifying purchases.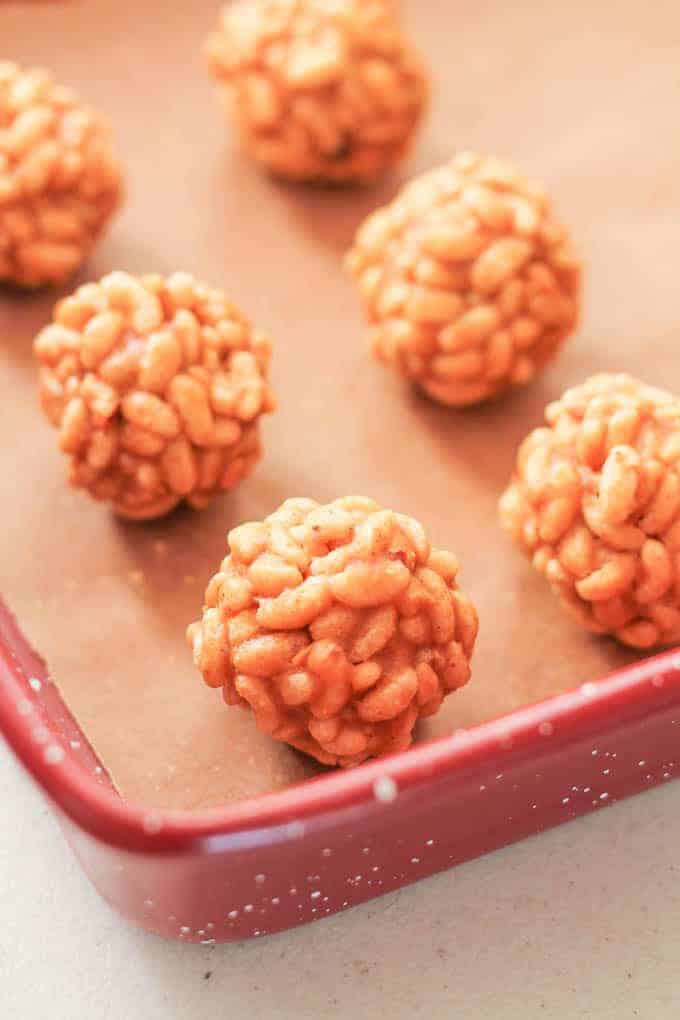 Healthy Peanut Butter Rice Crispy Balls
This easy NO BAKE recipe for Healthy Peanut Butter Rice Krispie Balls is both gluten free and vegan. Just FOUR ingredients and NO powdered sugar.
Keyword:
brown rice crispy balls, chewy rice crispy balls
Instructions
Line a tray with parchment and set aside.

Using a small saucepan, stir together peanut butter, brown rice syrup and vanilla and heat over medium low heat, stirring frequently.

When peanut butter mixture is blended together remove from heat and stir in rice cereal. I use a small spatula ( or my hands! ) to mix it well.

Form into heaping tablespoon sized balls and place them on the prepared tray. When the mixture starts to stick to your hands, wet them a bit to prevent it. Refrigerate for 10-15 minutes to firm up.

Store in a sealed container in the fridge for up to 7 days.
Nutrition Facts
Healthy Peanut Butter Rice Crispy Balls
Amount Per Serving
Calories 79
Calories from Fat 36
% Daily Value*
Fat 4g6%
Sodium 46mg2%
Potassium 59mg2%
Carbohydrates 8g3%
Protein 2g4%
Calcium 8mg1%
Iron 0.8mg4%
* Percent Daily Values are based on a 2000 calorie diet.