Chipotle Quinoa Stuffed Peppers. This recipe is a delicious vegetarian option for meatless Monday. The smoky quinoa and rich cheese are a perfect match with the roasted peppers. Gluten Free!
Would you believe I've never made stuffed peppers?
Pretty crazy considering I've posted over 300 recipes on The Honour System (which is also crazy, btw! ).
My remedy for this = Chipotle Quinoa Stuffed Peppers.
Boom.
I like to keep a loose 'meatless Monday' theme around here so this recipe definitely fits the bill.
My favourite thing about meatless Monday is cheese! 😉 This results in some beautiful baked delights like these cheesy Veggie Enchiladas or this Lentil Lasagne Spaghetti Squash.
Now we can add stuffed peppers to the list.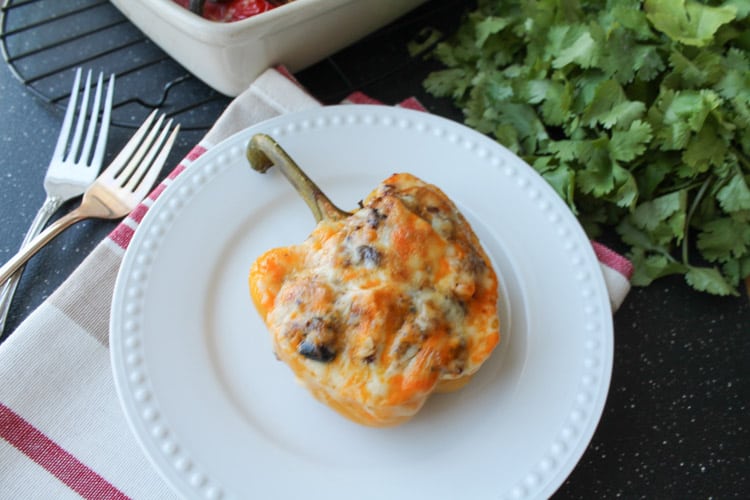 And how beautiful are these vibrantly coloured veggies?
Eat the rainbow, people.
CHIPOTLE QUINOA STUFFED PEPPERS
I rubbed these babies with olive oil and popped them into the oven to start the roasting process.
My protein sources are black beans and quinoa. Luckily, quinoa is quick cooking, so I had it simmering on the stove while I drained my can of beans (remember to look for BPA free labeling) and started some onions softening.
Speaking of BPA, I recently purchased a new non stick pan that is PFOA free. If you haven't heard of this potentially dangerous chemical check out –>  this link  <– from the Canadian Cancer Society for information.
I've been using my cast iron pan pretty steady but that SOB weighs a fricking ton!
I needed a smaller, more manageable sized one for easy use.
My new pan is taking some getting used to as it is white. Weird, no?
I warmed up the beans by mixing them into the cooked onions and garlic and of course a good dose of chopped chipotles for that kick.
Love me some chipotle.
Guess what else I used?
My homemade Enchilada Sauce. 🙂
Combine the cooked quinoa/sauce/beans/ etc. and get stuffing! Cover with your desired amount of cheese ( I like a blanket 😉 ) and into the oven they go.
And when they come out?
Beautiful.
Super filling and great to heat up the next day for lunches or leftovers for a quick dinner.
The beans worked so well with the texture of the quinoa and the smokiness from the chipotles  cut through the richness of the cheese.
Pair it up with a nice salad and dinner is served.
Yum.my.
MORE GLUTEN FREE DINNER IDEAS:
Brown Rice Spaghetti with Goat Cheese and Arugula
*Originally posted August 18, 2016. Updated June 4, 2019*
Be sure to follow me on social media! I love pinning to Pinterest, sharing on Facebook and posting pics to Instagram. See you there. 🙂
As an Amazon Associate I earn from qualifying purchases.
Chipotle Quinoa Stuffed Peppers – Gluten Free
Keyword:
chipotle quinoa stuffed peppers
Instructions
Preheat your oven to 400

Place your peppers in a 9x9 baking dish and drizzle them with 1 tablespoon of olive oil. Rub it in to coat well. Season with sea salt and pepper and arrange them cut sides up. Roast in the oven for 30 minutes

Meanwhile, cook your quinoa according to the package instructions and set aside

Warm a tablespoon of olive oil in a large skillet over medium heat. Add the onions and sauté until softened, about 5-7 minutes. Stir in the garlic and cook, stirring, for another minute. Add in the chopped chipotles and stir they are full incorporated.

Add the beans to the skillet, stir, then add the quinoa, stirring again. Lastly, stir in the enchilada sauce

Remove the peppers form the oven and reduce the heat to 375

Evenly distribute the quinoa mixture into each pepper, topping with the cheese

Return to the oven for an additional 15 minutes

Serve warm
Nutrition Facts
Chipotle Quinoa Stuffed Peppers – Gluten Free
Amount Per Serving
Calories 459
Calories from Fat 171
% Daily Value*
Fat 19g29%
Cholesterol 29mg10%
Sodium 823mg36%
Potassium 707mg20%
Carbohydrates 51g17%
Protein 20g40%
Vitamin A 705IU14%
Vitamin C 52.9mg64%
Calcium 272mg27%
Iron 4.4mg24%
* Percent Daily Values are based on a 2000 calorie diet.