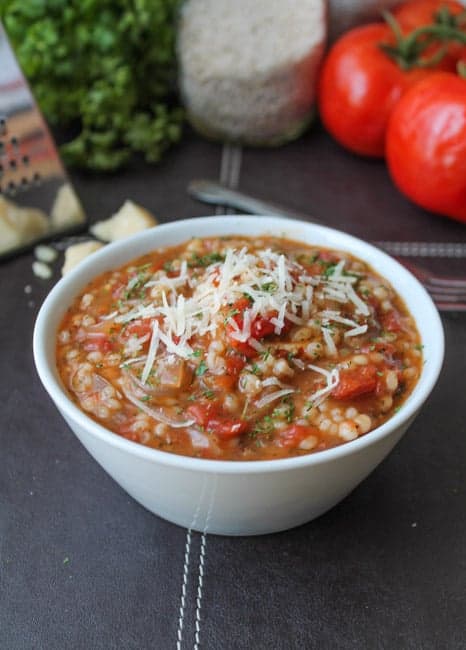 My first memory of risotto was the premiere season of Hell's Kitchen with Gordon Ramsey from back in the day. He actually smooshes plates of inferior risottos onto the front of the contestants chef coats. One unfortunate gent was named Dewberry. Poor guy. I still feel sorry for him. Not really the most pleasant memory to say the least. 😉
Your standard restaurant-style risottos that, although amazingly delicious, are no doubt loaded with butter, salt and cheese. Not really classified as an Honour System regular.
Enter barley. It's a nice whole grain that has bite. A bit of a chew factor like the Arborio pasta used in traditional risotto.
To add lots of flavours without adding unhealthy ingredients, I used a few different spices and veggies. What pairs nicer together than tomato and dill? Sprinkle with some parsley and freshly grated parmesan? Boom!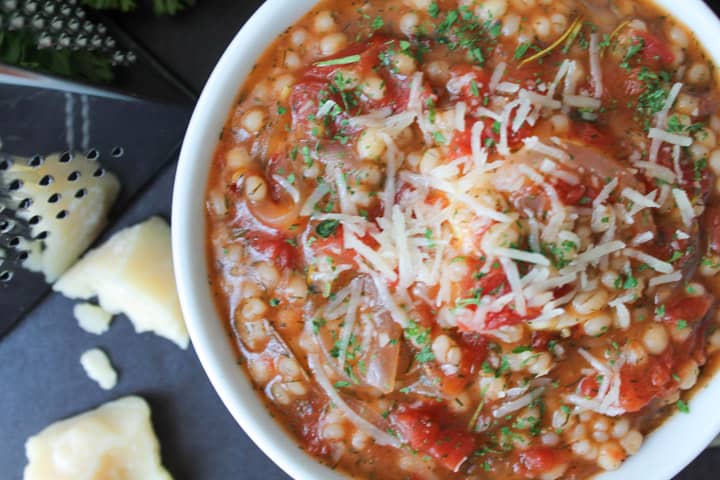 I also thought I'd lightly caramelize the red onion. Granted, I didn't have the time to slowly caramelize them in the true sense, but I let them get nice and tender and soft over a lower heat before stirring in the garlic.
Add a can of diced tomatoes and the dill. I love me some dill! If you have access to fresh, please use it. If you're stuck with the dried stuff don't feel bad. I'm right there with you. It was dried dill from the cupboard for me. Dried rosemary too. Can't leave out rosemary. 🙂
Cover it all with some hot water.
Unlike fussy risottos where you are constantly stirring and stirring, this meal comes together fairly easily. Just stir every so often, adding a little more broth or water to the pot if needed.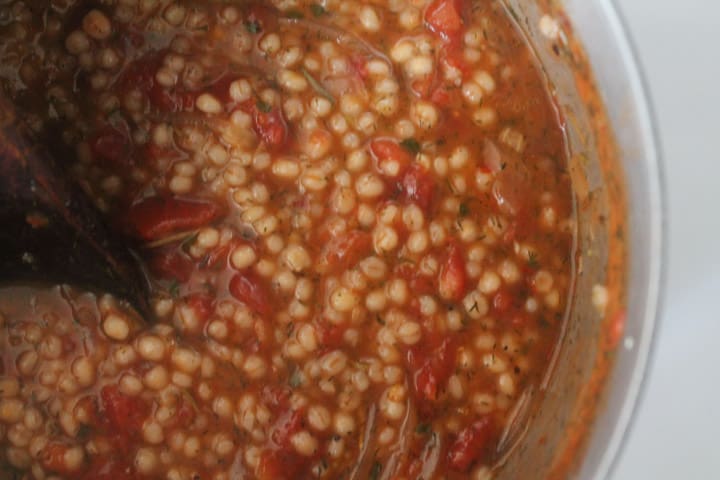 The finishing touch is the grated parmesan cheese. I highly recommend it as the punch of salty cheese just brings everything together.
This is a great lazy weekend supper with a nice light salad and maybe some crusty bread. Enjoy!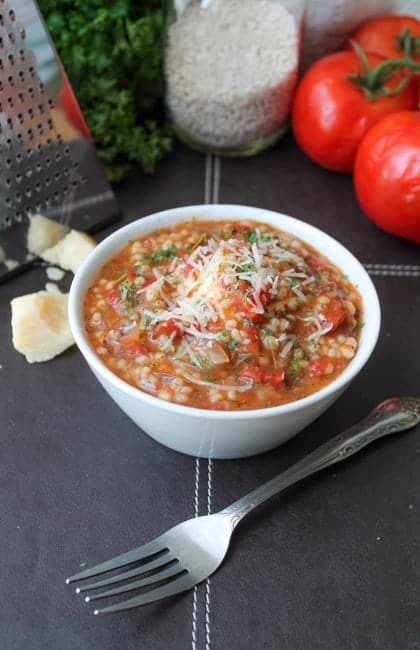 As an Amazon Associate I earn from qualifying purchases.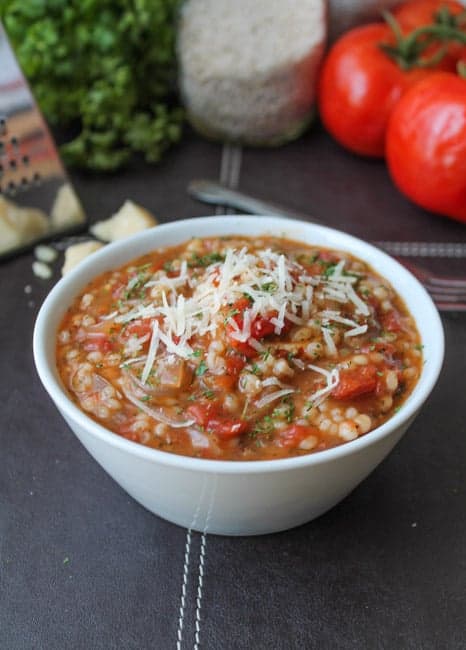 Barley Risotto with Tomato & Dill
Instructions
In a medium sauce pot, heat olive oil over medium heat. Add sliced onions and stir. Cook for about 5 minutes until the onion is soft. Stir in the garlic. Careful not to burn, stir for about a minute

Add in the barley, tomatoes, spices, tomato paste and 1 cup of the hot water. Stir it all together and let it simmer for 40-50 minutes, occasionally stirring

Add in ¼ cup of hot water after 15 minutes and then again 15 minutes later to make sure the barley still has liquid to cook in.

Sprinkle with freshly grated parmesan
Nutrition Facts
Barley Risotto with Tomato & Dill
Amount Per Serving
Calories 132
Calories from Fat 9
% Daily Value*
Fat 1g2%
Sodium 238mg10%
Potassium 395mg11%
Carbohydrates 27g9%
Protein 4g8%
Vitamin A 260IU5%
Vitamin C 14.1mg17%
Calcium 55mg6%
Iron 2.1mg12%
* Percent Daily Values are based on a 2000 calorie diet.