Gluten Free Chicken Scampi with Spaghetti Squash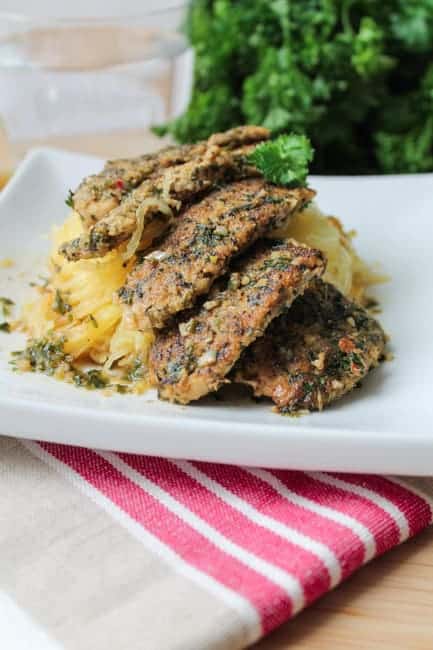 This recipe was inspired by my ground almond based, gluten free Italian 'Bread' Crumbs. What's more delicious than 'breaded' chicken tenders with a light and tasty sauce served over spaghetti squash? Not much.
We all know how much I love the spaghetti squash, right? I'm considering changing my facebook status to "in a relationship" with spaghetti squash, I love it that much. Please don't tell Joe or Louis. LoL! I popped the spaghetti squash in the oven before I began prepping the chicken. Check out this post for my method of cooking spaghetti squash.
Now, typically, scampi is made with shrimp and uses white wine for the sauce. I'm not a huge fan of shrimp and we never have wine in the house so this is my version of scampi. Sorry, traditionalists. 🙂
For the protein I used one large chicken breast sliced into strips.
The I set up a little assembly line to 'bread' my chicken. My chicken, still on the cutting board, a beaten egg in a bowl and the 'bread' crumbs on a separate plate.
Once all of the chicken pieces have been coated, into the pan they go to brown.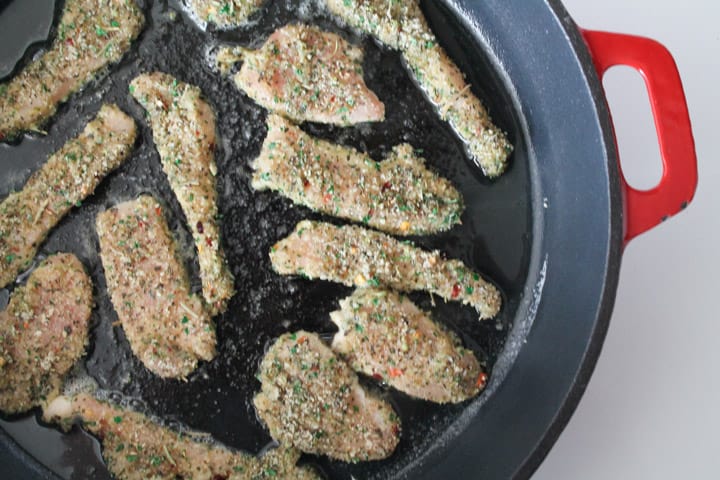 Take the chicken out of the pan and in goes some organic butter with garlic, broth, parsley and oregano, which will soon become your delicious sauce.
Once your sauce has come to a boil, reduce the heat and add the chicken back to the pan and let it simmer.
As I stated earlier, I adore spaghetti squash. However, my beloved, much to my chagrin, is not so nuts about it. I truly feel sorry for him. He enjoyed his over pasta and so can picky members of your family. 😉
This was my first recipe attempt with the almond based 'bread' crumbs so I wasn't sure how it was going to go. I am so happy to report that it was incredible. The chicken turned out brown and flavourful.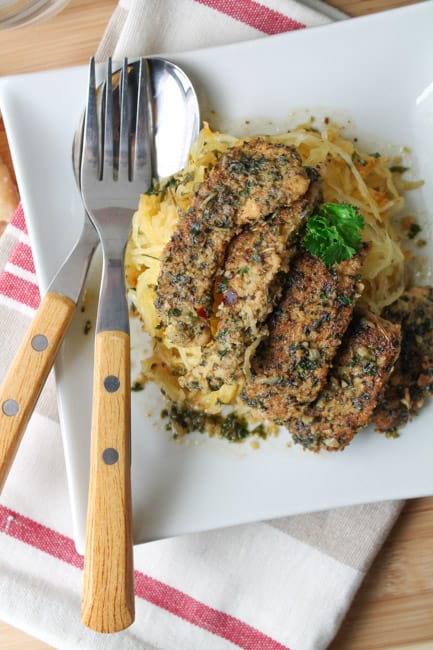 We loved this dish and I see it going into my regular rotation. I hope you will love it, too!

As an Amazon Associate I earn from qualifying purchases.
Gluten Free Chicken Scampi with Spaghetti Squash
Instructions
Dip chicken in egg, dredge in crumbs and set on a plate

In a large skillet (I use a cast iron) heat olive oil over medium high heat

Add chicken; reduce heat to medium and cook, 3-4 minutes per side until they are browned. Remove from pan and set aside on a plate

Melt butter in pan over medium heat and stir in the minced garlic and saute for about 10 seconds. Garlic burns quickly so be careful! Add broth, parsley, oregano, sea salt and pepper and bring to a boil

Add the browned chicken, reduce heat to medium low, and simmer 20 minutes. Serve chicken and sauce over spaghetti squash (or pasta) and sprinkle with some cheese
Nutrition
Calories:
680
kcal
Carbohydrates:
51
g
Protein:
37
g
Fat:
37
g
Saturated Fat:
13
g
Cholesterol:
195
mg
Sodium:
1458
mg
Potassium:
1055
mg
Fiber:
8
g
Sugar:
16
g
Vitamin A:
1610
IU
Vitamin C:
14.4
mg
Calcium:
322
mg
Iron:
3.5
mg