Not-so-dumb Blonde Coconut Macaroons. Vegan & Gluten Free with only FOUR ingredients! All natural with no refined sugars.
This was one of the first 'healthy' dessert type recipes that I tried a few years back.
I didn't have things like almond extract that is listed in the recipe I found over at Detoxinista, but I had a go with what I had.
The result is magic.
Cue angels singing! 🙂
The simple combination of coconut, maple syrup, sea salt and vanilla turns into a decadent treat that is dangerously good. By dangerous, I mean I had to take a majority of these blondies to work so Joe doesn't eat every last one.
Unlike quinoa, he likes these…
While these goodies are easy to make, they are loud to make as a stretch in the food processor is required. I believe a high powered mixer like a Vita-Mix would also work, if you are lucky enough to have one. #jealous
Blonde Coconut Macaroons
Buzz shredded coconut in the processor for about 5 minutes on high, until it is the consistency of a soft butter.
You could also just buy the coconut butter if you are so inclined. I have ear plugs so I'm going to make my own…
Make sure you scrape the sides down once or twice.
Mix the coconut butter with the remaining shredded coconut, vanilla and sea salt.
Give it that hint of saltiness by using a coarser sea salt.
I like to smoosh a couple pieces into each macaroon before baking to make sure each one has a punch of it.
Bake
The hardest part is waiting the 25 minutes for them to set and cool. And yes, you must let these cool…they will fall apart if you try to sneak bites when they are right out of the oven.
I may or may not know this from experience…
One thing I do want to say is that, these macaroons, although consisting almost entirely of coconut, don't really taste that coconut-y. They taste like  salted buttery morsels with a hint of vanilla warmth.
They are crisp on the outside and feathery in the center.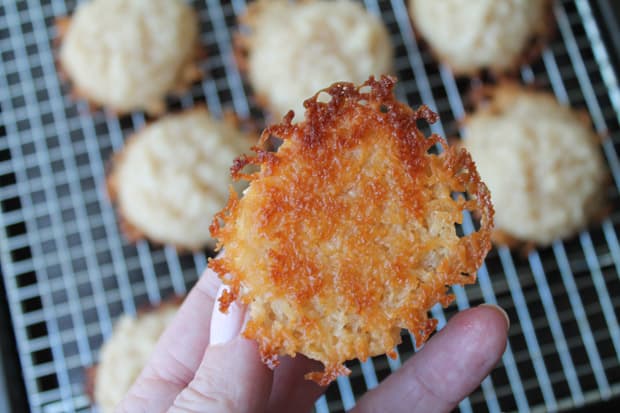 These are awesome and made from recognizable ingredients. Do yourself a favor and whip up a batch of these goodies. This is an honest way to treat yourself!
And to those lucky dogs at work who got one…you're welcome! 🙂
MORE VEGAN DESSERTS:
Double Chocolate Hazelnut Torte
Chocolate Chip Chickpea Cookie Bars
*Originally posted April 10, 2013. Updated August 7, 2019*
Be sure to follow me on social media! I love pinning to Pinterest, sharing on Facebook and posting pics to Instagram. See you there. 🙂
As an Amazon Associate I earn from qualifying purchases.
I recommend a Kitchen Aid Food Processor for this recipe.
'Not-So-Dumb' Blonde Macaroons – Only 4 Ingredients
Not so dumb Blonde Macaroons. Vegan & Gluten Free with only FOUR ingredients! All natural with no refined sugars.
Keyword:
vegan coconut macaroons
Ingredients
2 2/3

cups

shredded

unsweetened coconut, processed into butter (or 1 cup coconut butter)

2

cups

shredded unsweetened coconut

1

cup

maple syrup

1

tbsp

pure vanilla extract

1/2 - 1

tbsp

sea salt

this is a personal choice - feel free to use as little as 1/2 tsp ( Also note this is SEA SALT not TABLE SALT. There is a big difference between the two)
Instructions
Process 2 2/3 cups shredded coconut in food processor for around 5 minutes until it is smooth, scraping down the sides occasionally. I the meantime, mix the other ingredients in a large bowl. Add in the coconut butter. Mix all together and scoop onto parchment lined cookie sheets.

These macaroons will not spread out while cooking so don't fret about them bring placed close together.

Bake in a 300 degree oven for 20-25 minutes. Cook time depends on your own oven so watch closely after 20 minutes that the bottoms don't burn. They should be a golden blonde!

Let cool for 25 minutes and store in a container for up to a week.
Nutrition Facts
'Not-So-Dumb' Blonde Macaroons – Only 4 Ingredients
Amount Per Serving (15 g)
Calories 202
Calories from Fat 108
% Daily Value*
Fat 12g18%
Cholesterol 15mg5%
Sodium 596mg26%
Potassium 130mg4%
Carbohydrates 17g6%
Protein 5g10%
Vitamin A 135IU3%
Vitamin C 0.2mg0%
Calcium 127mg13%
Iron 0.5mg3%
* Percent Daily Values are based on a 2000 calorie diet.