Peanut Butter is kind of my trademark.
Growing up I was the queen of peanut butter toast. My brother used to make fun of me because I would always leave my knife across the open jar of peanut butter, ready for action. In our teens (we are two years apart. I'm the baby. ), after our Mom passed away, toast was on the menu for breakfast and also again for dinner more nights than not. My Dad was not much of a cook and also worked shifts, so we were on our own for most meals. If I didn't go out for a bite with friends it was usually toast for dinner. Mr. Noodles with toast if we were getting fancy. 😉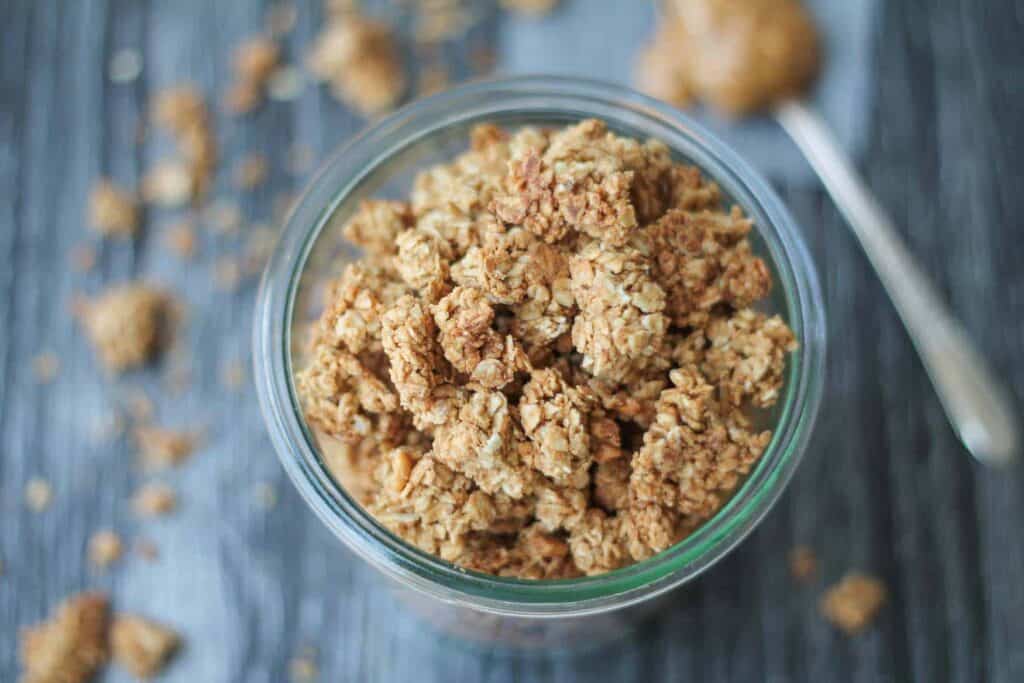 We've come a long way, baby!
There was usually more than one round of toast going on so, I would leave my knife sitting on the peanut butter for round two and for some reason, my brother always thought that was so funny. It's interesting what you remember, isn't it?
Anyway, I had a couple of cups of oats I wanted to use up. Since I've been eating less grains lately, the ends of a bag of oats had been sitting for awhile and were on the verge of going stale. I was craving something peanut buttery, so Peanut Butter Granola it was.
Really easy to throw together and super delicious. I went to TOWN on this granola. Yum city. 🙂 It made me want to share it with my brother! I look forward to living closer to my family one day so I can actually cook for them! Things have really improved from peanut butter toast.
Have a great weekend, folks.

As an Amazon Associate I earn from qualifying purchases.
Peanut Butter Granola - Gluten Free
Keyword:
peanut butter granola
Instructions
Preheat your oven to 325, line a baking sheet with parchment and set aside

In a medium sized sauce pan over medium low heat, melt together the peanut butter, maple syrup, coconut sugar, coconut oil and sea salt. Stir often. It should be silky-ish. Takes about 2-3 minutes

Remove from the heat and stir in the oats, one cup at a time. Stir until well combined then spread evenly onto your lined baking sheet

Bake for 20 minutes, flipping after 10 minutes to make sure nothing burns

Let cool for 10 minutes then break it into pieces. Store covered for up to a week
Nutrition Facts
Peanut Butter Granola - Gluten Free
Amount Per Serving (4 g)
Calories 460
Calories from Fat 198
% Daily Value*
Fat 22g34%
Sodium 318mg14%
Potassium 397mg11%
Carbohydrates 56g19%
Protein 13g26%
Calcium 55mg6%
Iron 2.5mg14%
* Percent Daily Values are based on a 2000 calorie diet.