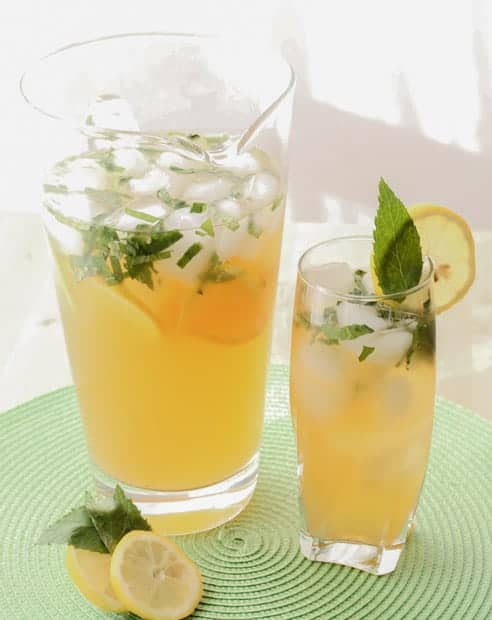 I'm sure it isn't news to anyone that green tea is good for you. It's been all over TV and health magazines that we should all be drinking more of it. Green tea is rich in powerful anti-oxidants, particularly epigallocatechin gallate (EGCG). EGCG inhibites the growth of cancer cells and kills cancer cells without harming healthy tissue. Good reasons to drink it, wouldn't you say?
Luckily drinking green tea is a joy for me. I'm always shocked when people don't partake in hot cups of brew, curled up with a good book or a movie, in a comfortable chair, with a snuggly blanket…OK, I'm drifting off…Back to tea!
I thought one way to get the people who don't normally drink green tea could be to serve it cold. Add lots of lemon and mint. Stir in some natural sweetener, perhaps? Who's game?
Start by steeping green tea in a large teapot. I used 4 bags and 6 cups of  boling water. Steep for 5 minutes then remove the teabags.
That's when I went out to my garden and picked some fresh mint:)
Slice up about 5-6 fresh mint leaves and throw them in the teapot.
Let the tea cool in the pot for 10 minutes then transfer the pot to the fridge for at least 4 hours to chill.
After your tea has sufficiently cooled, empty the teapot into a tall pitcher and pour in the juice of 2 lemons. Vitamin C actually increases your bodies ability to absorb the beneficial antioxidants from the green tea so, get get squeezing on those lemons!
Add in a touch of sweetener and stir well.
This went down amazingly well. With all those hot summer days ahead I'm sure I'll be enjoying this concoction regularly.
 
As an Amazon Associate I earn from qualifying purchases.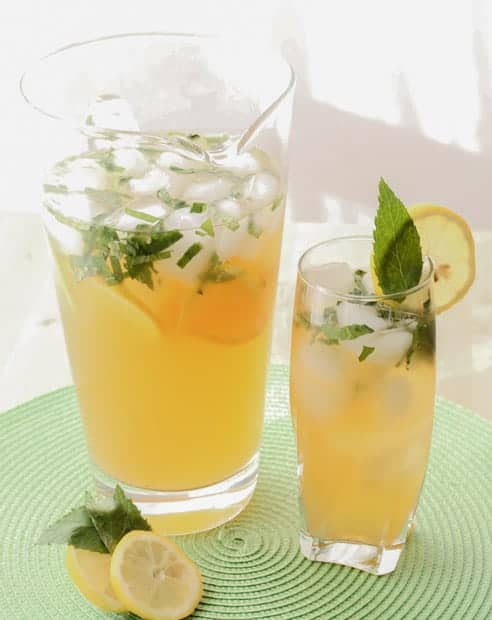 Iced Green Tea with Citrus & Mint
Instructions
Pour 6 cups of water over 4 green tea bags in a large teapot and let steep for 5 minutes. Remove the tea bags, drop in the mint and let the tea sit for another 10 minutes to cool

Place pot in fridge for 4 hours

Pour tea into large pitcher and stir in remaining ingredients

Serve over ice and store in the fridge