These Carrot Cake Spelt Flour Muffins are a real treat with an added healthy bonus! If you haven't baked with spelt flour before this is the recipe to try!
Yummy! <– sing songy
Sometimes only a fluffy, cakey muffin will do.
One of my co-workers is going off to school , so for Megan's last day, I baked muffins. 🙂
CARROT CAKE SPELT FLOUR MUFFINS
In the cupboard there were dates and in the crisper, some carrots. Sounds like a sweet plan to me! Let's get started.
I went with spelt flour for this recipe. I love that I can get a local, organic product from Oak Manor Farms and it works like a charm in baked goods.
It is not gluten free but is lower in gluten, so this depends on your level of gluten intolerance. I find that I have no stomach problems when I consume spelt flour, but I am nowhere near the celiac zone. I just feel bloated and yucky if I eat the white breads, pastas, etc. Spelt flour is a great option for me.
A little Daily Cleanse blend, ground almonds and some spices round out the dry ingredients.
The food processor was lugged out to get a nice fine chop on those naturally sweet carrots and dates.
Every time I haul this blasted machine out, I just curse it like crazy.
So clunky, so loud, yet the only thing that works properly to get a nice, even chop or blend. Still looking forward to the day when I will have my very own Vitamix or Blendtec and schlepping this darned food processor around will be a thing of the past.
Sigh.
I hope I haven't deterred you from making these muffins though! They indeed are worth the hassle of the machine.
Trust.
After a stint in the oven, 'Megan's last day muffins' are ready.
Firstly, nothing smells more comforting than baking in the oven.
Secondly, nothing tastes better than freshly out of the oven muffins. These were light, cakey and oh-so satisfying.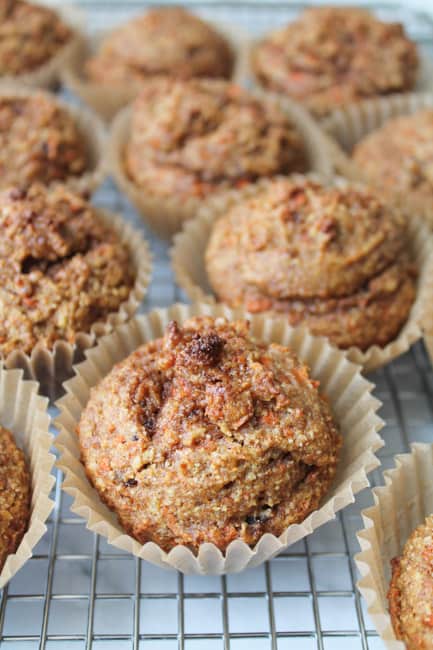 Megan, good luck at school!! We already miss you like crazy.
Visit us and I'll make muffins. 😉
MORE HEALTHY MUFFIN RECIPES:
Lemon Berry Quinoa Flour Muffins
Peanut Butter Breakfast Muffins
Originally posted September 5, 2014. Updated June 26, 2019
Be sure to follow me on social media! I love pinning to Pinterest, sharing on Facebook and posting pics to Instagram. See you there. 🙂
As an Amazon Associate I earn from qualifying purchases.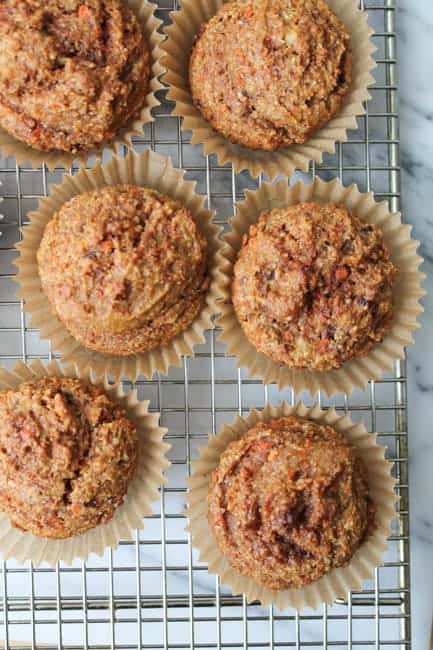 Carrot Cake Spelt Flour Muffins
These Carrot Cake Spelt Flour Muffins are a real treat with an added healthy bonus! If you haven't baked with spelt flour before this is the recipe to try!
Course:
Breakfast, Dessert, Snack
Keyword:
carrot cake spelt flour muffins, splet flour muffins
Instructions
Preheat oven to 375 and line 12 muffin cups with paper liners. Set aside

Place carrots and dates into the food processor. Pulse and then blend until finely chopped

Add walnuts and pulse again to finely chop

Transfer the carrots, dates and walnut mixture to a mixing bowl and add coconut oil, lightly beaten eggs and maple syrup. Mix well to combine completely

In a separate bowl, combine the remaining dry ingredients. Pour the carrot mixture over the dry ingredients and stir until just combined. Don't over mix! Let the batter sit for ten minutes.

Spoon the rested batter into the lined muffin tin and bake for 20 to 25 minutes or until a toothpick inserted in the center of a muffin comes out clean

Cool on a wire rack
Nutrition Facts
Carrot Cake Spelt Flour Muffins
Amount Per Serving
Calories 235
Calories from Fat 117
% Daily Value*
Fat 13g20%
Cholesterol 27mg9%
Sodium 120mg5%
Potassium 292mg8%
Carbohydrates 25g8%
Protein 5g10%
Vitamin A 2585IU52%
Vitamin C 0.9mg1%
Calcium 90mg9%
Iron 1.4mg8%
* Percent Daily Values are based on a 2000 calorie diet.