If you are skipping the dairy, but still want buttercream icing on those cupcakes, try this Vegan Chocolate Frosting on for size. It is so creamy and fudgy that you won't believe there is no butter at all. Trust!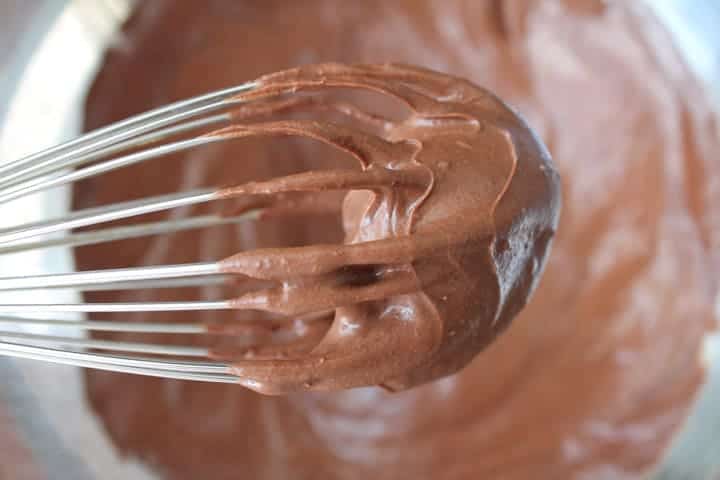 There is absolutely nothing you won't love about this really easy, velvety smooth and fudgy frosting. Just the word frosting conjures up images of pillowy clouds of decadent sweetness.
When I was growing up one of the events I looked forward to was a big sleepover held by the church where I went to a girls club called 'Crusaders'. Think Girl Guides but throw in badges for memorizing bible verses and you'd be on the right track.
This church was huge. In addition to the massive sanctuary where Sunday services were held, it also had a gym, HUGE kitchen, and lots of classrooms and utility rooms.
Kids ranging from all ages would take over the church for one night and it was such a blast.
Part of the fun was all the snacks and treats, both offered by the folks organizing the sleepover and the junk food that was snuck in by the kids themselves. One year, me and a couple of friends demolished an entire tub of Duncan Hines frosting.
Just frosting.
Yikes.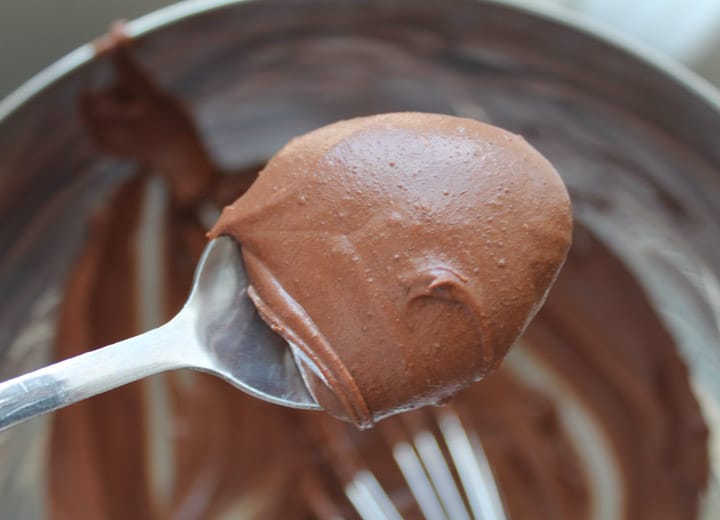 Thankfully, I have matured a bit with my eating habits and have graduated to this amazing, deceptively healthy version of frosting that will cover all the allergy bases.
VEGAN CHOCOLATE FROSTING
No nuts, no dairy, no refined sugars.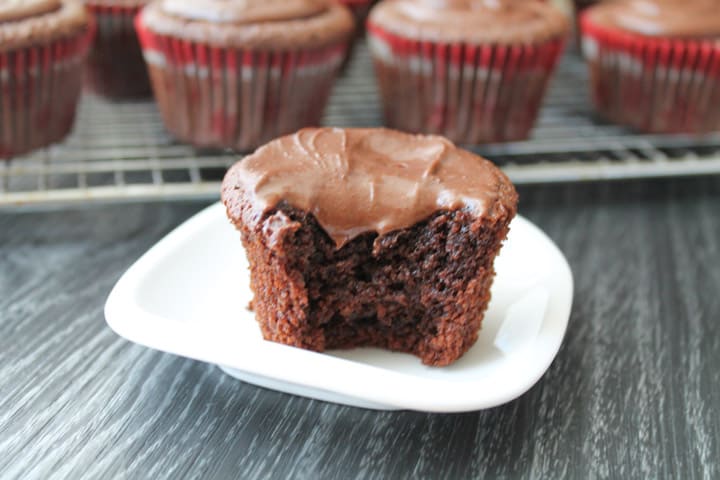 But trust. You would never know it.
HOW TO MAKE VEGAN CHOCOLATE FROSTING – Step by Step Images
Creamy and thick, this frosting has all the components you are looking for without the guilt or stomach ache!
The only hard part is making sure you already have a can of full fat coconut milk in the fridge. It needs to sit overnight for the cream to separate from the coconut water. Try to look for a BPA free can when purchasing your coconut milk.
Once solidified in the fridge, you are left with this nice chunk of thick, decadent coconut cream.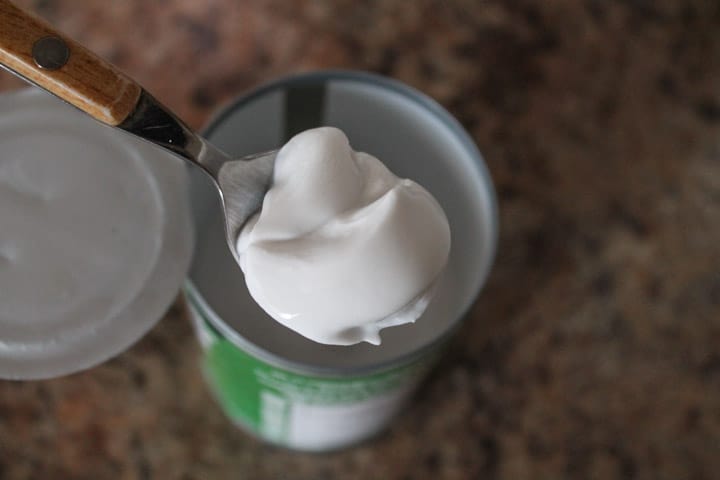 Slowly melt it down with some dark chocolate chips and a touch of maple syrup and vanilla.
You are going to be amazed how it transforms into dark chocolate frosting without milk!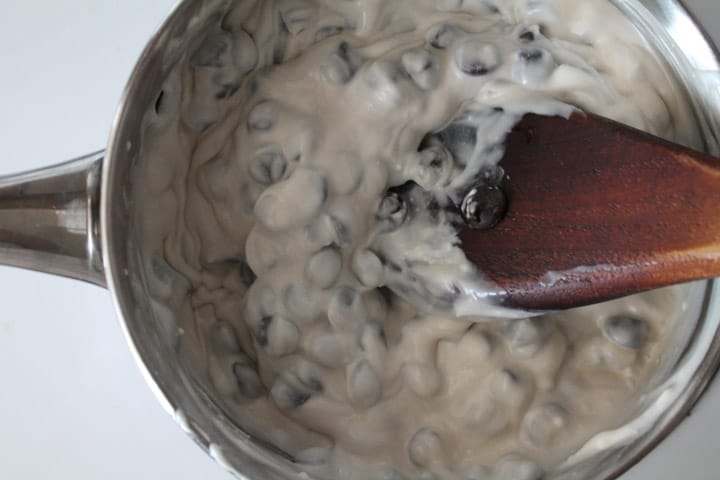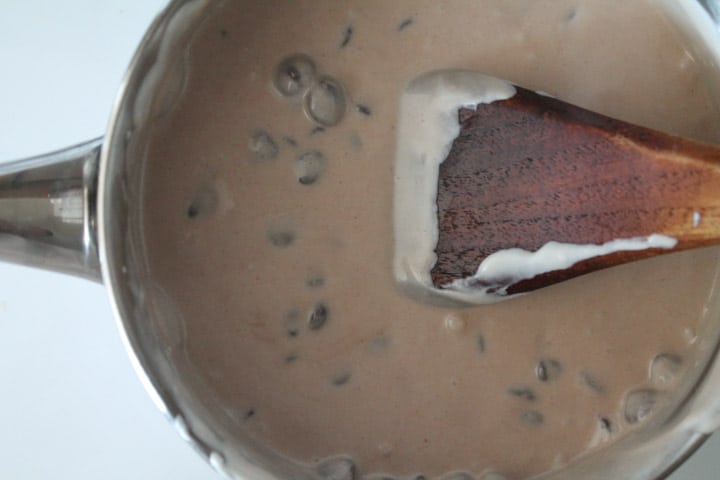 Stir it until all the chocolate is melted and the mixture is smooth and velvety.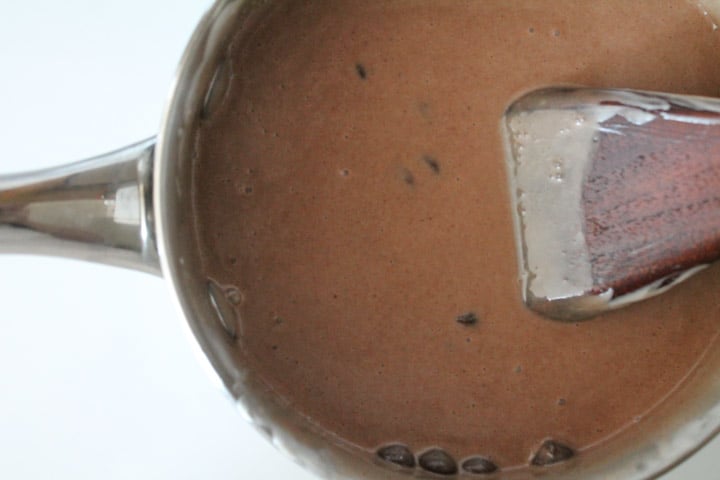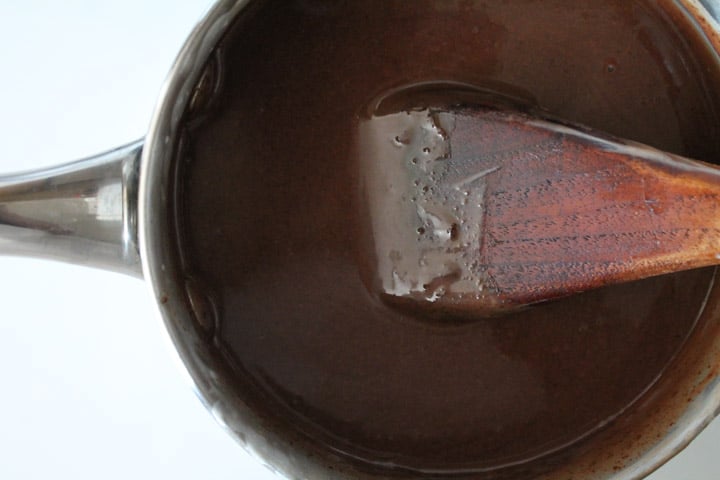 Pour it into a large bowl.
You will be using the beaters to whip it into your frosting later so my suggestion is to pour your chocolate mixture into the same bowl you plan on using with your beaters.
Less dishes = happy food blogger! 🙂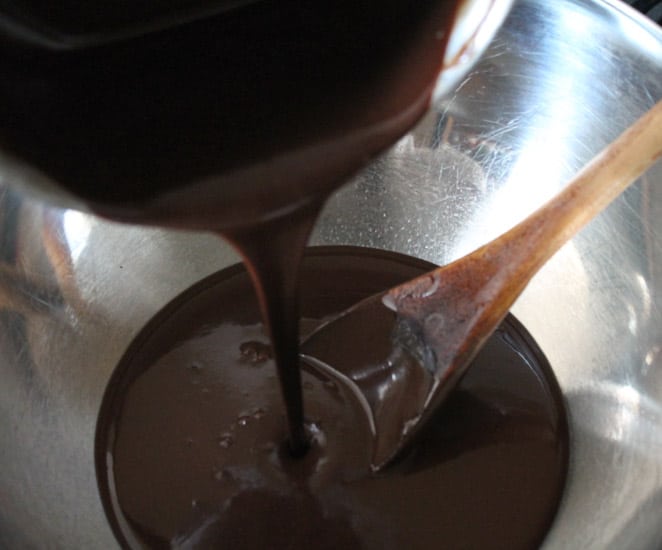 Cover the bowl and back into the fridge it goes to harden.
In the meantime, I baked up these fudgy olive oil cupcakes.
Perfect little vessels for this frosting, if I do say so myself.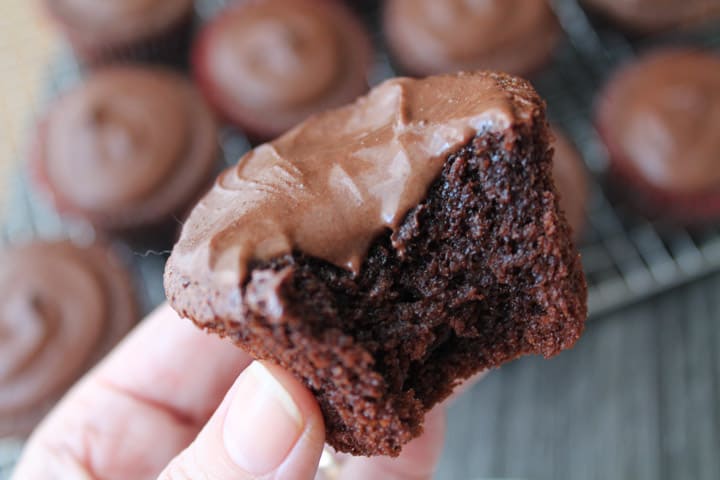 After the cupcakes had cooled, I whipped up the frosting and spooned it onto them.
Off they were packed to share with my co-workers.
The looks on the faces when I opened the container and revealed these amazing looking and tasting cupcakes was priceless.
Popularity —>skyrocketing! 😉
This recipe was lightly adapted from the master,  Angela from Oh She Glows.
MORE HEALTHY VEGAN TREATS:
Chocolate Chickpea Cookie Bars
Fudgy Chocolate Avocado Cookies
Originally posted  May 2, 2014. Updated September 6, 2019
Be sure to follow me on social media! I love pinning to Pinterest, sharing on Facebook and posting pics to Instagram. See you there. 🙂
As an Amazon Associate I earn from qualifying purchases.
I use non toxic ceramic cookware.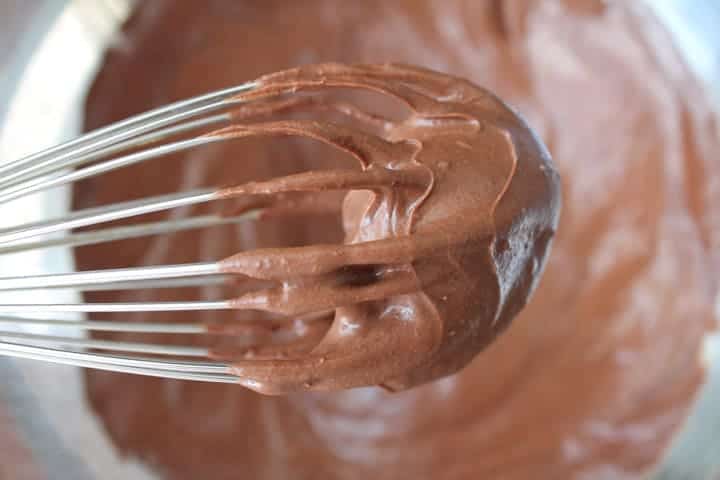 Maple Vanilla Chocolate Frosting
If you are skipping the dairy, but still want buttercream icing on those cupcakes, try this Vegan Chocolate Frosting on for size. It is so creamy and fudgy that you won't believe there is no butter at all. Trust!
Keyword:
maple vanilla frosting, vegan chocolate frosting
Instructions
After the coconut milk has chilled in the fridge overnight, flip the can over and open. Pour off the water and transfer the solid white coconut cream into a small pot. Add the chocolate chips and over low heat, gently melt the coconut cream and chocolate together over low heat. Stir frequently. Once has melted together stir in the maple syrup, vanilla and pinch of salt. Mix it well

Transfer this mixture into a bowl and cover with wrap. Pop it into the fridge for 2-3 hours until it firms up enough to whip into frosting

When it's firmed enough, whip it with a hand mixer until smooth and creamy

Keep refrigerated
Nutrition Facts
Maple Vanilla Chocolate Frosting
Amount Per Serving
Calories 263
Calories from Fat 126
% Daily Value*
Fat 14g22%
Sodium 48mg2%
Potassium 299mg9%
Carbohydrates 29g10%
Protein 3g6%
Vitamin C 0.2mg0%
Calcium 144mg14%
Iron 0.6mg3%
* Percent Daily Values are based on a 2000 calorie diet.